You can enable mandatory Driver Vehicle Inspection Reports (DVIRs) and customize the inspection requirements that drivers submit for pre and post-trip inspections of vehicles and trailers. After you enable this feature, drivers complete the DVIR inspection in the Driver App.
Note: The Mandatory Checklist feature is enabled by default for UK customers, for more information see Walkaround Inspection (UK).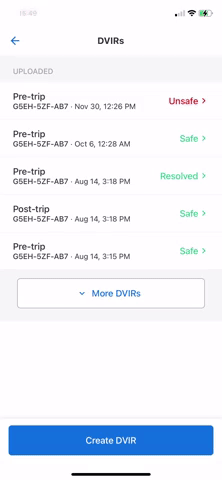 To enable DVIR Inspections in your Samsara Dashboard, navigate to Settings ​( ​​​

​​​ ) > Fleet > Driver App > Features​​. Select any obligatory requirements that will apply to all DVIRs.