Fuel & Energy Report
The Fuel & Energy report shows information about the fuel usage of drivers or vehicles in your fleet. This includes the vehicle name, amount of fuel used, fuel efficiency, estimated cost, engine run time, idle time, and percent time idle. The report can be run by the hour, day, week, month, or any custom time period.
Fuel Used: Fuel used within a specific time frame.
Fuel Efficiency: A driver or vehicle's distance over fuel consumed within a specific time frame.
Est. Cost: The estimated fuel cost is based on a national average of the cost of fuel and is updated weekly.
Engine Run Time: The amount of time during which the engine is loaded (the vehicle is running or Power Take-Off is operating).
Idle Time: Idle time is the amount of time that the engine is on but not loaded. Idle is an engine status that is reported by the vehicle's ECM/ECU (the statuses are on/off/idle) - when a vehicle switches to idle and the idle time exceeds 2 minutes, idle time is captured and reported. Idle time less than 2 minutes is not reported.
Percent Time Idle: Idle Time divided by Engine Run Time + Idle Time * 100.
To access the Fuel Usage Report click Fuel & Energy on the left side of your dashboard.

PTO/AUX & Idle Time
PTO/AUX & Idle Time allow Administrators to see which vehicles or drivers are idling more or less than others to identify coaching opportunities.
Note: Aux Input Type must be configured for vehicles for PTO time to be correctly identified.
Power Take-Off (PTO):

Indicates that auxiliary equipment is being powered by the vehicle's engine. This is used to power equipment like a boom on a utility truck or emergency lights on an ambulance.

Idle: When the engine is running but the vehicle is not moving.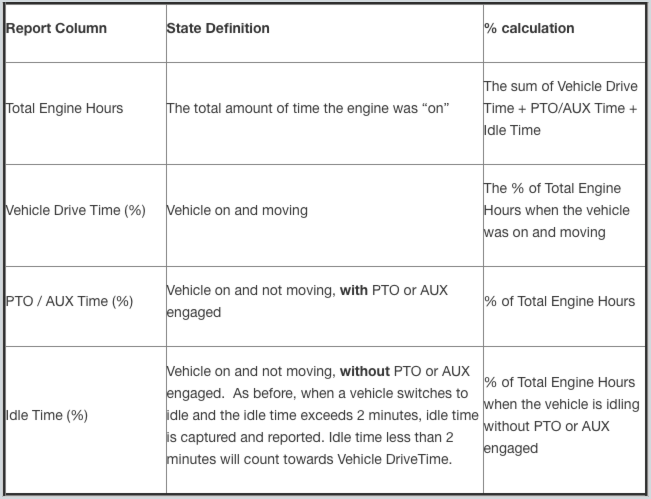 Note: Total Engine Hours = Vehicle Drive Time + PTO/Aux Time + Idle Time.
To enable this feature please contact Support or contact your Success Manager.
Creating a

Custom Fuel Cost

If you know the exact cost per gallon of fuel for your fleet, or if you only operate in specific cities or regions, you may want to use a custom fuel cost instead of the national average fuel cost to refine the Estimated Cost per vehicle and driver in the Fuel Usage Report.

Updating the fuel cost will update the Estimated Cost column in the Fuel Usage Report and on the Fleet Summary dashboard. The Estimated Cost will always use the most recent custom fuel cost. Therefore, the fuel cost will not apply retroactively.

To see the fuel cost updated on the fuel usage report, please navigate to Reports > Fuel Usage.
Fuel Purchase Report
The Fuel Purchases Report is available on your dashboard by navigating to Fuel & Energy > Fuel Purchases. You are required to manually upload fuel purchase data in a CSV file in order to sync with the dashboard. The fuel purchase report shows:
All: uploaded fuel purchase amounts, cost, time, and location
Verified / Unverified Purchases: this lets you know if a vehicle from your fleet was nearby at the time of purchase. Verified purchases will include a link to the proximity search that verified the purchase. Unverified means no vehicle was nearby.
Invalid purchases: these are purchases where the address or other data may be invalid and the purchase was unable to be marked as verified. As an administrator, you may manually edit a file to correct typos or address errors and re-upload. The report will resolve the duplicated uploads and if the address is valid, verify the purchase.
The fuel card upload only generates a report that shows fuel purchases their verification status. This report can be exported to CSV by selecting the More Actions option on the upper right hand side of the report page.



Transaction Vehicle Assignments
The Wex and Other CSV formats optionally allow you to specify the vehicle to which you want to assign the transaction.
For the Other CSV, Samsara will read the Vehicle column. If this string matches a vehicle's ID, VIN, or Name, Samsara assigns the transaction to the matching vehicle. If a value is provided but no match is found, Samsara will fall back to time- and proximity-based matching.
For Wex, Samsara will read the following columns:
VIN

Emboss Line 2

Custom Vehicle/Asset ID

Vehicle Description
For any of these columns, Samsara follows the same matching procedure, checking them against a vehicle's VIN, ID, and Name. If those matches fail, Samsara falls back to time- and proximity-based matching.
Dashboard CSV Upload
The fuel purchases will begin processing immediately after upload and may take anywhere between a few minutes to a few hours to complete processing, depending on the number of transactions. You can upload data from a smaller date range (i.e. smaller file size) if you would like faster results.
You have the ability to select one of our most popular fuel card vendor(s) (chart below). If you do not have one of those vendors, you can upload your fuel purchase data as "Other" through the generic Samsara template. All templates are attached at the bottom of this article.
Below you will find instructions on how to complete this process as well as technical specifications per vendor:
As an administrator you can navigate to the Fuel Card Vendor dropdown via Reports > Fuel Purchases > More Actions > Upload CSV




You can upload the full file you get from your fuel card vendor (it will have many more columns than what's required below) as long as the columns below are included and in the right format - you do not have to delete the extra data unless the file is too large (> 750kb).

Remove any special characters, such as $/£/€, from all columns.
Please note that with our FLEETCOR Fuel Card Integration, you can automatically upload your fuel purchases from Comdata. Visit this link for more information.
You can use the following templates to get started on your upload:
Fuel Card Vendor Specifications
| | | | |
| --- | --- | --- | --- |
| Wex | Comdata | Fuelman | Other (Samsara Template) |
| Transaction Date | SerialNumber | Transaction Number | Transaction Number |
| Transaction Time | Fuel Stop Date | Sales Date & Time | Date* |
| Units | Fuel Stop Time | Site Street | Time |
| Total Fuel Cost | Reported Fuel Station Address | City | Address |
| Merchant Address | Gallons Purchased | Site State | Purchase Amount |
| Merchant City | Cost | Zip Code | Total Quantity |
| Merchant State / Province | | Quantity | Vehicle (optional) |
| Merchant Postal Code | | Unit Price (Gross) | Fuel Type (optional) |
| Transaction Ticket Number | | Net Cost | |
*Formats accepted include: MM/DD/YYYY & YYYY/MM/DD
Units & Currencies
Please note that for the time being, we don't store the unit or currency. We will default the currency & volume shown on the dashboard report to that of your organization's locale. The unit can still be modified by changing your metric settings in your profile. Given that we do not store the unit, this amount will not change when the metric system is changed.
Country
Unit
Currency
United States
US gallons
$ / USD
United Kingdom
Imperial gallons
£ / GBP
Canada
Liters
$ / CA USD
Mexico
Liters

$

/ MXN

France, Germany, Netherlands, Italy, Spain, Belgium, Austria

Liters
€ / EUR

Switzerland

Liters
CHF