The Fuel & Energy report displays information about the fuel efficiency and usage of drivers or vehicles in the fleet.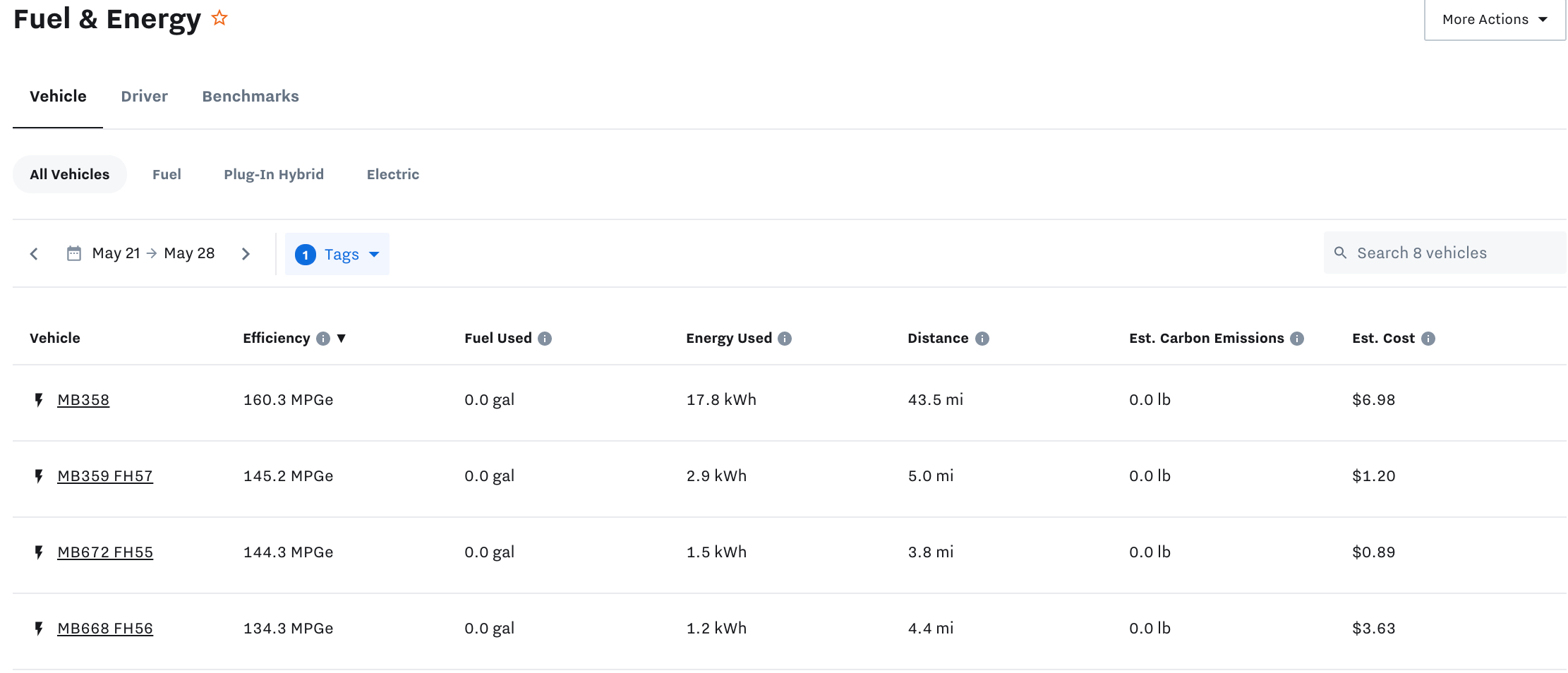 You can run the report for any custom time period and can also reduce the number of results using the search or by applying tags. You will see tabs for the following types of vehicles, depending on your fleet:
Electric (EV): Battery-powered Electric Vehicle (i.e. truly electric, rechargeable)

Plug-in Hybrid (PHEV): Plug-in Hybrid Electric Vehicle (i.e. battery is rechargeable)

Fuel: Internal Combustion Engine vehicle (i.e. your standard gasoline or diesel vehicle)
You can compare Fuel, Plug-In Hybrid, and Electric vehicles on the All Vehicles tab.
The report includes the following information for each vehicle or driver, depending on the types of vehicles in your fleet:
Field

Description

Vehicle or Driver

Name of the vehicle or driver.

Efficiency

A driver's or vehicle's miles per gallon (or electric equivalent) usage over a specific time frame.

Fuel Used

For fuel or hybrid vehicles, fuel used over a specific time frame.

Energy Used

Energy used over a specific time frame for plug-in hybrid and electric vehicles.

Distance

Distance traveled, using Samsara standardized distance measure.

% Driving Electric

(Plug-In Hybrid Vehicles) The amount of time vehicle used electric power as compared to total drive time.

Est. Carbon Emissions

Estimated carbon emission based on a standard carbon emissions factor per gallon/liter of gasoline. Currently this is 8,887 grams of CO2/gallon or 2,348 grams of CO2/liter.

Est. Cost

Estimated fuel cost is based on a national average of the cost of fuel. This number is updated weekly or you can create a custom Fuel Cost.

Total Engine Run Time

The amount of time for which the engine is on.

Idle Time (%)

Amount of time that the engine is on but the vehicle is not moving and PTO is not engaged. When a vehicle switches to idle and the idle time exceeds two minutes, idle time is reported. Idle time less than two minutes is not reported.

PTO Time

The amount of time that the engine is on and power take-off (PTO) auxiliary input is engaged.

Note

If you do not use any auxiliary inputs, the report hides this column.