Broadcast mode was developed to improve sensor connectivity and make our sensor offering more robust. Historically, sensors toggled between two modes: connected and offline. Offline sensors can result in significant amounts of backlogged sensor data, which gets uploaded and ingested onto the cloud dashboard upon the connection to a gateway. This can result in significant latency for alerts and viewing data in dashboards.
Broadcast Mode provides a mechanism for sensors to transmit data to gateways without requiring a traditional two-way connection. Broadcast mode extends the usable range sensor, which is important when there is radio frequency interference (e.g. cargo in a trailer) between a sensor and a gateway or if a sensor is placed far away from a gateway. A sensor is considered to be in Broadcast Mode if it has reported data via broadcast in the last 7 days and is not actively connected to a gateway. Broadcast mode does not affect how often sensor data is sampled or logged. It's simply a net new way to send sensor data to gateways.
For a traditional two-way connection, both the gateway and the sensor confirm their connection to the other and acknowledge that data is being transmitted. Because the sensor can broadcast data farther than the gateway can, in broadcast mode the sensor will continue to transmit data to the gateway even when the gateway is too far away or too obstructed to acknowledge its receipt of that data back to the sensor. Without this two-way connection, there's no guarantee that all data has been received by the gateway until a two-way connection with a gateway is established.
Some of the benefits:
~10x increase in nominal operating distance for sensors

Significant increase in sensor reliability even when operating in challenging environments (e.g. loaded trailers)

Increased visibility for sensor status

Significant reduction in latency of alerts triggered by sensors
Alerts
Broadcast Mode enables you to receive timely alerts for the following alert types:
Unexpected Door Open

Cargo Load

Temperature
Broadcast Mode Example
The image below represents a typical scenario where a trailer loses connectivity after the signal is blocked with cargo loaded. When the interference (in this case cargo) is removed, the gateway connects to the sensor as usual.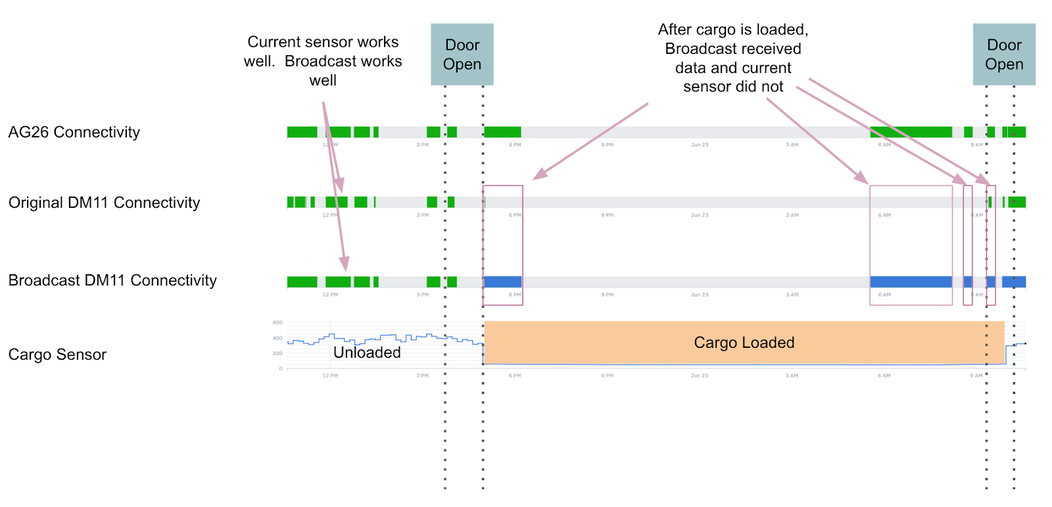 With Broadcast Mode enabled for sensors, the gateway will still be able to hear the sensor and ingest data, even after cargo is loaded into the trailer. The point in time data values are then pushed to the cloud.