Within the Fuel & Energy Efficiency report, you are able to compare across all vehicle types - whether fuel, plug-in hybrid, or electric - and can track distance traveled alongside fuel and energy usage. Additionally, if you are currently utilizing PTO or auxiliary inputs, you will also see an additional column highlighting fuel breakdown by PTO time.
How does this report work?
The Fuel & Energy Efficiency report shows information about the fuel & energy efficiency of drivers or vehicles in the fleet, in order to identify which vehicles and drivers are driving most efficiently. The report can be run by the day, week, or month time period.
Efficiency: A driver or vehicle's miles per gallon (or electric equivalent) in a specific time frame. Note: For continental Europe customers, this metric is shown in liters per 100 meters.
Distance: The amount of distance traveled over which we analyzed the fuel efficiency.
Fuel Used: Fuel used in a specific time frame.
Energy Used: (For plug-in hybrid and electric vehicles) Energy used in a specific time frame.
Est. Cost: The estimated fuel cost is based on a national average of the cost of fuel and is updated weekly. Note: The estimated cost can also be customized within your Organization Settings page.
Est. Carbon Emissions: This is based on the standard amount of carbon emissions per gallon/liter of gasoline.
Engine Run Time: The amount of time for which the engine is on.
Idle Time: The amount of time that the engine is on but not loaded (not driving or no PTO engaged). Idle is an engine status that is reported by the vehicle's ECM/ECU (the states are on/off/idle) - when a vehicle switches to idle and the idle time exceeds 2 minutes, idle time is captured and reported. Idle time less than 2 minutes is not reported.
PTO Time: The amount of time that the engine is on and power take-off (PTO) auxiliary input is engaged. Note: Customers who are not using auxiliary inputs will not see this column. For more information on configuring PTO, see this article
Note: The distance in this Fuel & Energy report may be less than the distance in your Activity Report if your vehicle is not reporting fuel consumption over the complete time period.
To access the Fuel Usage Report click Fuel Icon > Fuel & Energy.
Example report for a mixed fleet using fuel & electric vehicles: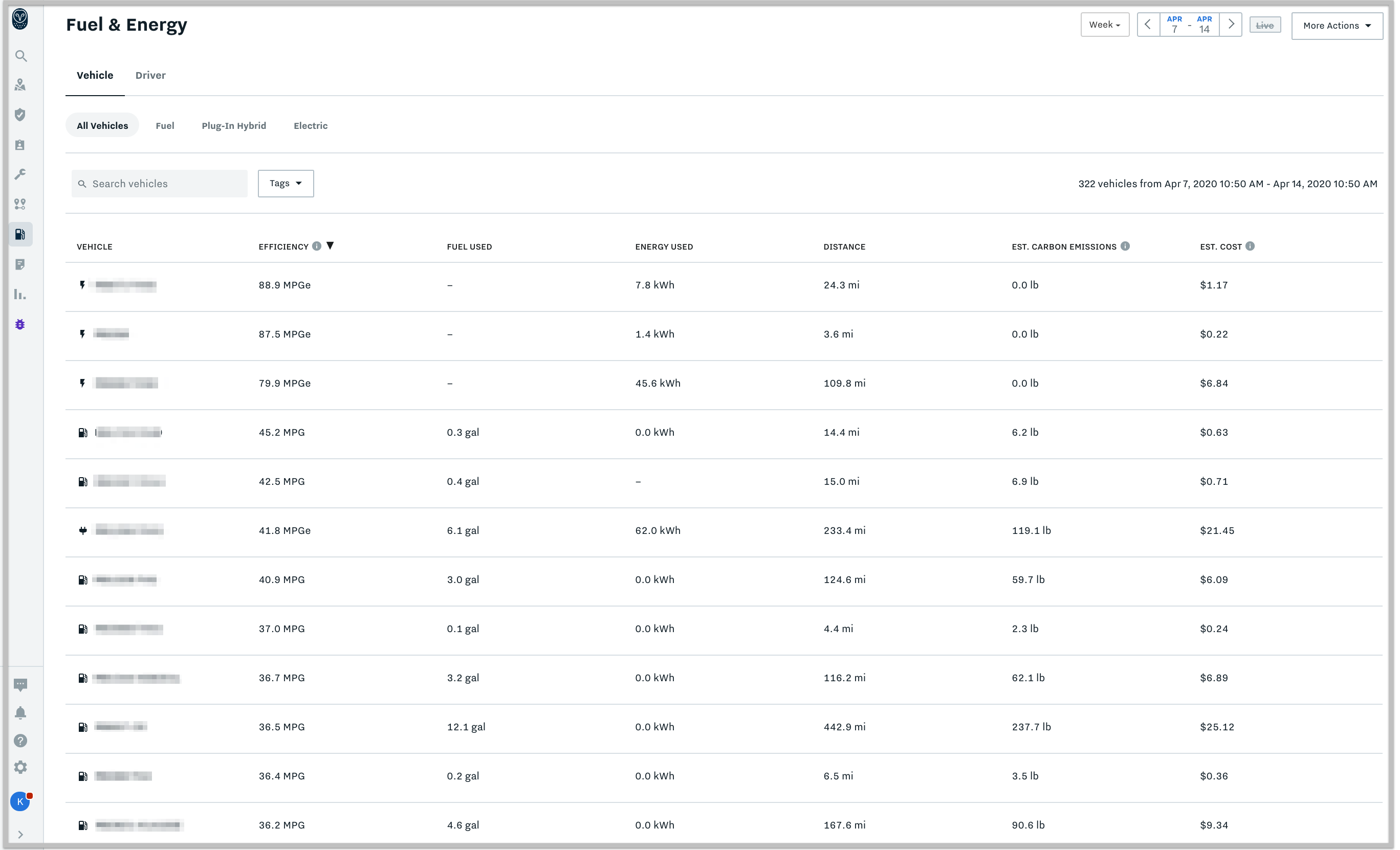 Example report for a fuel-only fleet who also uses PTO: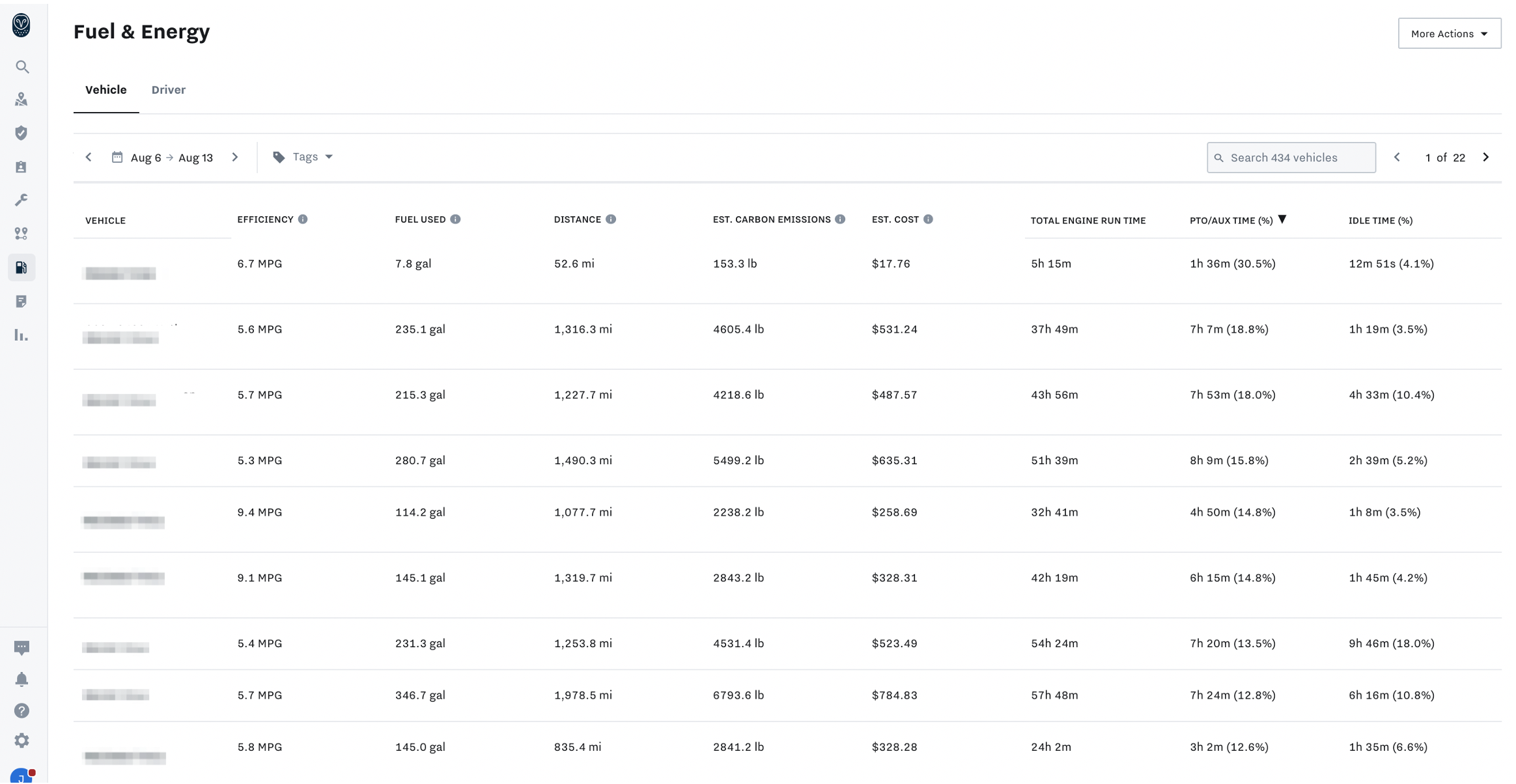 How are benchmarks calculated?
This feature is currently in beta. You can turn on this feature for your organization using the Settings => Feature Management page.
Samsara now calculates a fuel benchmark for each vehicle type. Benchmarks are calculated as an average of all vehicles in Samsara of the same make/model/year.
In this new section of the Fuel & Energy report, you can view the Samsara benchmark for given vehicle makes, as compared to the performance you are seeing for those given makes. You can also take a granular look at a per-vehicle level to see which vehicles are performing lower than the average Samsara benchmark.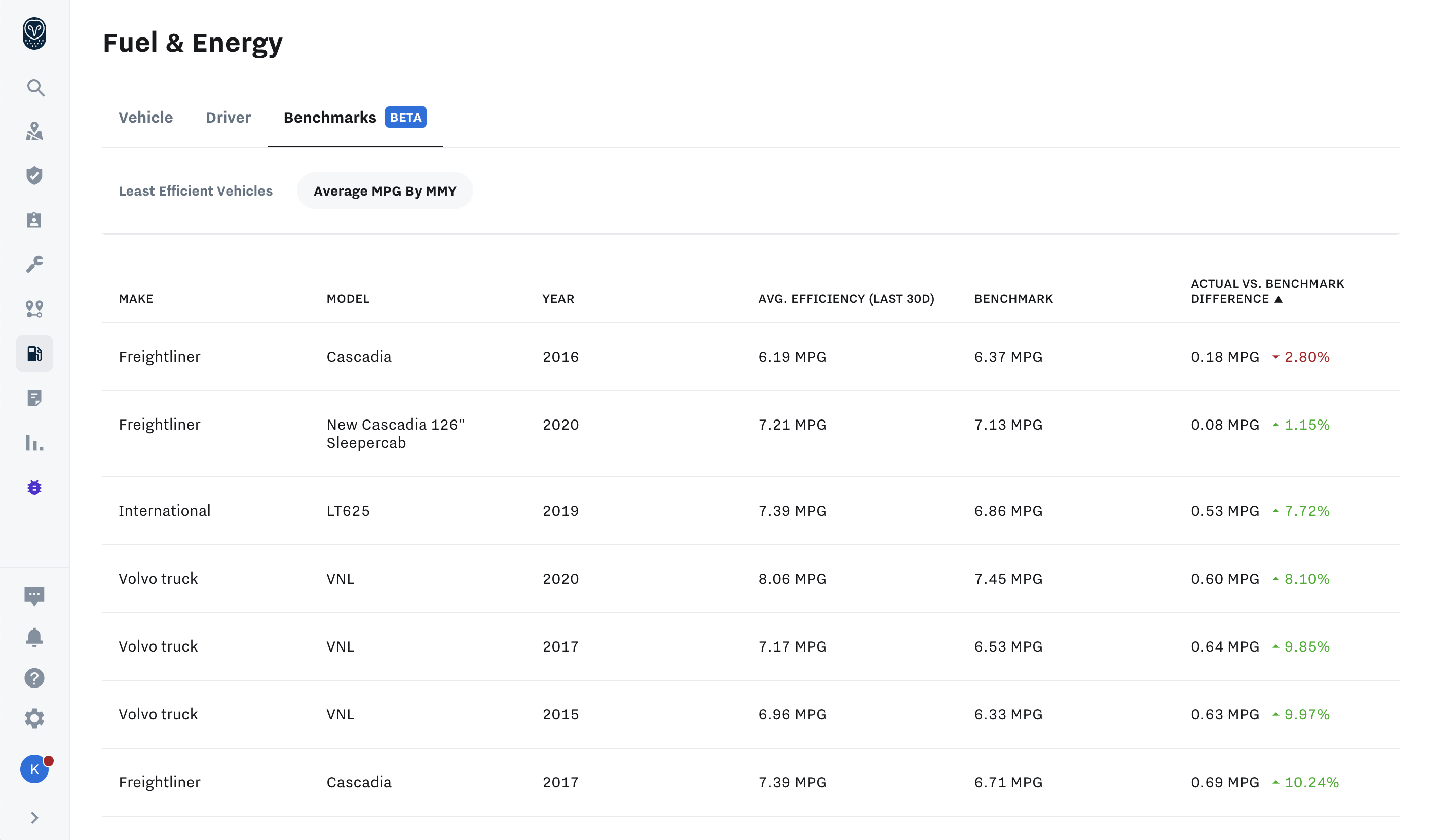 Data Privacy
Samsara only computes benchmarks for vehicle makes when there is sufficient information to aggregate across a vehicle make. We ensure there are at least 100+ vehicles reporting information for that particular vehicle type before publishing benchmarks.