The Samsara ID Card Reader leverages near-field communication (NFC) technology to provide increased visibility into drivers in your fleet as well as student and passenger transit systems. Each Samsara ID Card (or compatible third-party NFC-based ID card) contains a unique identification number.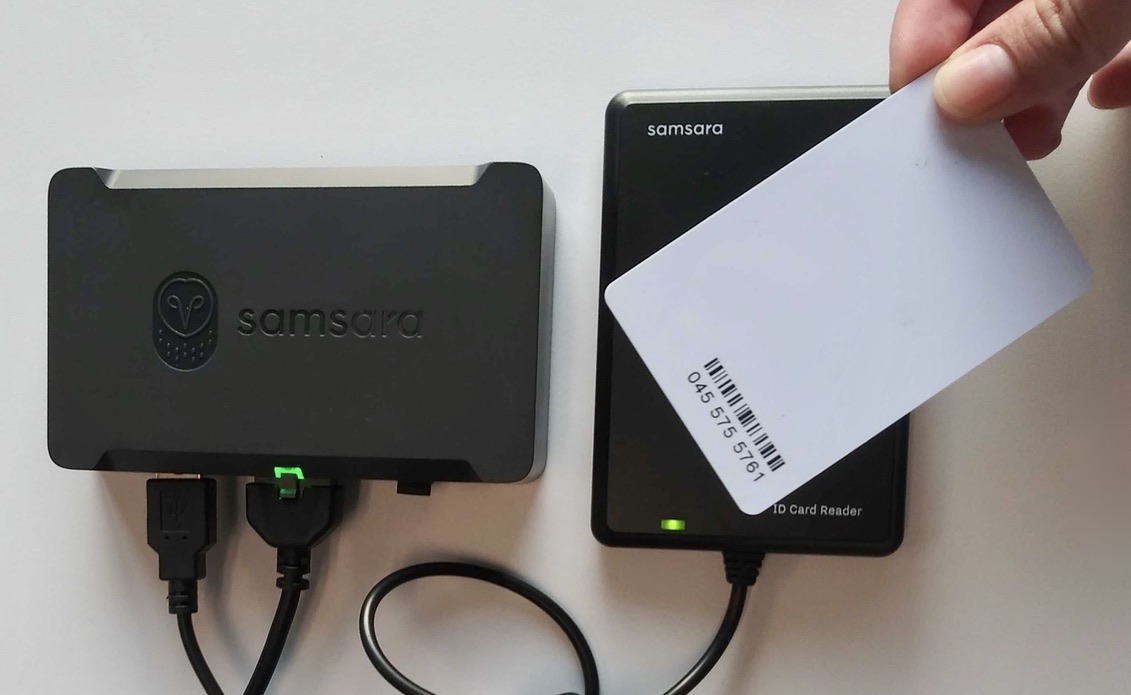 When used for driver visibility and vehicle assignment, each driver is issued an ID card.
ID cards do not substitute for the Samsara Driver App to manage Hours of Service. For HOS reporting, you must use a Vehicle Gateway as an ELD must be used in combination with the Samsara Driver App.
A vehicle selection in the Samsara Driver App will override an ID card assignment. In addition, a vehicle assignment created by an ID card will override a Static Vehicle Assignment in the driver's or vehicle's settings. For best reporting, we recommend that fleets with ID cards do not also set drivers up with Static Vehicle Assignments.
When drivers are ready to make a trip, they can tap the ID card against the ID Card Reader and wait for a beep. The card must be tapped before the vehicle is moving at 5 mph or higher for 5 or more continuous minutes for the vehicle assignment to be successful. The light on the reader should flash green flash when the assignment is successful. The driver is assigned to the vehicle for all upcoming trips but can be removed from the vehicle assignment in one of two ways:
The driver assigns themselves to a different vehicle by tapping their ID card on the Samsara ID Card Reader in the new vehicle.

A different driver taps their ID card to this vehicle's ID Card Reader, thus assigning themselves to the vehicle and removing the original driver.
The ID Card Reader logs and securely transmits drive time, date, and location data to the Samsara Cloud. As part of Samsara's powerful IoT platform, the ID Card Reader enables fleets to combine driver data with real-time GPS and camera data, delivering improvements in driver safety, operational efficiency, and route planning.
Before you begin, Install an ID Card Reader in the vehicles for which you want drivers to use ID cards.

Select the Settings icon ( ) at the bottom of your Fleet menu to view dashboard settings.

In Driver App, select Drivers.

Locate the driver form whom you want to assign an ID card.

Click the more actions menu ( ••• ) in the row for the driver and select Edit.

Under ID Card Code, enter in the number associated with the physical ID card (you can omit the leading 0), and Save the driver settings.

If the card is a Samsara ID Card, you can identify the unique ID value on the card itself. For third-party ID cards (or if the printed ID is not readable on a Samsara ID Card), you can plug the ID Card Reader into a laptop or desktop computer to scan and read the value of the ID Card.