There are times when Fleet Managers are interested in reviewing longer spans of drive time than the standard one-minute video retrieval. Hyperlapse is an innovative way to enable up to one-hour footage retrievals without sacrificing expedited, streamlined review.
Hyperlapse videos allow you to quickly review footage, find important events, or zero in on incidents that are more than a minute long. They are a great tool if you are not sure when an incident happened. Using the time overlay on Hyperlapse footage, you can zoom in on a particular time frame by following up with a standard one-minute retrieval at that start time.
To access this feature, go to Fleet > Reports > Video Retrieval.
Click Request Video Retrieval.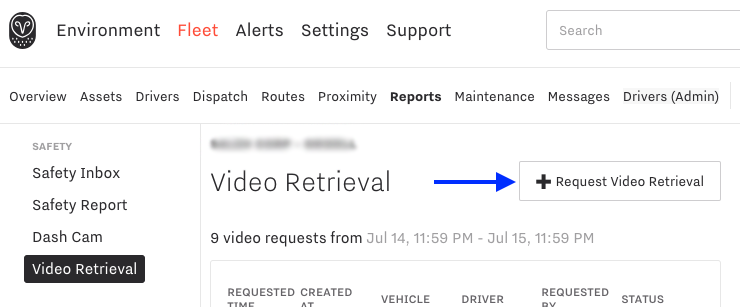 Select the vehicle, date, and start time for the incident of interest. At the bottom, toggle on Request hyperlapse.
If the video is available, a green checkmark will be displayed:

Specify a duration. You can request hyperlapse videos ranging from 5 minutes to 1 hour of drive time. Longer durations will require more time to process and download, so the more specific the duration, the more efficient the retrieval time.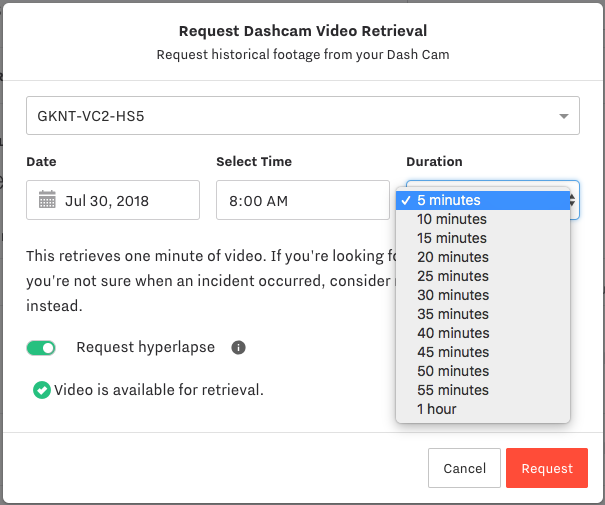 The time overlay is available in the bottom left corner of the video. This can help identify the exact time frame an event occurs: