The Coaching Timeliness Report provides granularity and clarity on coaching sessions. Use this report to quickly identify which coaches are performing coaching on time and view a breakdown of past coaching behavior. To monitor trends in coaching timeliness, you can also schedule reports for Samsara to send in email.
With each coaching session, events are grouped together into behaviors, and drivers are coached on behaviors instead of individual events. This report summarizes whether those behaviors are coached on time or not.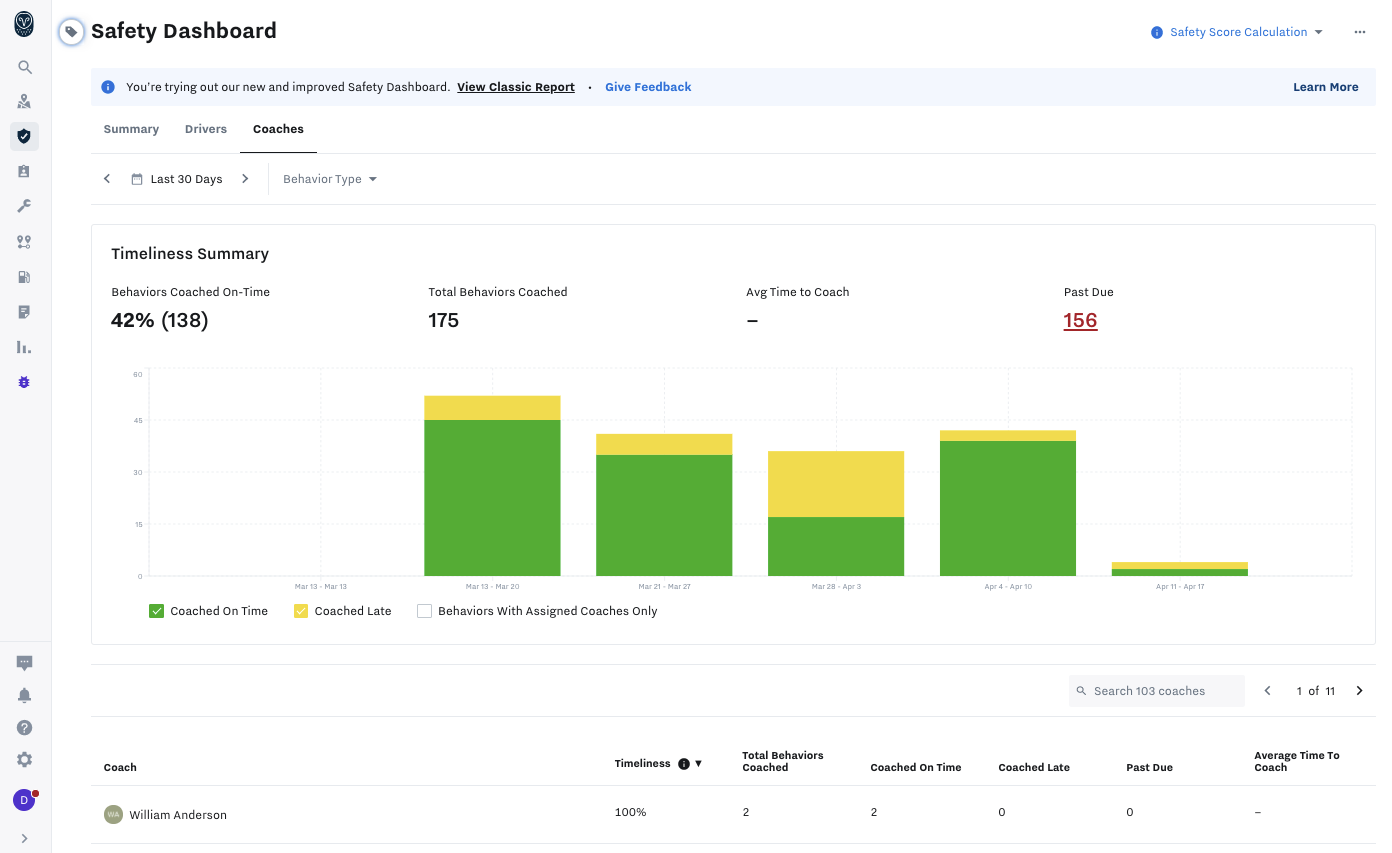 The Coaching Timeliness Report comprises an overall summary graph and a breakdown of coaching statistics by coach.
The summary graph displays a visual depiction of the distribution of coaching session timeliness over the selected time period. The summary also displays the total coaching sessions and average amount of time to coach for the selected time period. All report statuses (coached on time, coached late, past due) are based on the current date regardless of time window (going back in time will still show today's status, not the status of that time).
You can also filter the summary for specific behavior types. The graph displays all drivers for the selected behavior that have coached at least one driver within the selected time range.
Note
You can see data for all coaches that you have permissions to view. If a coach coaches any drivers for which you do not have permissions to view, the report groups those drivers in a generic category for Restricted Users.
The table below the summary provides statistics about coaching sessions by coach. You can also use the Search at the top of the table to search for specific coaches.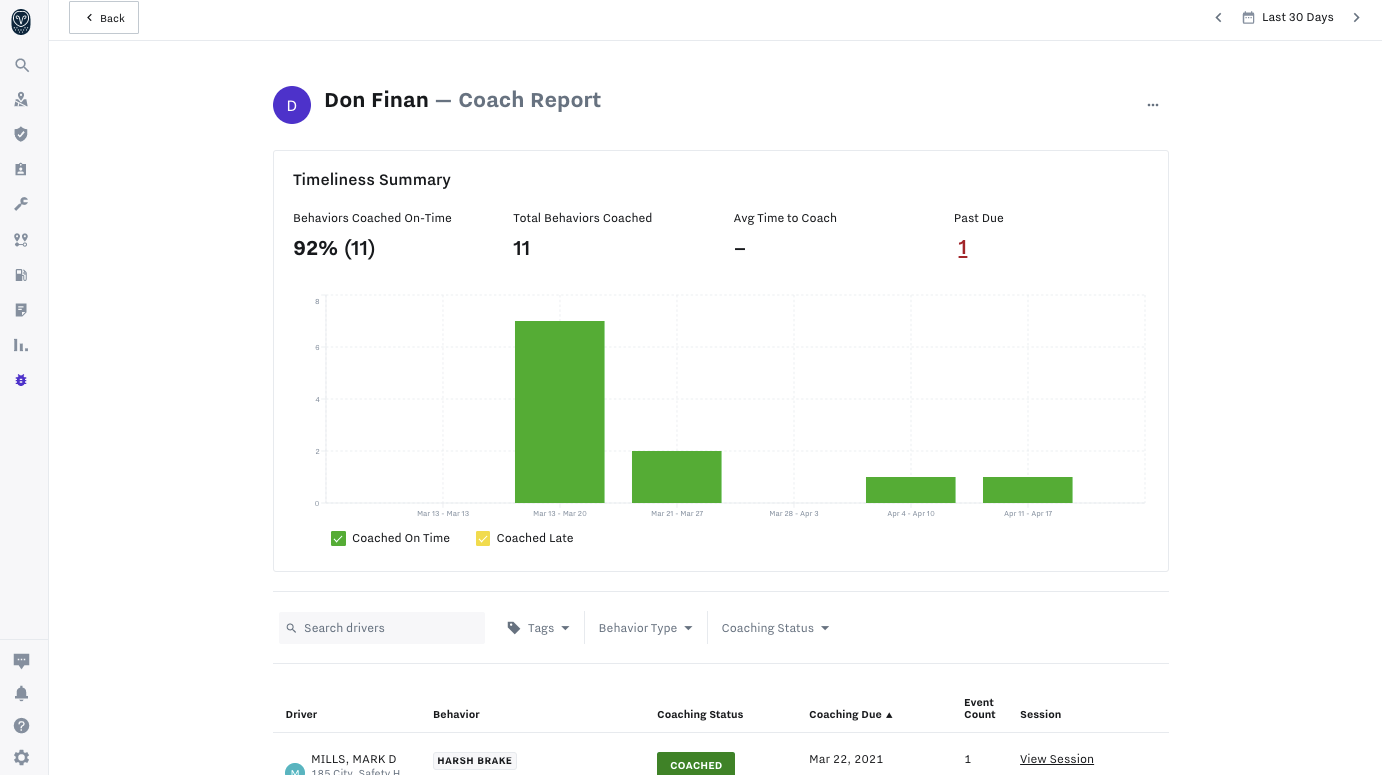 The following information is available for each coach:
| Field | Description |
| --- | --- |
| Coach | Name of the coach. Select this field to pivot to the full coach report. |
| Timeliness | Percentage of coaching sessions the coach completed on time. |
| Total Behaviors Coached | Total number of behaviors coached. |
| Coached on Time | Total number of coaching sessions completed on time. |
| Coached Late | Total number of coaching sessions completed late. |
| Past Due | Total number of coaching sessions that are overdue. You can modify the timeframe during which a coaching session should be completed by your coaches in the Settings. |
| Average Time to Coach | Average amount of time it takes the coach to complete a coaching session. |
To further drill down into the Coaching Timeliness Report, you can select the name of a specific coach in the table beneath the summary. After you select a coach, the summary updates to reflect data only for the selected coach.
In addition, the table beneath the summary graph displays a summary of coaching sessions assigned to the coach by driver.
| Field | Description |
| --- | --- |
| Driver | Name of the driver that was coached. |
| Behavior | One or more types of behaviors for which the driver was coached. |
| Coaching Status | Completion status associated with the coaching session. |
| Coaching Due | Due date by which the coaching session was due. You can modify the timeframe during which a coaching session should be completed by your coaches in the Settings. |
| Event Count | Total number of events associated with the coaching session. |
| Session | Link to view the specific coaching session details. |