Start of day driver workflows are a great way to step drivers through the tasks that they have to complete in order to start their day and get driving. It is a great feature for drivers that start their day by selecting a vehicle and/or trailer and completing a pre-trip DVIR.
Admins can customize their start of day workflow to provide an experience to match your own fleet's processes. Customization can be accessed from Settings → Driver App → Workflows.
Tasks within an organization's workflow can be rearranged by dragging and dropping tasks up and down the flow. Tasks will be presented to drivers in order from top to bottom in a flow or
'wizard'
format, prompting them to complete each task one at a time.
Tasks can be added to the workflow from the bottom of the page using the
'Add
task' button. Tasks can be chosen from any of the task types outlined below.

Select Vehicle
Prompt a driver to select a vehicle
Select Trailer
Prompt a driver to select a trailer
Start inspection for vehicle
Prompt a driver to start an inspection, or DVIR on their selected vehicle.
Start inspection for trailer
Prompt a driver to start an inspection, or DVIR on theri selected trailer
Create document
Prompt a driver to complete a document type. When adding a document task, the document type can be chosen, and it can also be changed on the side bar after the task has been created.

Review carrier assignment
If a carrier proposed assignment has been created via API
(see
documentation
), this task can be used to prompt a driver to review the assignment.
Prompt a driver to go on duty. This is particularly helpful if going on duty is an important part of a driver's pre-trip routine.
Enter shipping ID
(HOS
only)
Prompt a driver to enter a shipping ID.
Prompt a driver to certify their HOS logs.
Review carrier edits
(HOS
only)
Prompt a driver to review any pending HOS carrier edits.
Review unassigned hours
(HOS
only)
Prompt a driver to review any pending unassigned hours for the currently selected vehicle.
Tasks can be marked as required for start of day workflows. When a task is required:
The required task is not able to be skipped

Drivers cannot exit the wizard before they have completed the required task
Note that if the pre-requisites for a required task have not been met, then the driver will be exited from the wizard.
NB: pre-requisites for tasks can be found on the task information pane within the wizard customization page
When a workflow is ready to be used by drivers, a workflow can be
'published'
to a set of drivers, by pressing the "publish" button. This will bring up the following modal in which drivers can be selected.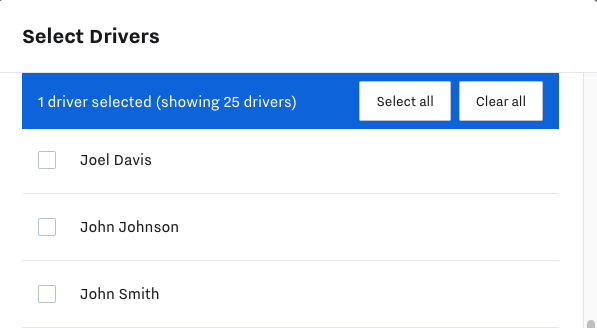 Once the workflow has been published, the selected drivers will be prompted to complete the workflow every time they sign in to the app.