For Fleet Administrators, the Settings page in your Samsara Dashboard is a central place where you can adjust settings and configurations for your organization, fleet, and devices.
To access, go to Settings by clicking on the gear icon in the bottom left hand corner of your home screen.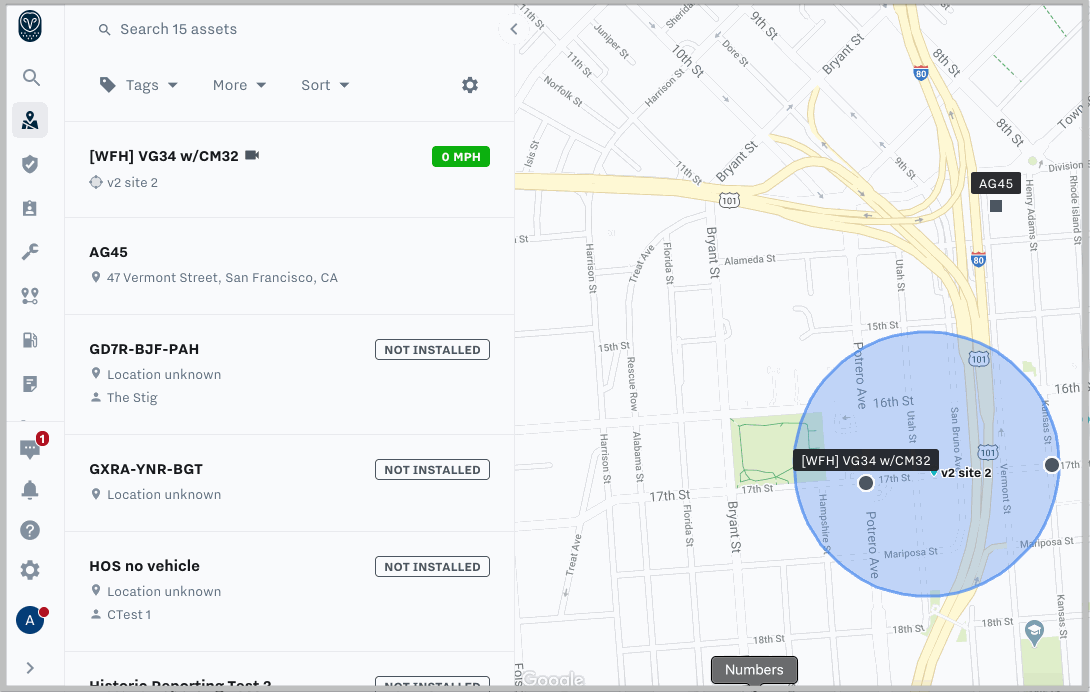 Settings Page Layout
The Settings page for fleet customers is organized into 5 sections:
1. Organization - Settings that apply to the overall organization, such as managing users, roles & permissions, org logo, locale and timezone
2. Devices - settings related to your devices and how they work
-Go to Devices to see comprehensive lists of your devices, cameras and sensors and input basic information for them (e.g. name, license plate, etc.)

-Go to Configuration to configure gateway and camera behavior
3. Fleet - settings related to managing and evaluating the performance of your fleet

-Go to Driver App - for settings around driver app login, fleet id, trailer selection, messaging capabilities, DVIRs (walkarounds) and driver-facing routing functionalities
-Go to Safety for fleet safety settings related to configuring safety scores, detecting harsh events, and coaching, To edit individual vehicle's safety settings, click on the the "Edit Individual Vehicles" button at the top right corner of the Safety settings page.
-Go to Compliance to set carrier information, HOS compliance rules, state override and per-driver rulesets
-Go to Dispatch to configure admin-facing dispatch workflows, route tracking, and route stops sensitivity thresholds
-Go to Fuel & Energy to view driver efficiency, manage fuel costs, and fuel cards
-Go to Driver Activity to set working hours and maximum driving hours
-Go to Addresses/Geofences to create, edit, and manage your addresses and geofences
-Go to Maps to add or edit map overlays (images shown on maps of the Samsara cloud dashboard)
4. Links & Sharing - settings for alerting and sharing Samsara insights with users and stakeholders outside of the dashboard
5. Developer - tools and information for using Samsara APIs and webhooks as a developer
Other Reports and Configurations
Gateway and Camera health reports can be found under Reports, and which is under the Health section on the Reports page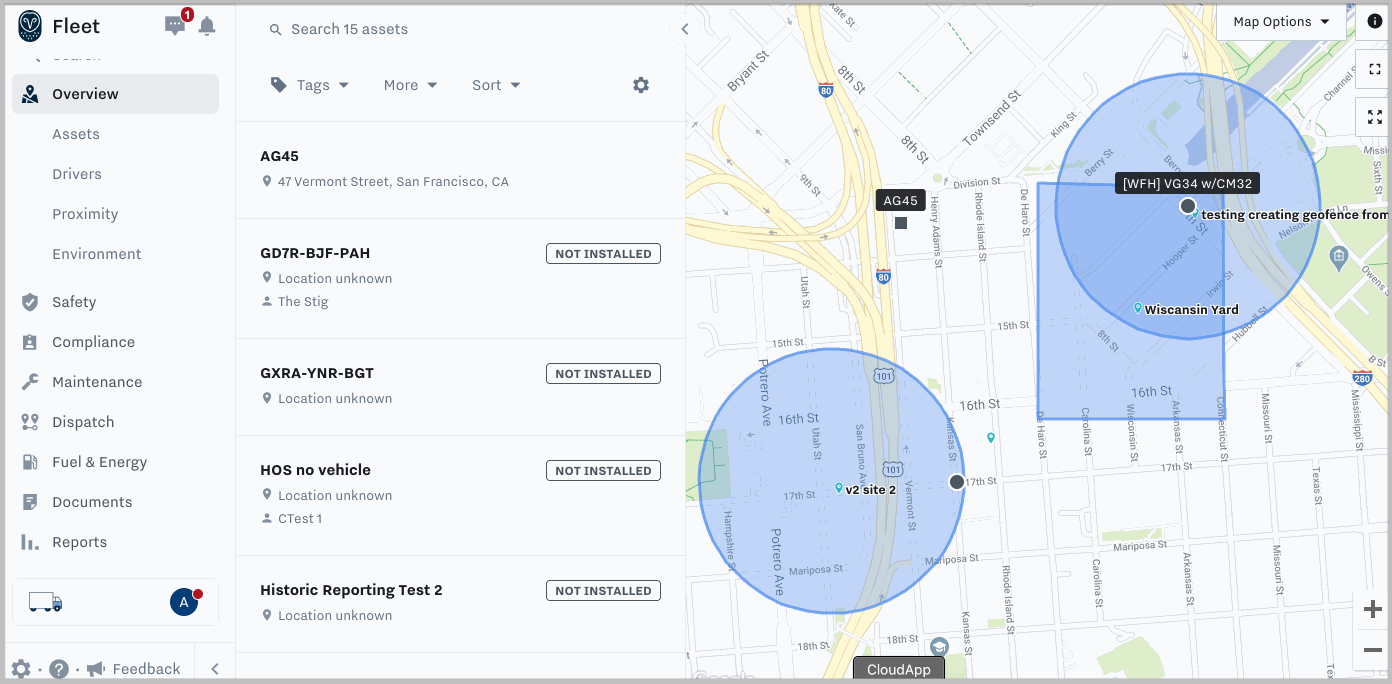 The list of trailers that are available to drivers was under Settings > Trailers & Assets and has now been consolidated with all trailers and can be found and managed on the Asset page from Fleet Overview.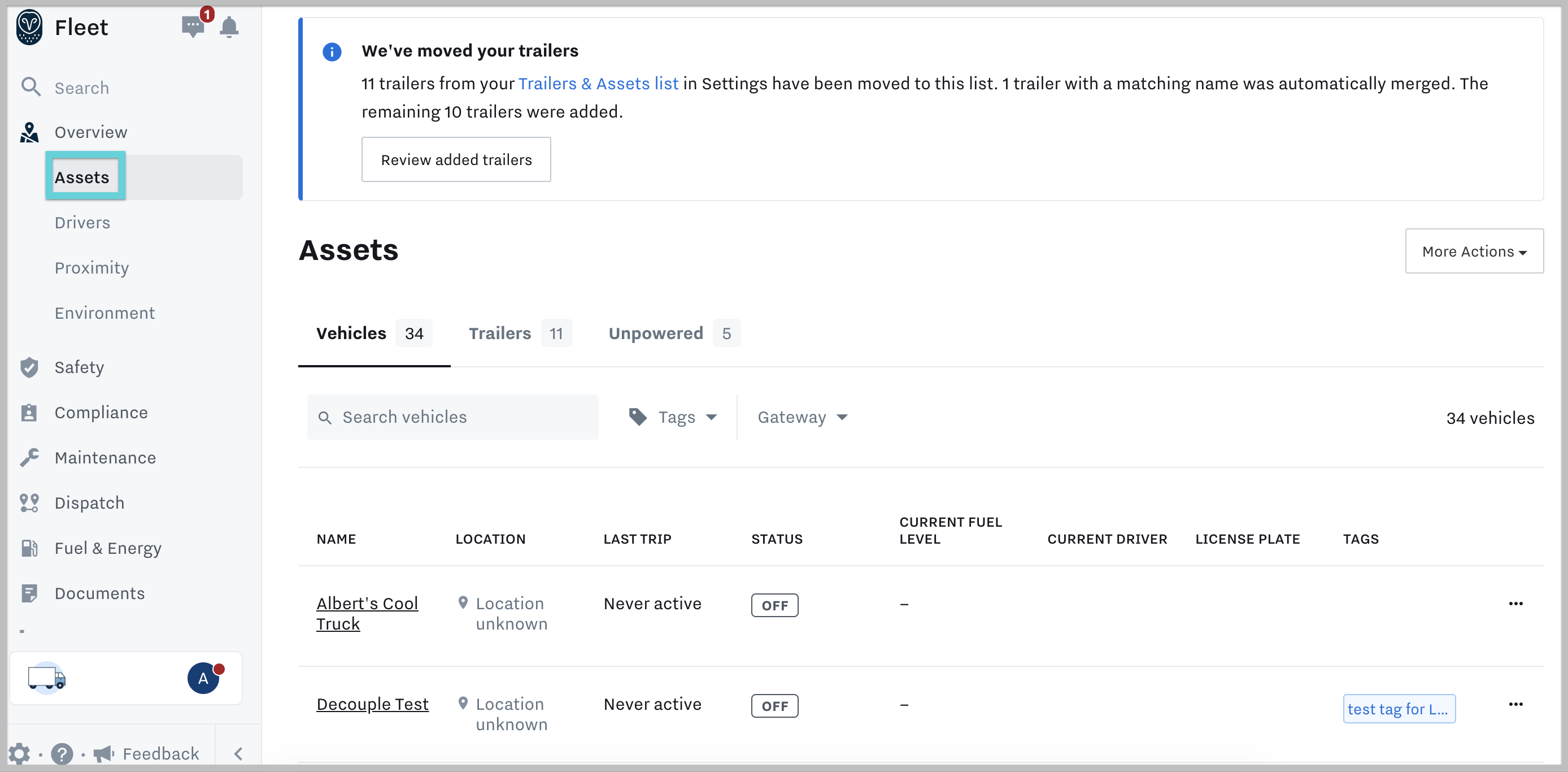 Driver Fleet ID that is used for driver app login has moved from Organization > General settings to Driver App > General settings