You can use the Safety Score to encourage positive driving behaviors and to coach unsafe driving practices to help reduce the likelihood of accidents. Safety Events include harsh events (Harsh Brake, Harsh Acceleration, Harsh Turn, and Crashes) and behaviors include speeding, unsafe following distance, and AI unsafe behavior like Distracted Driving and Near Collision (see Safety Score calculation). If desired, you can override the default safety score to manually assign weight and increase the relative importance of specific factors used to calculate safety scores and safety infractions by enabling Safety Score Configuration in the Safety settings.

For more granular control of events and speed, you can weight individual events and behaviors. For label-based events, a fleet or safety administrator must manually identify an event and assign the appropriate label before Samsara will include the event as part of the safety score calculation.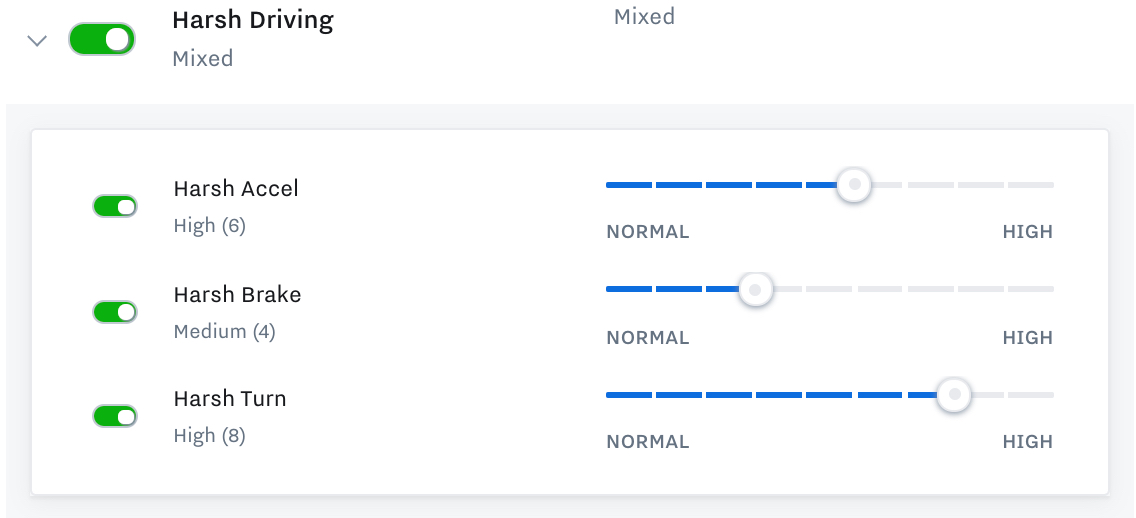 During review of safety events from the Safety Inbox, in addition to automatically detected events, you can manually add event labels as indicated by the table below as Manual Only. Assign weights to the following events:
Category

Labels

Crash

Collision Risk

Defensive Driving (Manual Only)

The Defensive Driving label positively impacts the harsh event score. The label is subtracted from the total harsh event sum in the harsh event score calculation.

Following Distance

Following of 0-2s (Manual Only)

Following of 2-4s (Manual Only)

Late Response (Manual Only)

Near Collision

Distracted Driving

Distracted Driving (Manual Only)

Drowsy (Manual Only)

AI Distracted Driving Detection

Speeding

Light Speeding (0-5mph over limit)

Moderate Speeding (5-10mph over limit)

Heavy Speeding (10-15mph over limit)

Severe Speeding (Over 15mph over limit)

Speeding (event) (Manual Only)

Traffic Signs and Signals

Did Not Yield (Manual Only)

Ran Red Light (Manual Only)

Lane Departure (Manual Only)

Rolling Stop

Policy Violations

Obstructed Camera (Manual Only)

Eating/Drinking (Manual Only)

Smoking (Manual Only)

No Seatbelt (Manual Only)

No Mask (Manual Only)

Mobile Usage (Manual Only)

Harsh Driving

Harsh Accel

Harsh Brake

Harsh Turn
Assign Importance to Events
By default, Samsara assigns an equal weight of 1 (Normal) to all safety events and behaviors when calculating the safety score. For each event or behavior that you want to weight, you can assign a value from 0 (least important) to 10 (most important). Use the Score Preview to see how adjustments will effect your safety score. Once the adjusted weight is saved, the setting applies to both current and historical safety scores. Use the following tips to configure your settings:
Disabling the event will assign a value of 0 and remove the event type from the safety score calculation.

Configuring a weight above 1 will give that particular event that many factors more weight relative other events set to 1.

Positively weight defensive driving to offset a negative score.