As an administrator, you can use the Safety Score to encourage positive driving behaviors that may reduce the likelihood of accidents.
Configurable safety score settings allow you to align scoring with your safety program priorities. You can set different magnitudes of penalties for different categories of harsh events and speeding. With configurable scoring, you are able to better compare their drivers with the resulting tuned scoring.
Terminology:
Safety Event: An incident with one or more safety infractions (e.g. harsh turn, rolling stop, etc.).

Event Label: An event may consist of one or more safety infractions with respective Event Labels. Event Labels are automatically assigned to Safety Events and can also be manually added by an administrator in the Safety Inbox. Some event labels are only available for manual assignment (e.g. Did Not Yield).

Speeding: Speeding is determined relative to a road segment's speed limit.

Safety Score: The Safety Score is a numerical representation of a fleet or driver's overall safety performance over a period of time.
The weighted Safety Score formula:
In its simplest form, the Safety Score is a composite of events labels (brake, accel, turn, crash, etc), time over the speed limit and Camera AI events. These aggregations are normalized by miles driven and drive time, so that the resulting score can be used to compare drivers with different amounts of time on the road. The overall Safety Score is normalized on a 100 point scale: 100 is the maximum score, and 0 is the minimum score (any calculation that yields a score below 0 is bottomed out at 0).
Respective configured weights are the 0-10 weights set by an administrator in the configurable settings: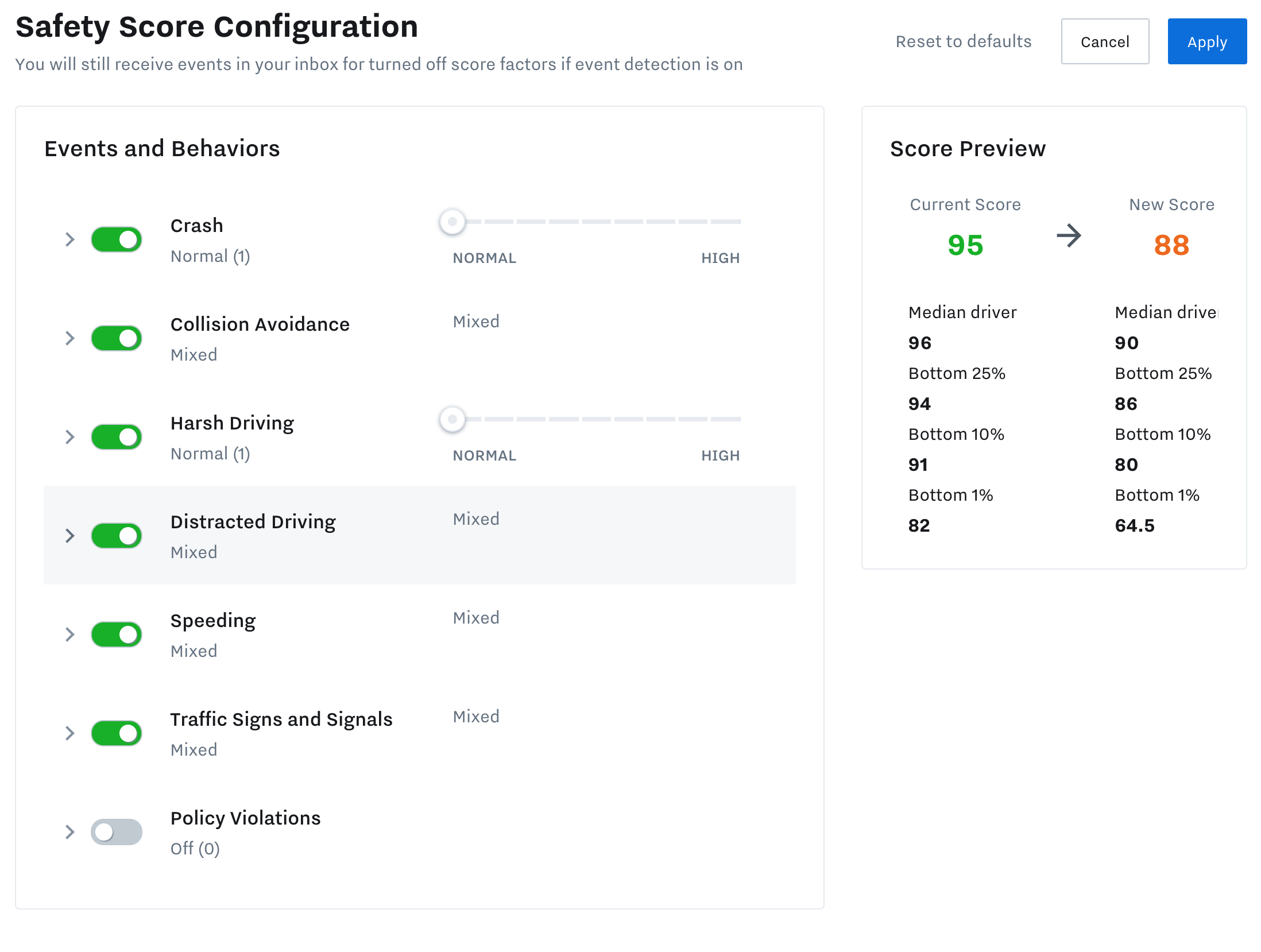 100% - [((harsh events * respective configured weights)/total miles driven) * 1000] - [((time speeding by granularity * respective configured weights)/total time driving) * 100]
How it works:
Turn on and configure the Configurable Safety Score settings by navigating to Settings > Safety > Safety Score Configuration, toggle it on, and press the Configure Scores button to access the detailed settings.

Configure granular weighting:
You can choose to configure the granular sub-components that make up the harsh event and speeding components of the safety score.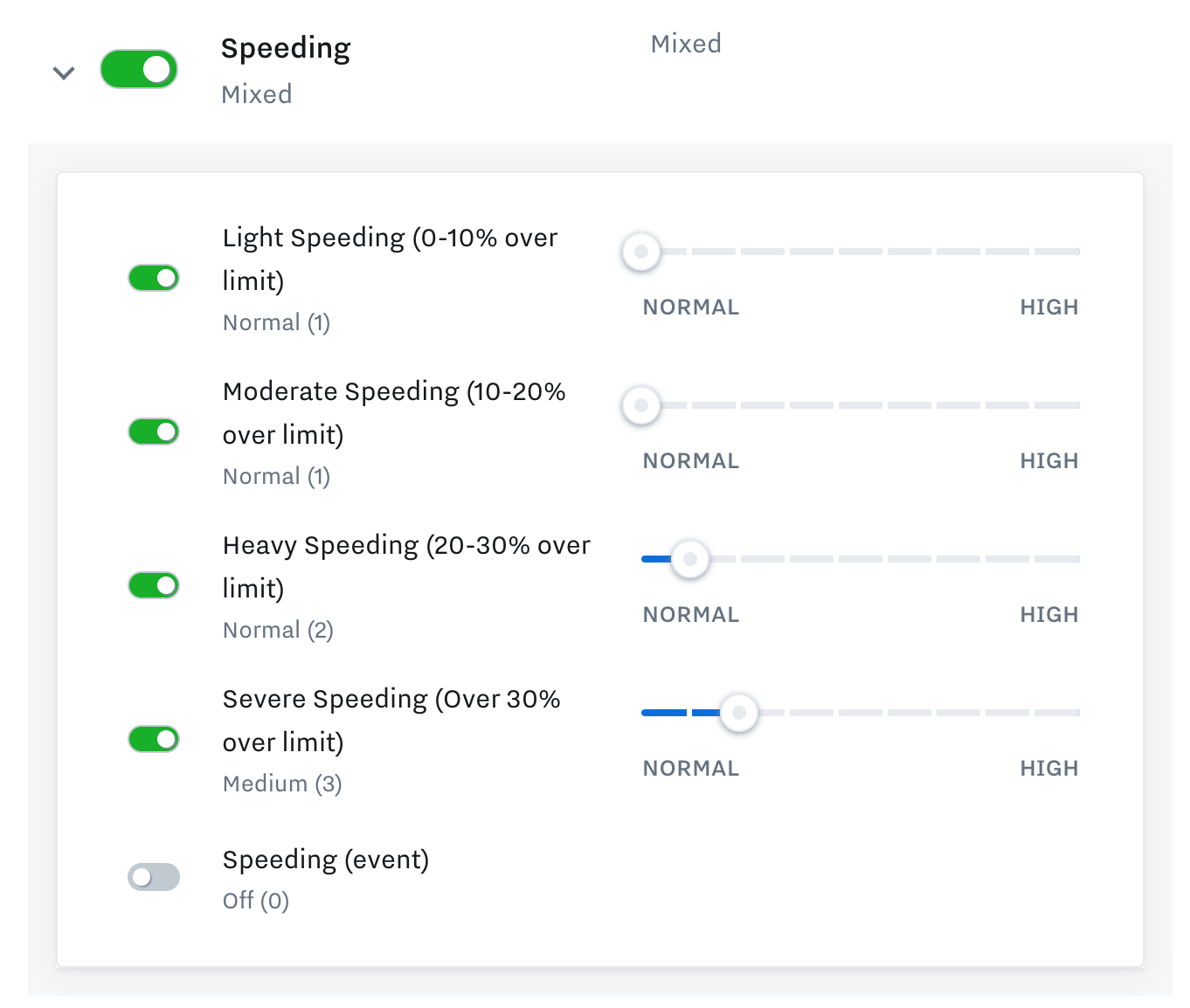 Each sub-component slider has options ranging from 1 to 10, where 1 is standard, and 10 is given the highest added emphasis and impact to a score. By default most safety score sub-components are set to a weight of 1. Configuring a sub-component's weight above 1 will give that particular sub-component that many factors more weight relative other sub-components set to 1.
Note: You can turn off counting a particular safety score sub-component completely by turning off the toggle to the left of the event or category.
Saving Changes:
By selecting apply, you will update all of the safety scores in the dashboard to reflect the new safety score weighing configuration. Updates are made across all data and dates and at the overall safety score, driver, and vehicle levels.
Note: Take note of the score settings prior to changing in case you want to revert to the previous settings.
Additional Notes:
The legacy Safety Score calculation only factored in the following harsh event types: Harsh Brake, Harsh Acceleration, Harsh Turn, Rolling Stop, and Crash. With the introduction of configurable safety scores we are now counting all harsh event types shown on the configurable safety score settings page (including automatically and manually assigned harsh event types).

The Defensive Driving label positively impacts the harsh event score. The label is subtracted from the total harsh event sum in the harsh event score calculation. ((SUM negative harsh event points) - Defensive Driving points).
Setting a weight to 0 means we do not count that harsh event type in the safety score.