Many fleets have a portion of vehicles that are unregulated (non-CMVs) and do not require an ELD. These vehicles may not be regulated because they fall under the 10,001 GVWR threshold, 15 passenger carrying capacity, or do not carry hazardous materials.
Drivers may also operate between both regulated and unregulated vehicles. Time spent in unregulated vehicles should be "On Duty" so that the Drive line is saved for operation of regulated vehicles.
Samsara now has a vehicle setting that will turn off the ELD functionality for your vehicles that do not need it. When enabled, this feature will turn off the automatic On Duty -> Drive transition and will also eliminate Unassigned Segments from generating when there is no driver signed in. This feature will allow drivers to sign in and appropriately account for their time between both regulated and unregulated vehicles.
Note: This setting should not be enabled for vehicles that switch between the unregulated and regulated states. This setting is only meant for vehicles that are always unregulated.
Common Use Cases:
Passenger Transit

Field Services

Construction
How it works
Configuration
Navigate to Settings > Compliance

Toggle the Compliance Setting Allow unregulated vehicles

This will expose a new toggle on the Vehicle Settings modal

Navigate to Settings > Devices > Vehicle Settings (the three dots on the right will display Vehicle Settings as shown below)

Toggle the vehicle setting "Vehicle Regulation Mode" to be "Unregulated (non-CMV

)"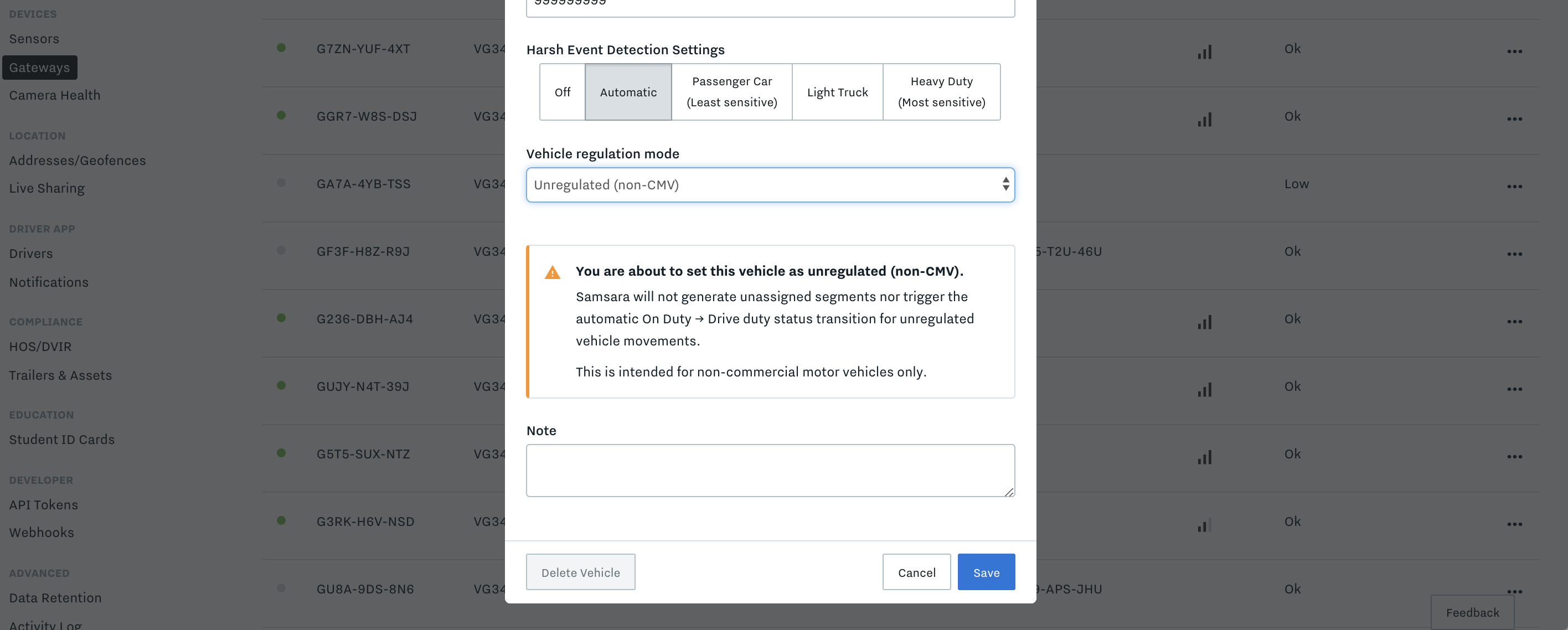 Driver App
Samsara will no longer change the HOS log to the Drive duty status when the vehicle reaches 5mph. The driver is still able to manually change duty statuses
Driver HOS Logs
This example shows a driver signing in and manually going On Duty and Off Duty
Unassigned Segments
With this setting enabled, Samsara will no longer generate unassigned segments for this vehicle when there is no driver signed in
Compliance Consequences
Please note, this will turn off ELD capability for this vehicle

This should not be turned on for vehicles that need an ELD

The activity log will be able to show who changed vehicle settings
ELD Exempt Driver and Unregulated Vehicles
A driver who is marked as "ELD Exempt" will show Off Duty entirely when signing in and driving an unregulated vehicle (they are not required to have HOS)

If they have previously driven a regulated vehicle, then Samsara will keep their status as On Duty (will no longer show the Driving line for these unregulated vehicles)

If the carrier wants to keep track of On Duty time for these ELD Exempt drivers, the driver can use the Driver Portal Kiosk Mode to go On Duty at the beginning of their shift and Off Duty at the end of their shift
Unassigned Driving Alert
Unregulated vehicles will not mute the unassigned driving alerts

It is recommended to remove these vehicles from the alert if you are using these alerts to mitigate unassigned segments