Yard Move (On Duty) and Personal Conveyance (Off Duty) are two special driving statuses defined by the ELD Mandate.
Yard Move is defined as On-Duty driving time.
Personal Conveyance is defined as Off-Duty drive time. Specifically, it is time spent doing non-work related activities in an unladen vehicle.
The availability of each can be configured per-driver in the Samsara Dashboard.
Configuring Special Duty Statuses
The ELD mandate requires that carriers be able to configure the availability of the Yard Move and Personal Conveyance special duty statuses on a per-driver basis.
The settings can be configured in the Settings page for a driver, or in the Bulk Import/Update process.
Once selected, the duty statuses become available in the driver app as additional duty status selections.
Configuration in Settings
Navigate to the Settings > Drivers page to see a listing of all drivers.

Click the Edit button for the desired driver, then use the selection options to Enable or Disable Yard Move or Personal Conveyance.

Click Save to confirm changes to the driver.
Configuration in Import & Update
Enter True or False in the ELD Personal Conveyance (PC) or ELD Yard Moves (YM) columns for a driver to enable or disable the duty status. More information on importing Driver Data via CSV file can be found in this support article.

Once you are ready to upload your CSV file, navigate to Settings > Drivers. Next, select More Actions, then choose Upload CSV.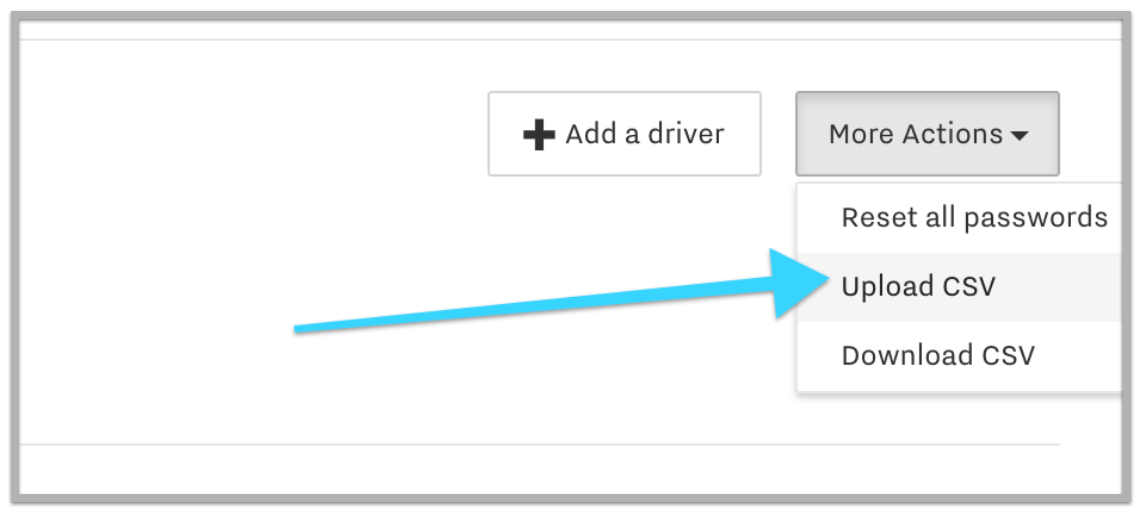 Duty Statuses in Samsara Driver App
If both Personal Conveyance and Yard Move are configured correctly as enabled, the duty status page in the Samsara Driver App should show 6 possible statuses to choose from.