If you would like to test the installation of your dash cam so that it is working properly and positioned how you would like it, you may do so by taking a picture in the Gateway Settings.
This function is available during installation when the gateway is connected to the vehicle with power. 
There are two ways to navigate to the Dashcam Capture page:
Via Fleet Overview:
1. Log into the Samsara Dashboard and Navigate to Fleet.

2. Select a gateway from the Fleet Overview list. 
3. Click on the small gray gear symbol to the right of the Vehicle name.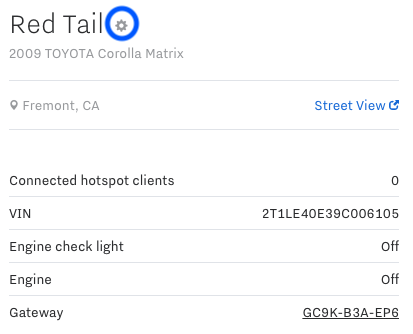 4. The Edit Gateway box will open up. Scroll to the bottom of the box until you see Check Dash Cam Installation.

5. Click the 
 button. After a couple of seconds, the photo(s) will show below the Take Picture button.
Via Gateway Settings: 
1. Navigate to Settings > Gateways > Settings. 

2. In Settings, scroll down to Check Dash Cam Installation.