The Proximity Search feature allows fleet managers to see what vehicles are within 100m of an address in their Address Book, or create a custom search for virtually any address.
To use Proximity Search, select Overview > Proximity on your Samsara Dashboard.
By clicking Search for an address... you are given the option to select an address already in the Address Book or type in a new address. You can find more information about how to use the address book here.
Example
In this example, a fleet manager is investigating whether any of the company's vehicles were near the Chevron gas station on Valley Avenue in Pleasanton, CA around 6AM on March 19, 2018. Once the fleet manager enters the address details, they can enter a Start Time and End Time for the search.
Note: The maximum duration is 24 hours. (added a gray border to this screenshot)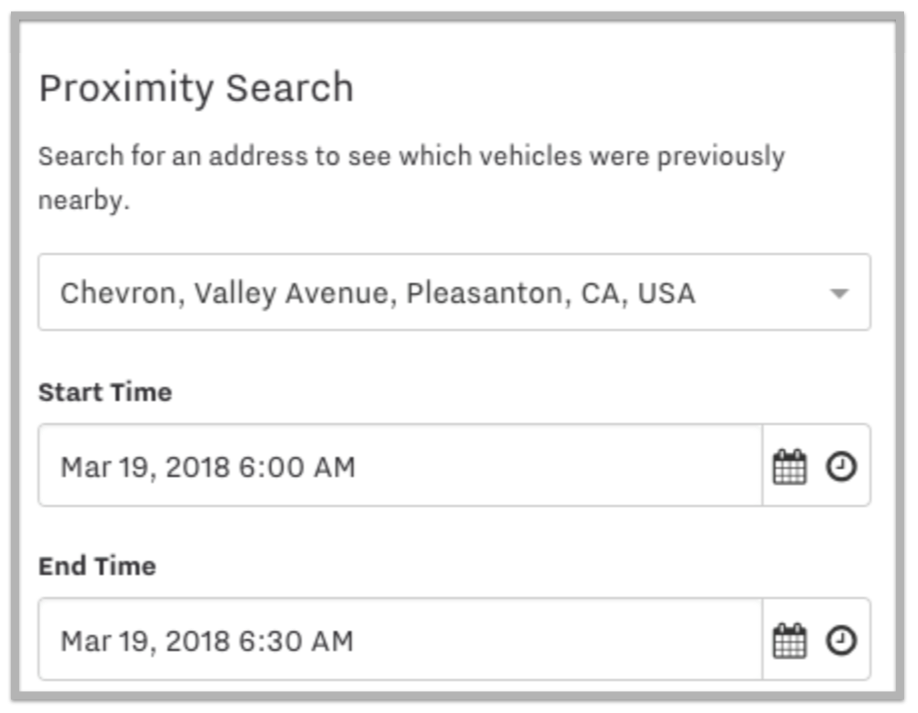 After the fleet manager enters the information, any vehicles that were in the area in that time frame will be listed below the search window and appear on the map display with the specific time the vehicle was there.
By clicking on a listed vehicle, the dashboard will display additional details, such as what trip the vehicle was on. Clicking View Trip will take the fleet manager to the Trip Details page.
Please note that the proximity report only allows you to view up to 12 weeks of historical data.