ELD Mandate: Required In-vehicle Information
In 49 CFR 395.22, the ELD mandate requires that every ELD-equipped vehicle must have documents describing how a driver can operate the device, including:
User Manual for the ELD
Driver Instruction Sheet describing:

How to operate the ELD in the event of an inspection; and
ELD "malfunction reporting requirements" and "record keeping procedures during ELD malfunctions"
While the user manual can be electronic (i.e. on the device), for customers who have purchased Samsara devices before the ELD implementation date, Samsara is making ELD Cab Kits available to its customers free-of-charge, while supplies last.
Printing the Kit or Distributing an Electronic Copy
Printing The Kit
You can print both of the required materials at any time from the Samsara website at the links below:
Using an Electronic Copy of the Manuals
The FMCSA has also clarified that the manuals may be made available to drivers in the vehicle in electronic form. Downloading a copy of both manuals to devices running the Samsara app will also allow you to meet this requirement.
Samsara's ELD Cab Kit
Samsara's ELD Cab Kit can be requested through Samsara Support. It includes both of the printed materials required by the mandate.
The ELD Cab Kit can be requested in a 5-pack or 20-pack (5 or 20 pcs).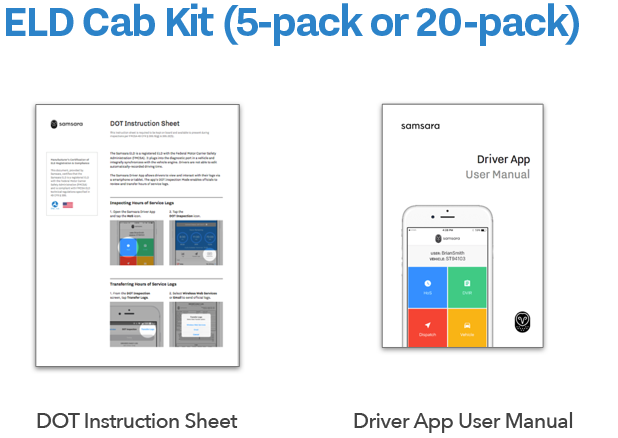 In Summary
The ELD mandate requires that a user manual and driver instruction sheet are available in the vehicle's cab
Electronic copies of the manual can be electronically distributed to drivers from the Samsara archive: User Manual | DOT Instruction Sheet