The Compliance Dashboard provides high-level visibility into your fleet's Hours of Service violations (HOS), unidentified driving, and unassigned hours. The dashboard can also serve as a starting point for your compliance managers to start their daily workflows. With this dashboard, you can:
Easily monitor compliance performance across your fleet

Track trends in HOS violations and unassigned hours management

Improve reporting efficiency by sorting drivers and vehicles with tags

Keep your drivers and back-office accountable for maintaining compliance
To navigate to the Compliance Dashboard, go to Fleet > Compliance.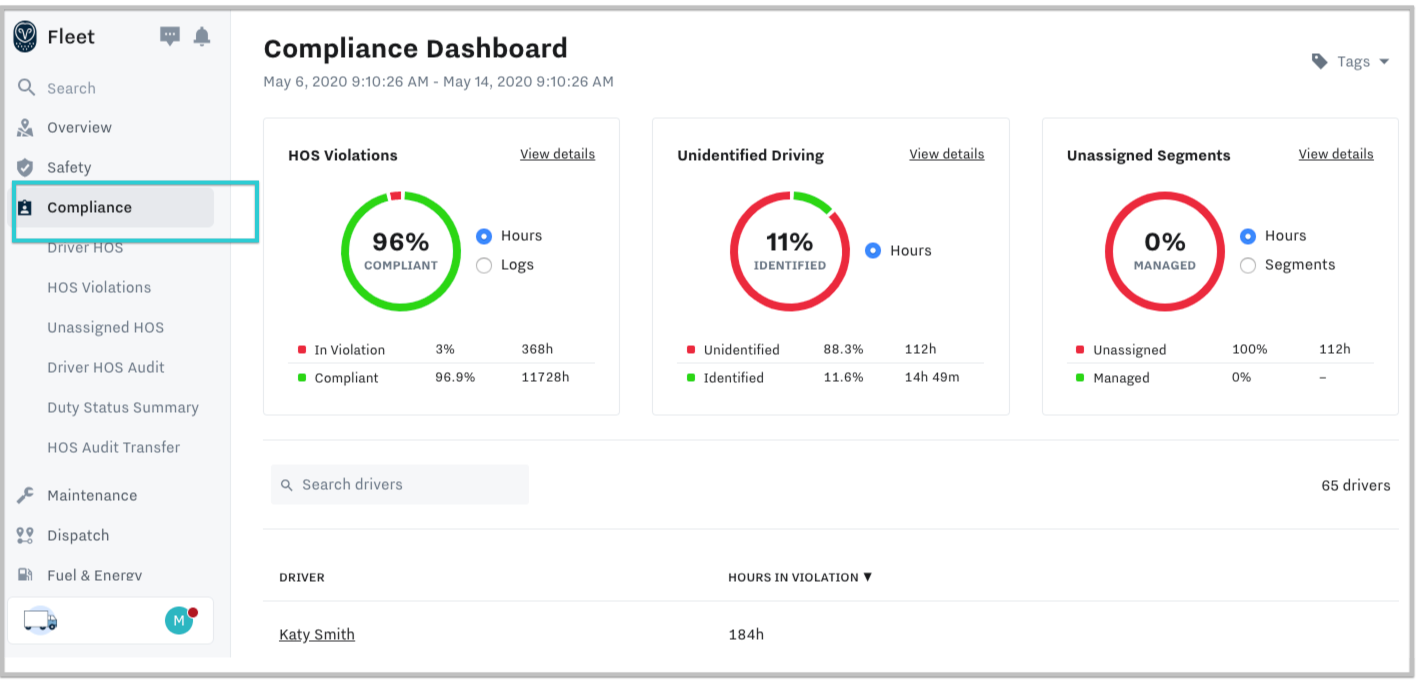 The Compliance Dashboard helps you answer these critical questions:
How many existing violations does my fleet have?
The HOS Violations tile provides a quick overview of the percentage of logs or hours in violation across your fleet. Easily pinpoint coaching opportunities with access to your fleet's HOS violation metrics. The Dashboard also displays a table for your drivers that highlights your drivers who have accrued violations. Selecting View Details will bring you into the Hours of Service report so you can view the driver information in more detail.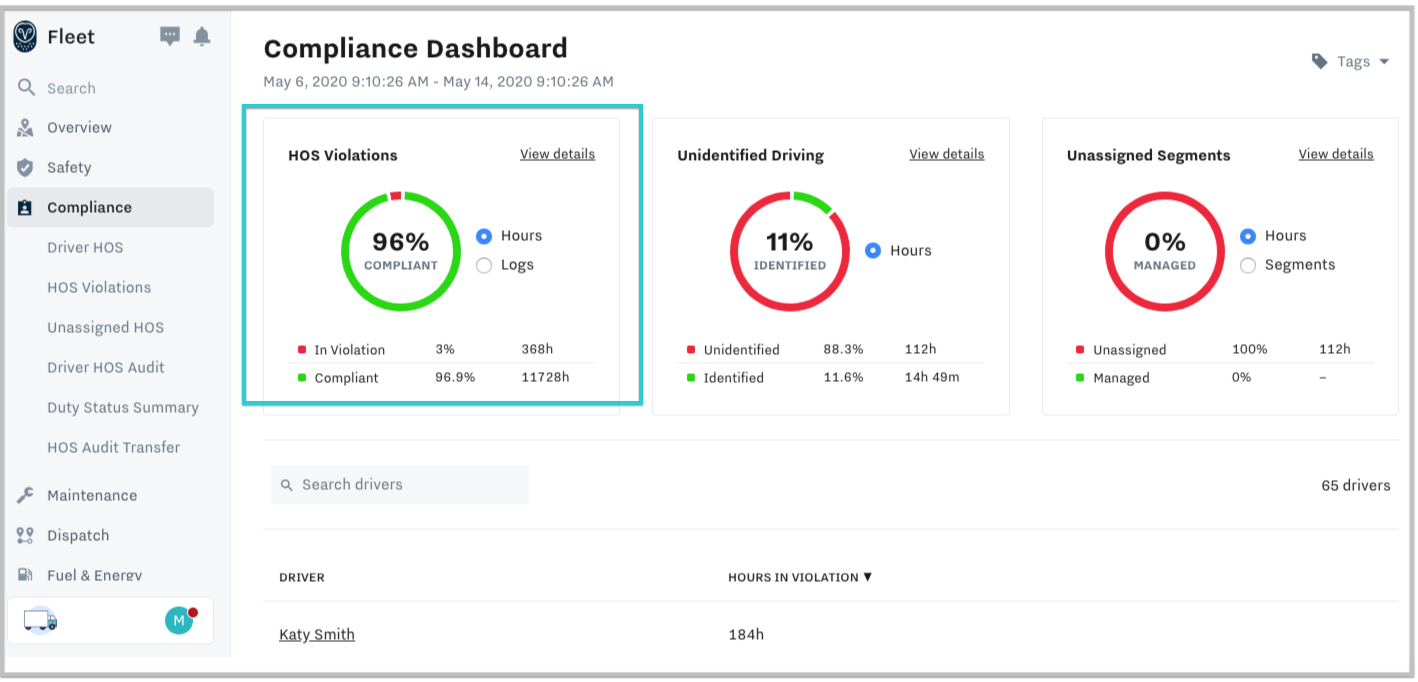 How much unidentified driving time does my fleet have?
The Unidentified Driving tile gives you visibility into how often driving time is going unassigned. Identify opportunities to train drivers on more effective logging practices. Selecting View Details will bring you into the Unassigned Hours of Service Report so that you can begin managing your unassigned segments.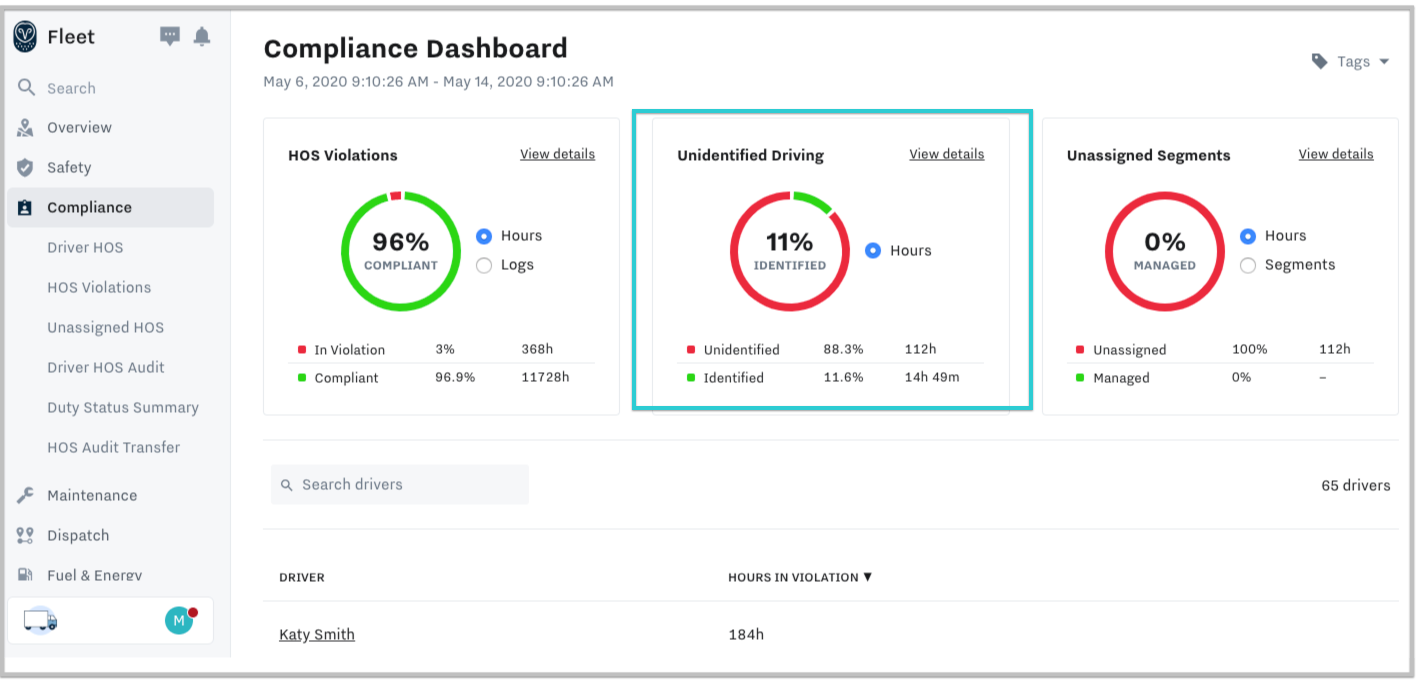 Use tags to view compliance data for different groups
Since many fleets segment their drivers and vehicles based on location or region, you can filter the Compliance Dashboard with tags. Using tags, you can filter tiles in order to effectively track and compare compliance across the groups you wish to view.