The Asset Based Environment provides a consolidated view into all of your fleet's live and historical environment data. This environment data includes all Samsara sensors (DM-11, CRGO, and EM-series) and reefer data from Carrier and ThermoKing integrations. Asset Based Environment has four key features:
Asset View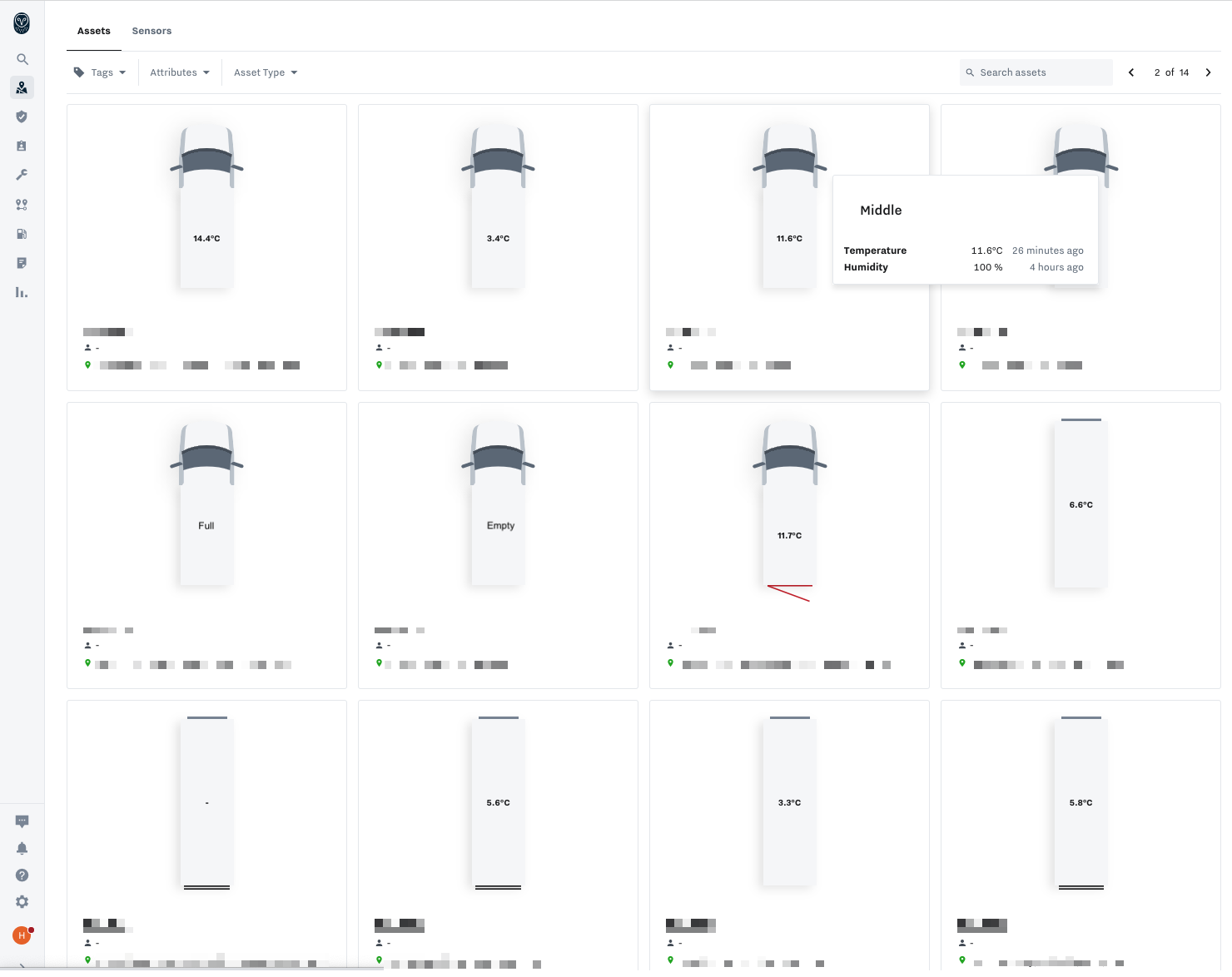 The Asset View (Overview > Environment) provides visibility into the last checked in values for your fleet's environment data. When you hover over an asset's graphic, a pop-up will display more details about last checked in values. This view surfaces the current location of your asset and driver if your asset is on a trip. Red shading on the asset indicates that the Reefer is above set point making it easy to pick out which assets need attention.
Assets display in this view if they:
Have a sensor paired with it
Have an unpaired sensor that last reported through it
Are a reefer with Samsara's Carrier or ThermoKing integration enabled
Historical Environment Report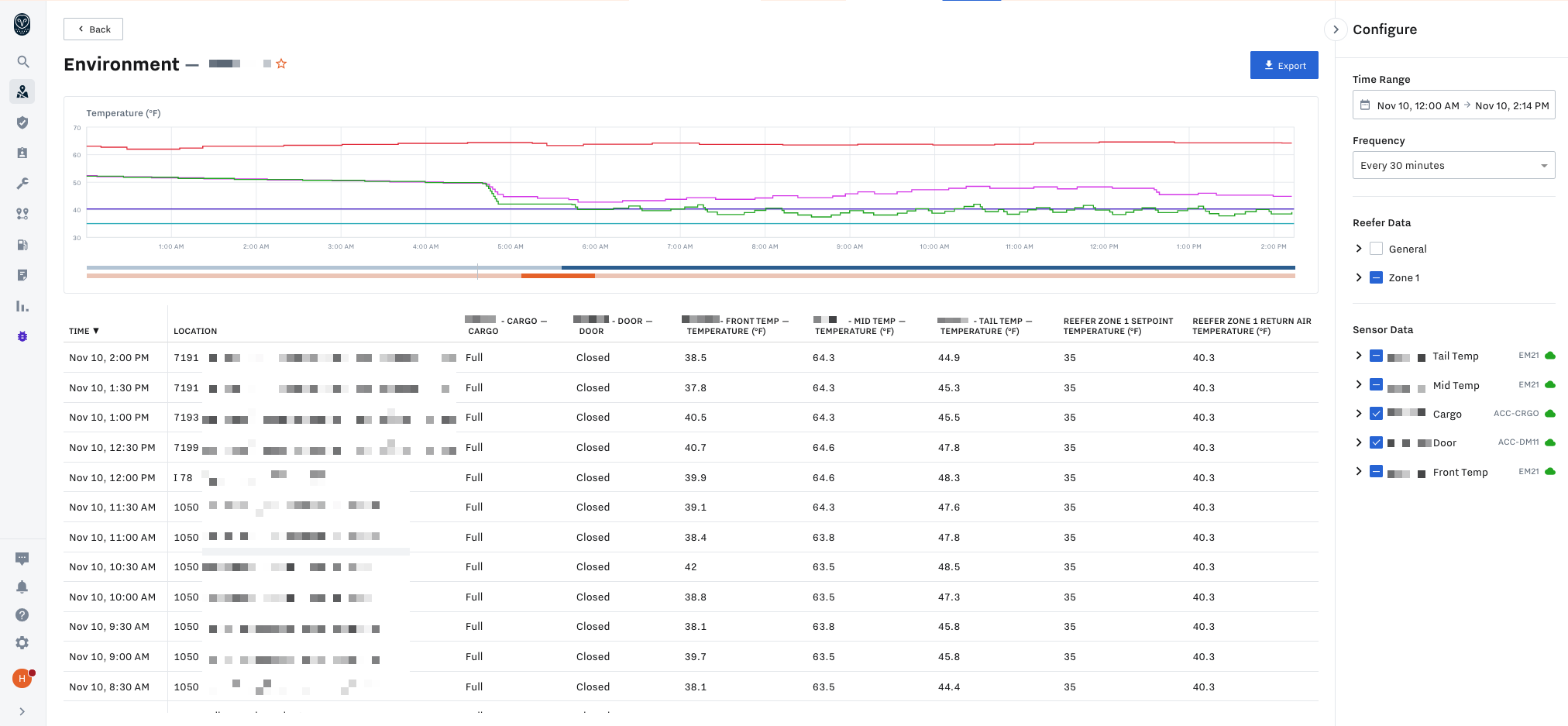 All historical data from Samsara sensors and reefer integrations is surfaced in one place and organized by asset in the Historical Environment Report. To view the Historical Environment Report for an asset, locate the asset in the Asset View and click on it. This report presents a graphical view of historical data, a map displaying location of the asset during the trip, and a data table with the environment data values during the selected time frame.
Configuration
You set configurations on the right side of the page in the window named "Configure", the window can be opened and closed

Time Selector - Select a maximum of 3 days. If you need an extended time selection,

contact

Samsara Support
Frequency - S

elect the interval at which you want to view the environment data

Intervals supported: 1 minute, 5 minutes, 15 minutes, 30 minutes, 1 hour, 1 day

By default, the report displays the following environment data:

Paired Samsara Sensors - DM-11, Cargo, and EM temperature
Unpaired Samsara Sensors that last reported through the asset - DM-11, Cargo, EM temperature
Reefer Data - set point, return air

Show more sensors - Select any sensor in your organization to appear in the report if you have any unpaired sensors in your org
Export Options
Data Table
Data is ordered by time and can be sorted by ascending or descending by clicking the small black triangle next to the time column header
Location column displays the detected location of the asset at the time
Each sensor and/or reefer data point, selected in the configuration window, will populate it's own column
Each row represents the last observed sensor value or data output for the specific sensor or reefer at that time
Scheduled Environment Report - By Asset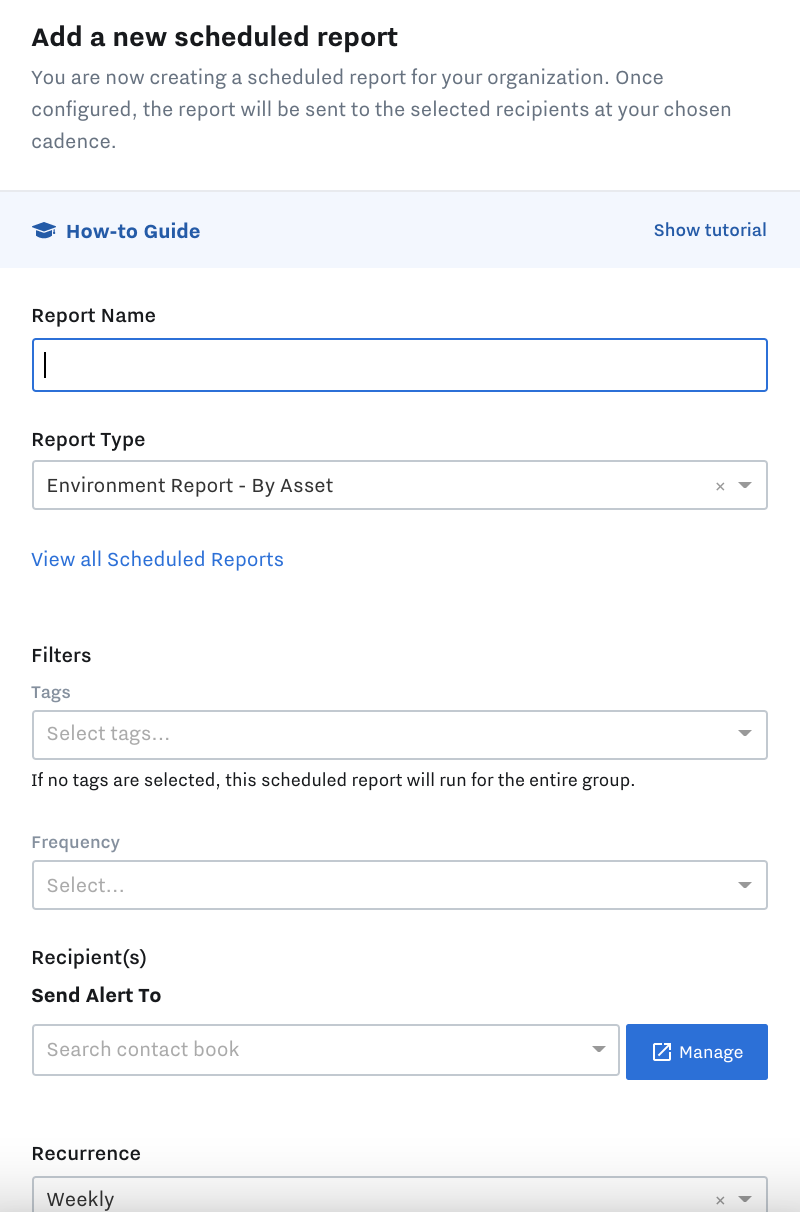 Environment Report - By Asset is a scheduled version of the Historical Environment Report that details your fleet's environment data broken out by asset. You can set up your scheduled report in two places:
Settings > Links & Sharing > Scheduled Report > Add new scheduled report (top right corner) > Report Type: Environment Report - By Asset

Top right corner drop down on the Asset View page in Environment
When you schedule the Environment Report, each recipient receives an email containing an excel workbook that contains one sheet per asset. Each sheet will have the same data detailed above in the Historical Environment Report. The scheduled report supports Excel export only. The time of day at which you want to schedule your report must be at least 6 hours after the selected time range you want applied to the report.
Sensor View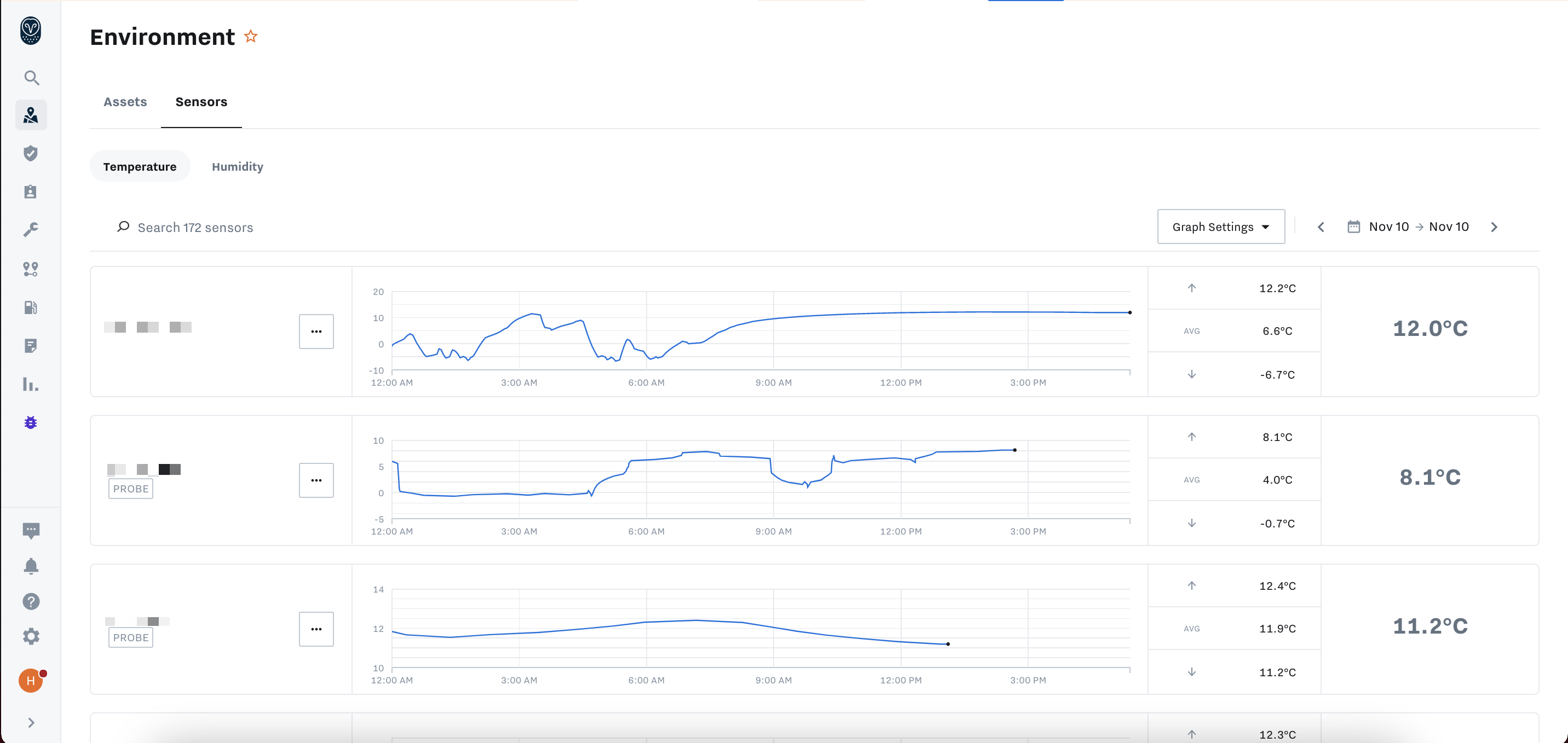 To view temperature and humidity sensor information, navigate to the pages Sensor breakout pages by going to the Asset View and selecting the Sensors tab.

Paired Asset and Position
This experience will be optimized with paired sensors. We highly encourage you to pair all the sensors in your organization to the appropriate assets. More details on pairing can be found in this article (Note that you can follow the same process to pair with VGs and IGs). In addition we recommend that you indicate the position of your sensors, especially if you are using DM-11s. This can be done by navigating to Setting > Devices > Sensors and selected the dropdown in the right column of the sensor you want to position, select edit, and select the position, and save. You can also indicate position via the upload CSV option in the top right corner.
Activation
Please refer to this article for more information on how to enable beta features in your dashboard.