The Samsara Camera Connector (ACC-CM-ANLG) allows you to connect up to 4 compatible third-party cameras to your Samsara Dashboard. Compatible third-party cameras must have:
Compatible Feature Type

Required Third-Party Feature

Connection Type

RCA (yellow, 1 pin)

GX12 (4 pin)

Video Signal

CVBS (NSTC or PAL)
To install the Samsara Camera Connector, you will need: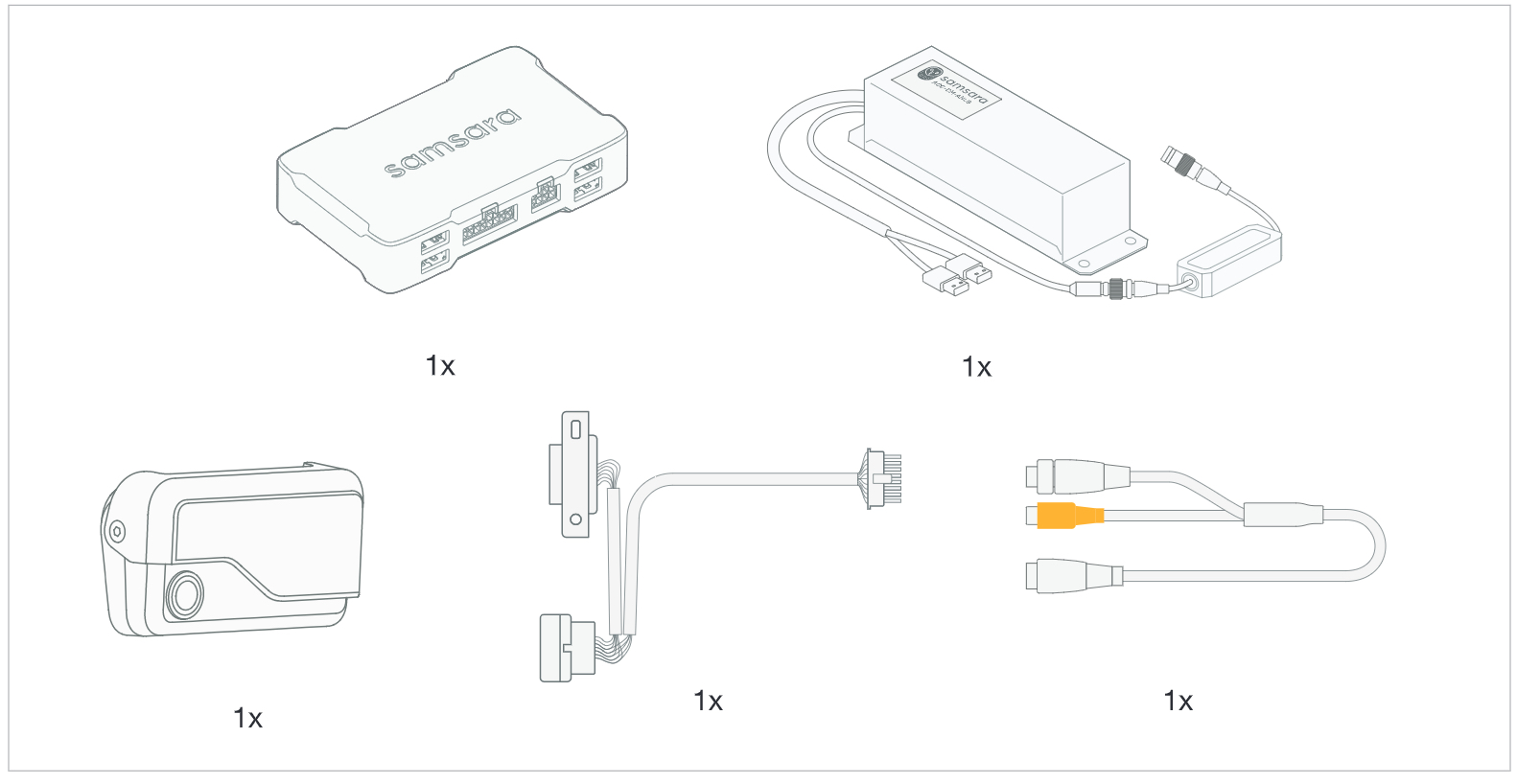 Important
Secure all video connectors using heat shrink or electrical tape.

Mount all video connections securely to vehicle.

Failure to secure connectors may cause poor video quality.
Perform the following workflow to install your Samsara Camera Connector:
Connect VG54-NA to the diagnostic port using the vehicle-appropriate cable, VG light will turn green once cellular connectivity has been established.

Connect USB plug from CM31 or CM32 to one of the USB ports on the VG54-NA.

Mount the camera on the vehicle's windshield.

Connect both USB plugs from the ACC-CM-ANLG to two additional USB ports on the VG54-NA.

Connect the included isolator to the yellow RCA pin coming from ACC-CM-ANLG

Securely mount VG54-NA and ACC-CM-ANLG using provided fasteners, zip ties, and adhesive. Installation location and style will vary by vehicle depending on available space.



Note

Secure mounting of the VG is required for accelerometer based harsh event detection to function.

If the installation uses an RCA connection, connect isolator directly to third-party camera cable.

If the installation uses a GX12 connection or has an in-cab monitor, connect the isolator to the included Y-cable, GX12 connections as pictured below.

If installation includes multiple cameras and a multiplexer, connect all cameras to the multiplexer, then connect the isolator to 'video out' on multiplexer.

Proceed to Enable Camera Connector Functionality to complete the Camera Connector Setup.