Overview
The Sensor Health Report provides a centralized source of battery and connectivity information for Samsara sensors (EM's, Cargo Monitors, and Door Monitors) and allows customers to quickly gauge their sensors' health.
The Sensor Health Report can be found as the second tab in the Gateway Health Report.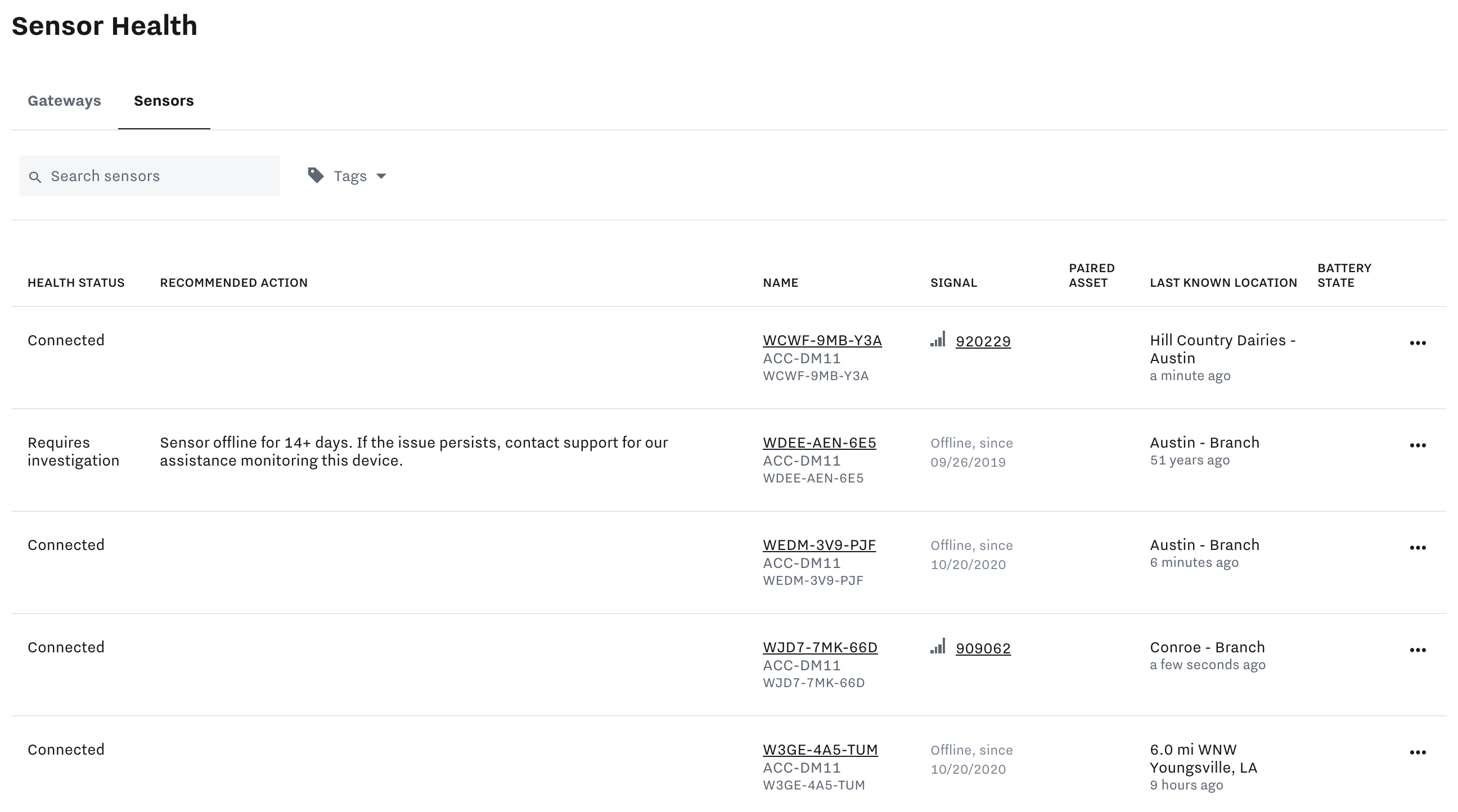 Heath Status & Recommended Action
| | |
| --- | --- |
| Status | Recommended Action |
| Connected | No action required |
| Low sensor battery | Replace sensor battery. If the issue persists, please proceed to our troubleshooting guide to RMA the device or replace the batteries of the sensor. |
| Requires investigation | Sensor offline for 14+ days. If the issue persists, contact support for our assistance monitoring this device. |
If a sensor's status is Requires Investigation, the last known cellular signal and battery level were healthy. These devices will require physical inspection.
Signal
Under the Signal column, the sensor will display if it was recently connected or if it has been offline. If it has recently been offline, the sensor will indicate the last time its data was uploaded to the cloud.
Paired Asset
There are two ways a sensor can indicate which gateway it was last paired to: 1) based on sensor configuration by the user or 2) by displaying the gateway that last uploaded the sensor's data. If the sensor is not pinned, this column will display the gateway that last uploaded the sensor's data.
Last Known Location
The Last Known Location column indicates the last known location where the sensor successfully uploaded its data, not the last known location of its pinned gateway or last paired gateway.
Battery State
The Battery State column will indicate if the battery is low or ok. If the battery is low, please follow these directions to replace sensor batteries.