Samsara provides the ability to integrate with Transfinder. The integration allows you to view bus information in Transfinder, and also imports routes from Transfinder into Samsara.
Afterwards, to enable the integration, navigate to the admin dashboard, and into the Settings > Apps tab. From here, you can enter in your Transfinder credentials.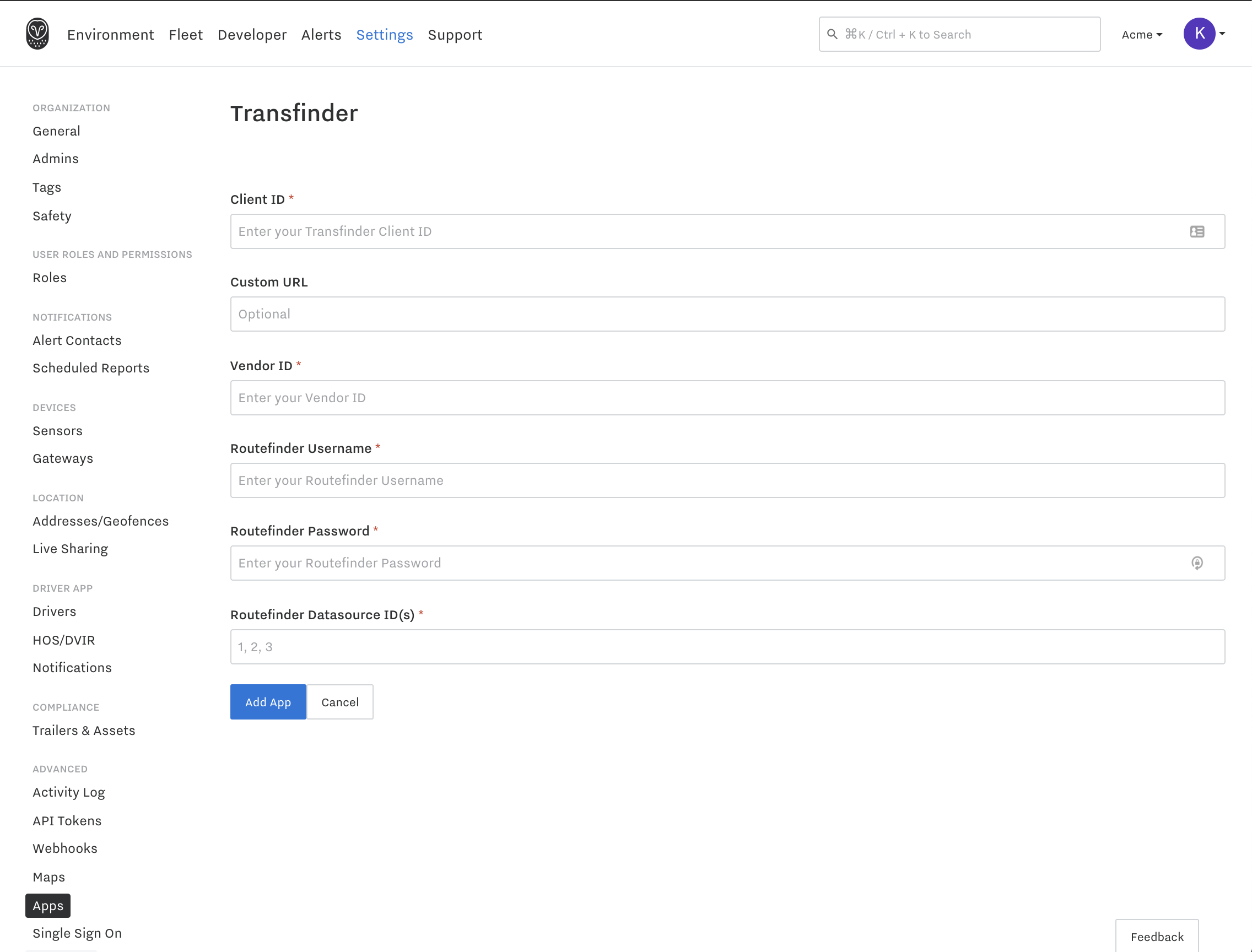 Your Transfinder representative should be able to share with you these fields if need be. Depending on your Transfinder subscription, you may not need to provide a Vendor ID (i.e. GPS Connect ID). If you are using GPS Connect without Market Connect, please leave your Vendor ID value at -100.
| | | |
| --- | --- | --- |
| Samsara/TF Integration Field | Required for Market Connect? | Required for GPS Connect? |
| Client ID | Yes | Yes |
| API URL | Yes | Yes |
| Vendor ID / GPS Connect ID | No | Yes |
| Routefinder Username | Yes | No |
| Routefinder Password | Yes | No |
| Routefinder Datasource ID | Yes | No |
Syncing Bus GPS Data:
You can contact your Transfinder representative in order to set up Samsara as your GPS provider, and to retrieve your GPS Connect ID for the Samsara-Transfinder integration. Once configured, you should be able to see all of your buses with Samsara devices in your Transfinder system, tagged with your Samsara device unique ID.
Syncing Route Data:
Samsara does a one-time port of all your Transfinder routes into Samsara, once the integration credentials are saved. If you have just added new routes for the school year into Transfinder and want these to show up in Samsara, you can remove and re-enable your credentials to kick off the sync.
As always, feel free to contact Samsara Support if you need help finding the right information or have any questions about the integration.