Samsara Training Center
As a Samsara customer, you have access to our Training Center, which includes guided training paths and hundreds of short tutorial videos to help you and your team learn how to set up and leverage Samsara for your operation.
If you're new to the Samsara platform, we recommend accessing the Training Center and going through the courses as early as possible - even if your devices are still in transit. This will enable you to configure your dashboard settings prior to device installation and help familiarize you with the features that will drive the most value for your organization.
How do I access the Training Center?
Through your Samsara Dashboard: View the navigation menu on the left, click on the "Help & Feedback" icon at the bottom, and select the Training Center link: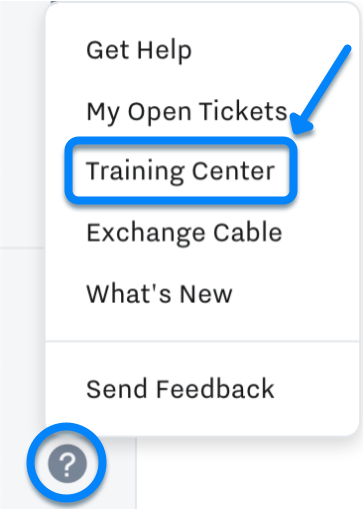 Additional ways to access: Alternatively, you can navigate to the Training Center via samsara.com/learn. You will be prompted to sign in to your Dashboard account; once you enter your username and password, you'll be automatically redirected to the Training Center. Feel free to bookmark this link!
What courses are available?
Our Training Center video library covers a wide variety of topics, including:
Fleet Topics:

Samsara Onboarding Courses:

Basic Fleet Organization Settings
Intermediate Fleet Organization Settings
Advanced Fleet Organization Settings
Explore the Fleet Dashboard

Video-Based Safety
Managing US ELD and HOS
Navigating the Driver App
Asset Tracking and Reporting
Reporting
Alerts

Site Visibility Topics:

Site Configuration
Site Navigation
Site Installation (coming soon)
… and more! We're always adding new content to the Training Center.
What can I find in the Training Center?
Once you open the Training Center through your Samsara Dashboard, you can:
See Product Onboarding Courses, find a Live Webinar Session, or get to the Samsara Support Center
Check out Most Popular Courses (after completing onboarding)
Enroll in Additional Courses to expand your knowledge of Samsara solutions
Ask questions about the Training Center via Support
Earn a free pair of socks for completing training!
Are there other types of training available?
At Samsara, we recognize that everyone has different styles and preferences for learning. You also have access to our weekly Live New User Webinars if you would prefer to participate in a live Q&A with a Samsara expert.
How do I give feedback on the Training Center?
We'd love to hear from you! Reach out to the Samsara Training Team at trainingcenter@samsara.com.