The Samsara Cargo Monitor Sensor is a wireless sensor that you can deploy in any type of enclosed container to provide visibility into the presence or absence of cargo. You can use the Cargo Monitor Sensors to detect when cargo is loaded or unloaded to increase security and dock operations.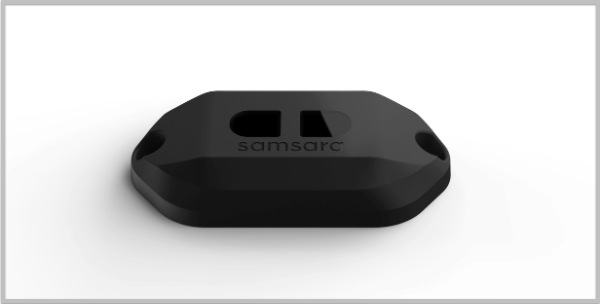 Cargo Monitor Sensors are ideal for refrigerated trailers subject to moisture and power-washing: The sensors are IP67-rated and waterproofed to protect against splashes, spray, dust, and environmental wear-and-team.
For greater visibility into multiple trailer zones or cargo areas, you can deploy multiple sensors in the same trailer. The sensors are easy to install and do not require any complicated wiring or cables.

The Cargo Sensor can detect anything in the cone of the infrared signal that is emitted and detected by the device. If it detects something within 175cm (5 feet), it registers as full; otherwise, it registers as empty.

The Cargo Monitor Sensor transmits data to Samsara IoT Gateways every 10 minutes, to provide you with timely sensor data and alerts when cargo status changes. The Cargo Monitor Sensor runs for 4-5 years off a single AA battery.
Installing the Cargo Monitor (CRGO) Sensor
Clean the mounting area with the provided alcohol wipe.
Place the sensor on the ceiling. Mount at least 20 inches away from any wall.
Secure the sensor to the surface with the included adhesive.
(Optional) For increased stability, secure with provided screws.
| | | |
| --- | --- | --- |
| Length of Trailer | Recommended Number of Sensors | Placement Location |
| Up to 16' | 1 | Center of ceiling |
| 16' - 36' | 2 | ⅓ and ⅔ of the way down the trailer |
| 36' and longer | 3 | ¼, ½, and ¾ of the way down the trailer |
For more information, please view the Install Guide.
Cargo Monitor Troubleshooting
In the case that you need to troubleshoot your cargo monitor, please ensure that the following parameters are met before contacting support.
The cargo monitor is mounted on the ceiling of the trailer facing down.

Place the monitor in the center (from left to right) of the trailer.

Look above to know where to mount the monitor from front to back.

The monitor will wirelessly connect to the gateway via Bluetooth.