Since the Samsara Driver app works on any iOS or Android device, Fleets have unlimited choice for the applications that can be put in cabs. By introducing a customizable tile to the Samsara Driver home screen, fleets can make it easier for drivers to navigate between applications on their in-cab device, making for more efficient workflows and a better driver experience.
Adding a custom tile
Navigate to Settings --> Driver App --> Features

On this page, features in the driver app can be turned on or off, and a tile can be added to the app. The focus of this article is to walk a user through how to add and customize a tile. To create a tile click into "Add Tile" and the following modal will appear: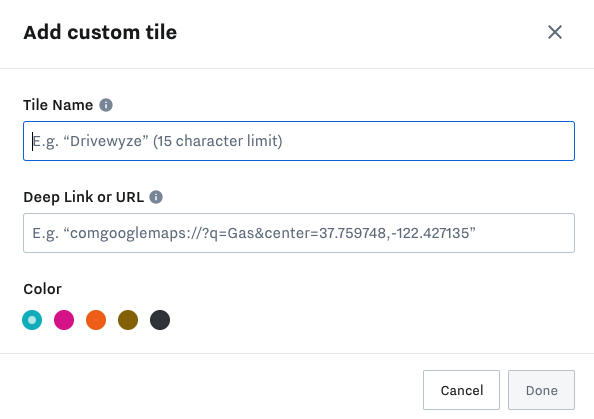 Tile Name
A title for the tile can be input here. There is a character limit of 15 characters to ensure that the tile will display appropriately in the app. It is recommended to check on specific devices how the name displays, as it may vary from device to device.
Deep Link or URL
This is the location that the tile will take the driver to when they tap on the tile. This field accepts both regular URLs (which will be opened in the device's default internet browser) and deep links (both Android and iOS links are supported).
Note that a device must have the relevant app installed in order to be able to link out to it.
In order to find the relevant linking scheme for an external app, please review the documentation for that app, or reach out to the application developer.
Color
In this section, the color of the tile can be changed from a preset selection.
Once a tile has been added, details about it can be seen on the App Designer page and the edit button will allow changes to the set up. Drivers will see the tile on the home screen of the driver app, and use it to link out to the relevant destination as part of their workflow.