The Event Review page is where you can review specifics around coachable events. It supports the core of the coaching workflow, allowing your Safety Managers to see dashcam and multi-cam videos from the event alongside relevant metadata and next steps in your coaching workflow.
Safety Theatre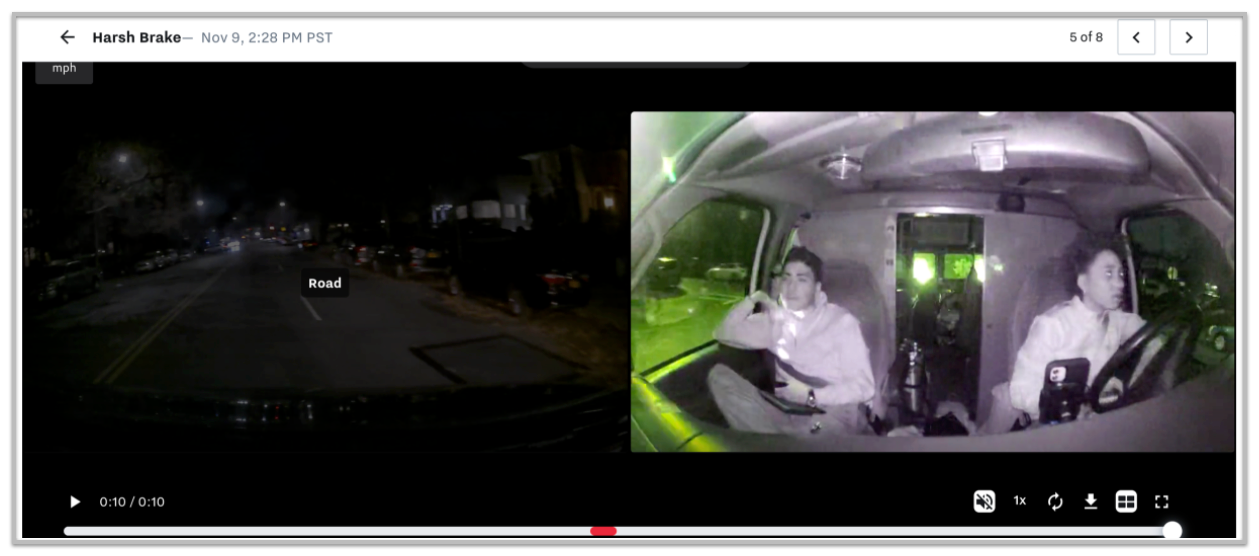 You will see streams from all cameras installed on a particular vehicle and associated with a particular event type. Expected behavior during playback:
The video player should autoplay on load

The videos will play once and the user will be shown the survey

Please note, clicking on a video will not pause the video as this will now select videos. The user must click on the Pause icon.

In the Grid view, click on any video should select it and switch to the Focused view with the selected video in focus

In the Focused view, clicking on the video in focus should result in no change

In the Focused view, clicking on any video other than the one in focus should switch focus to the video selected
From left-to-right along the bottom of the Safety Theatre, you will have the ability to:
Play and pause all streams

Mute and un-mute any available audio

Control playback speed, from .25x to 2x speed

Loop all streams

Download associated videos

Alter the layout of the streams from one large stream to equally-sized streams (depending on aspect ratio)

Enter and exit full-screen mode
Along the progress bar, the red segment highlights the moment of the event.
Safety Graph

The safety graph displays additional data (ie. speed, brake pedal, acceleration) relevant to that event, and moves along with the video timeline. This enables Safety Coaches to understand when specific actions were taken and cross-referencing them with the video playing above.
Please Note: These metadata are available according to the event type and only if available from the VG: the Safety Theatre will not backfill this kind of verbose logging at this time.
Coaching Activity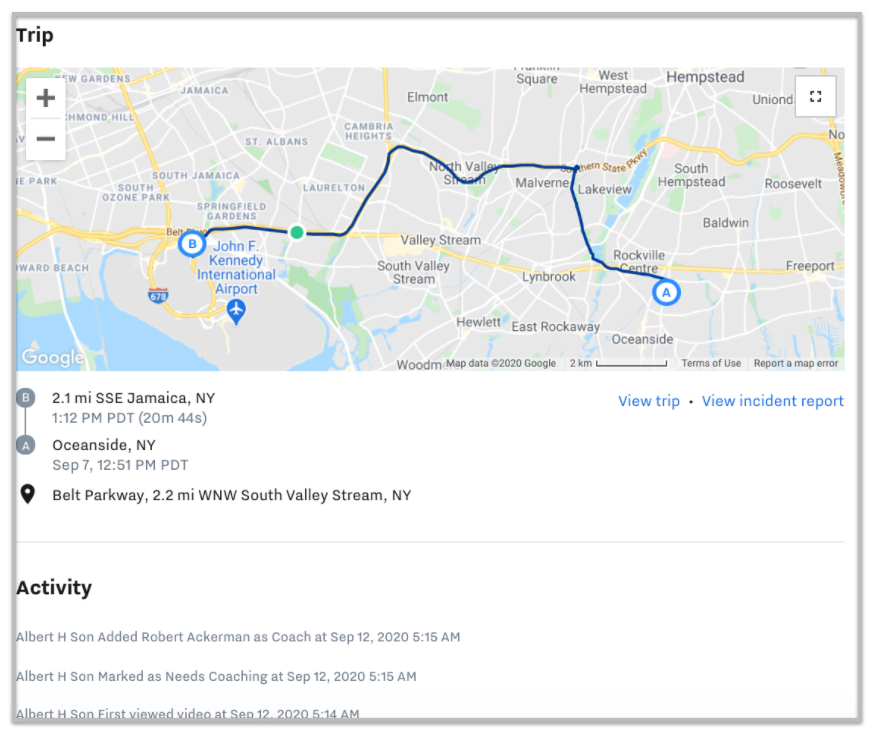 Below the Safety Theatre, you will see further details around the safety event and be able to take specific actions. Users can:
View and review metadata associated with an event (including associated vehicle sensitivity)

View trip details, including event location and overall trip timeline

Add, edit, and remove Event labels

Assign or re-assign coaches and drivers

View and review where the event is in the coach's workflow, including assigning or re-assigning a coaching label (needs coaching, dismissed, etc.). Coaching activity is captured in the Activity Roll at the bottom of the page

Dismiss events