This feature allows coaches to remotely coach their drivers. Sharing safety videos with the driver allows for an evidence-based coaching conversation.
A new button on the event review page will allow coaches to share specific videos with the assigned driver. Drivers can then access the shared videos via the Driver Portal, on desktop, or on the mobile web. Note: At this time, there is no integration with the Driver App.
How to share a video with a Driver
Review a safety event in the Safety Inbox.

Click "Share with Driver."
3. A modal will pop up with details on what this means. Click "Share."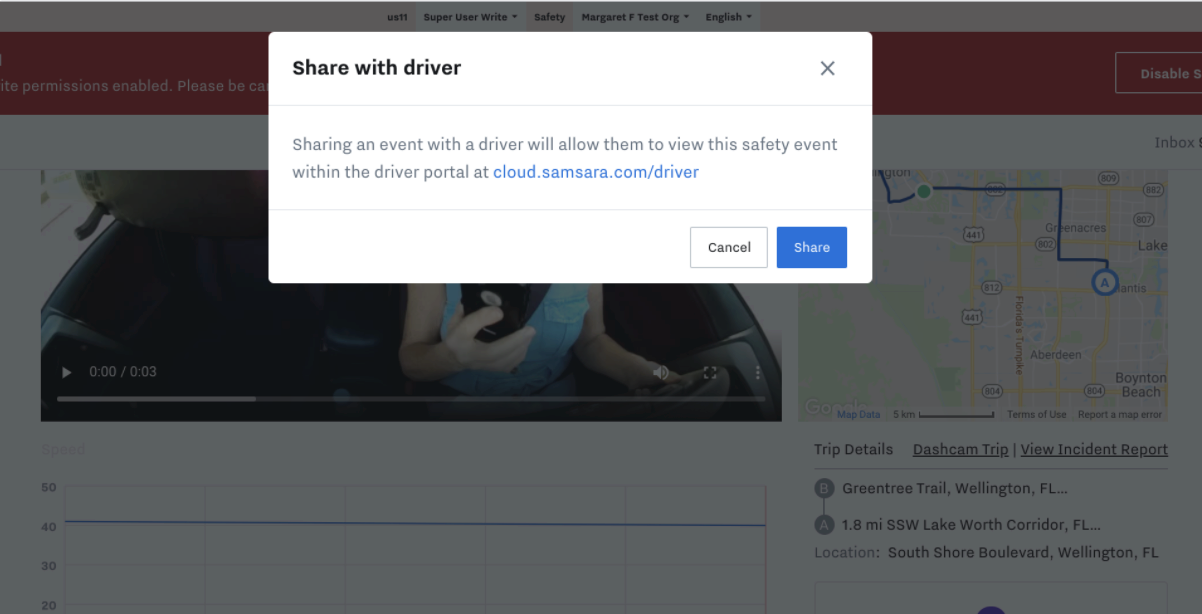 4. A confirmation modal will let the coach know that the video has successfully been shared. Click "Ok."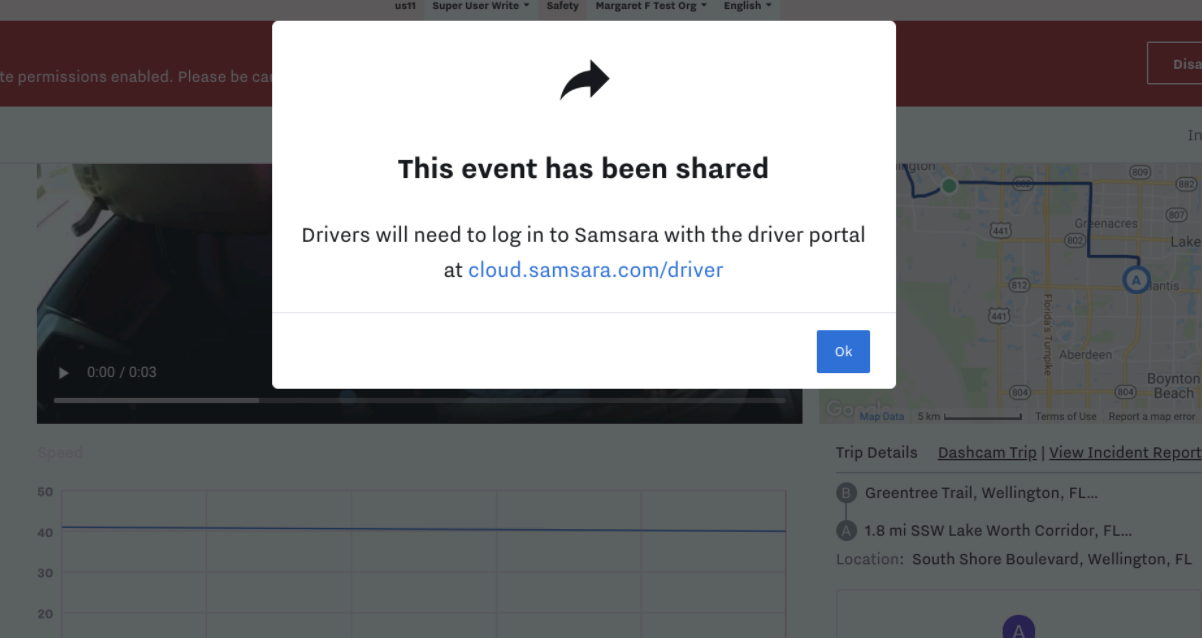 5. Coaches will be able to see which events have been shared with the drivers on the top-level Inbox view. The copy "Waiting Driver Review" will appear next to the coaching status drop down.

Once a driver reviews a video, the copy will turn green and change to "Driver Reviewed."

Events without assigned drivers cannot be shared.Always ensure the correct driver is assigned to the event before sharing.

If the video is shared with a driver, then the coach reassigns the event to another driver, the video will no longer be visible in the first driver's Driver Portal. The coach must re-share the video with the newly assigned driver.
How to access videos as a Driver
If the driver's phone number is stored in Samsara, the driver will receive a text notification.

Log into the Driver Portal. The fleet ID and username will auto-populate. Drivers just need to enter their password. Driver sessions last 31 days, so once a driver logs in once, they won't have to re-login again for 31 days.

After sign-in, drivers will be linked to the event review page where they can watch the video.
On the event page, drivers can "

mark events as reviewed"

using the button underneath the coaching scripts.

Clicking the "Back" arrow brings the driver to the Inbox tab where they can access all the other shared videos. Drivers will be able to see which events they have reviewed and which they haven't.

Accessing the Driver Portal

The Driver Portal gives drivers a way to access important account information from any device, at any time. Drivers can get visibility into their Hours of Service, Safety Stats, and now - safety videos shared by their Coach or Safety Manager.

To access the driver portal, drivers can go to cloud.samsara.com/driver. They will need a Fleet ID, Driver's Username, and Password - these are the same credentials they use to log into the Samsara Driver App.

Fleet managers can find their automatically assigned Fleet ID on the Settings → Driver App page. This fleet ID can be customized here as well.