Please note that this feature is in Beta, and is not yet available to all customers. Please reach out to your Customer Success Manager, or the Technical Support Team if you would like to test this feature.
Yard Move Speed Limit Restriction
For fleets that allow drivers to make use of the Yard Move duty status, there may be concern that drivers could stay in the Yard Move status even in situations where the Drive status may be more appropriate. To help manage how drivers can utilize Yard Move, Samsara has an optional setting to restrict the usage of Yard Move to 20mph or less.
Usage of this feature is optional and at the fleet manager's discretion. It is not needed to comply with the ELD Mandate.
To enable this option visit Settings > Compliance and toggle on Enable Yard Move Autoduty.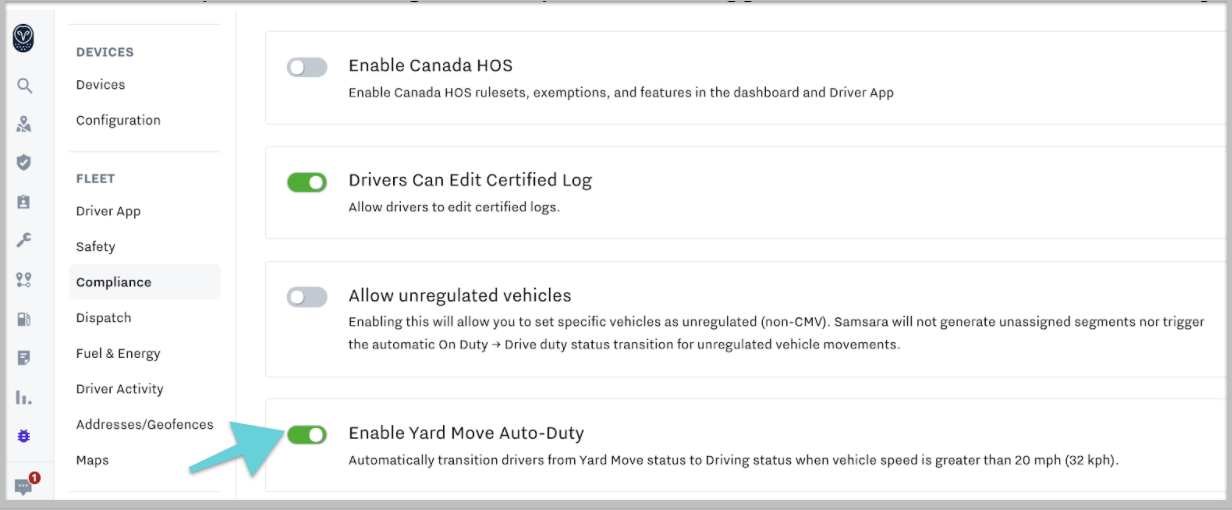 When the setting is enabled, it applies to all drivers in the fleet with access to Yard Move, and cannot be applied to specific drivers, vehicles or tags.
Once enabled, drivers in the Yard Move status will be automatically transitioned into Drive when the vehicle speed exceeds 20mph. Only a Yard Move -> Drive transition happens automatically, there is no scenario that will transition the driver automatically from a different status into Yard Move.
The 20mph speed limit for transitioning drivers into Drive is fixed and cannot be configured. After enabling the feature, please be sure to inform all drivers of this change in order to avoid driver confusion on why their duty status may be changing automatically.