What is the Fleet Benchmarks Report?
The fleet benchmarks report compares your fleet's performance against similar fleets, in order to provide you with a sense of how you're trending relative to peers and identify potential areas of improvement.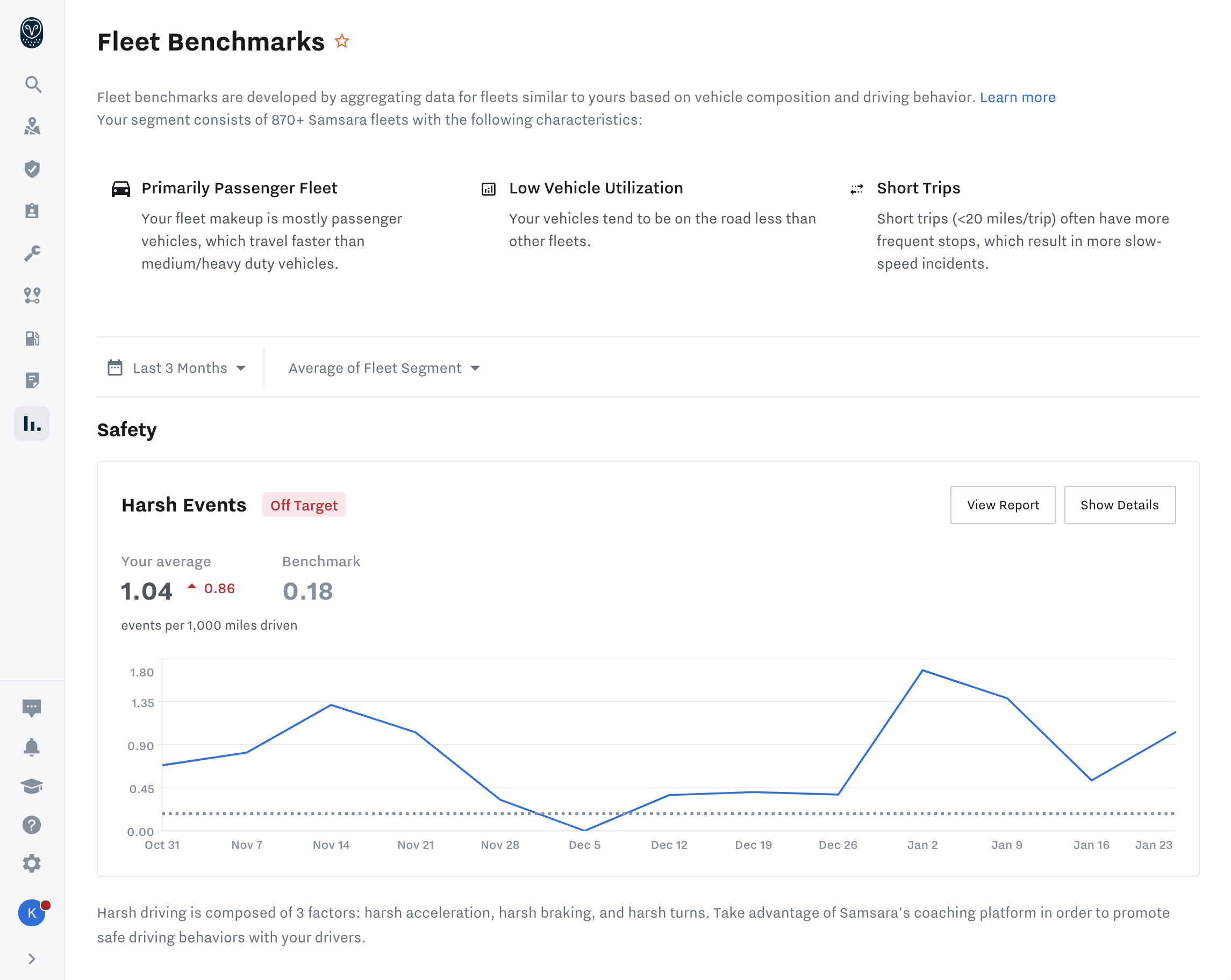 Available Benchmarks
Harsh events (harsh accel, harsh brake, harsh turn)

Speeding

Idling
How are Fleet Benchmarks calculated?
Background
Benchmarks for a given customer are calculated by taking statistical measures of many fleets that are similar to that customer. A group of similar customer fleets is called a fleet segment. Creating fleet segments is essential to fleet benchmarking because this allow us to compare similar fleets. For example, safe driving behavior for a fleet of passenger vehicles in a dense urban area may vary drastically from that of a heavy duty fleet taking predominantly highway trips. When we show a benchmark value for a given organization, we want to ensure we take expected differences in driving behavior into account and only compare that customer to similar fleets.
Developing Fleet Segments
The first step in developing a fleet segment is to understand how customers differ from each other in ways that are most relevant for a benchmark (e.g., the harsh braking benchmark). Our data science teams calculated dozens of factors for each of our 15K+ customers, including average trip length, the size of a fleet, the types of vehicles in a fleet, and whether a fleet took mainly highway or city trips, and many more. We then developed statistical models to see which of these factors were most correlated with a given benchmark metric. We shortened the list of factors to develop fleet segments to only include those that were most relevant for a benchmark.
We then compared fleets across our customer base on these factors using statistical clustering models. Based on a mix of these statistical models and input from our customer-facing teams, we developed 12 fleet segments that show similar driving behaviors. Every customer in Samsara was then assigned to exactly 1 fleet segment based on the similarity of their driving behavior. Note that a customer may switch fleet segments over time depending on if their driving behavior changes (e.g., customer switches from primarily city to highway driving).
Privacy
Privacy is of the utmost importance to Samsara. Apart from taking industry leading measures to ensure the security of our data, we also ensure our databases do not expose any identifying information for a specific customer that is part of a broader fleet segment. Data about a fleet segment is always expressed in aggregated terms (e.g., average, median, top 10%). Furthermore, we ensure that each fleet segment contains at least 100 unique customers so an outside party cannot identify an individual customer based on the behavior of a broader fleet segment.
If you would like for your individual data to not be used in our benchmarking or fleet segment calculations, you may opt out by emailing data@samsara.com
Troubleshooting
Why have I not been assigned a Fleet Segment?
In order to properly assign you a fleet segment with similar peers, we require that you have driven at least 5 miles per vehicle in the past 8 weeks. In the meantime, you can compare yourself against the Samsara fleet average.
If you're a new customer with Samsara, keep driving! We'll be adding new customers to the benchmark on a monthly basis. Refreshes are currently scheduled for the 2nd day of each month.