The updated IFTA Mileage Report released in October 2020 supersedes the previous version of the IFTA Mileage Report. The old report remains accessible but will be deprecated later at the beginning of April 2021.
With the IFTA with Fuel Purchases feature, administrators can see their total IFTA miles, Non-IFTA miles, total miles, Tax paid gallons (of fuel) and IFTA MPG at a glance for all jurisdictions, as well as per jurisdiction and vehicle breakdowns.
You can navigate to this page by following the steps below:
From your Samsara Dashboard navigate to Fuel & Energy > IFTA Mileage.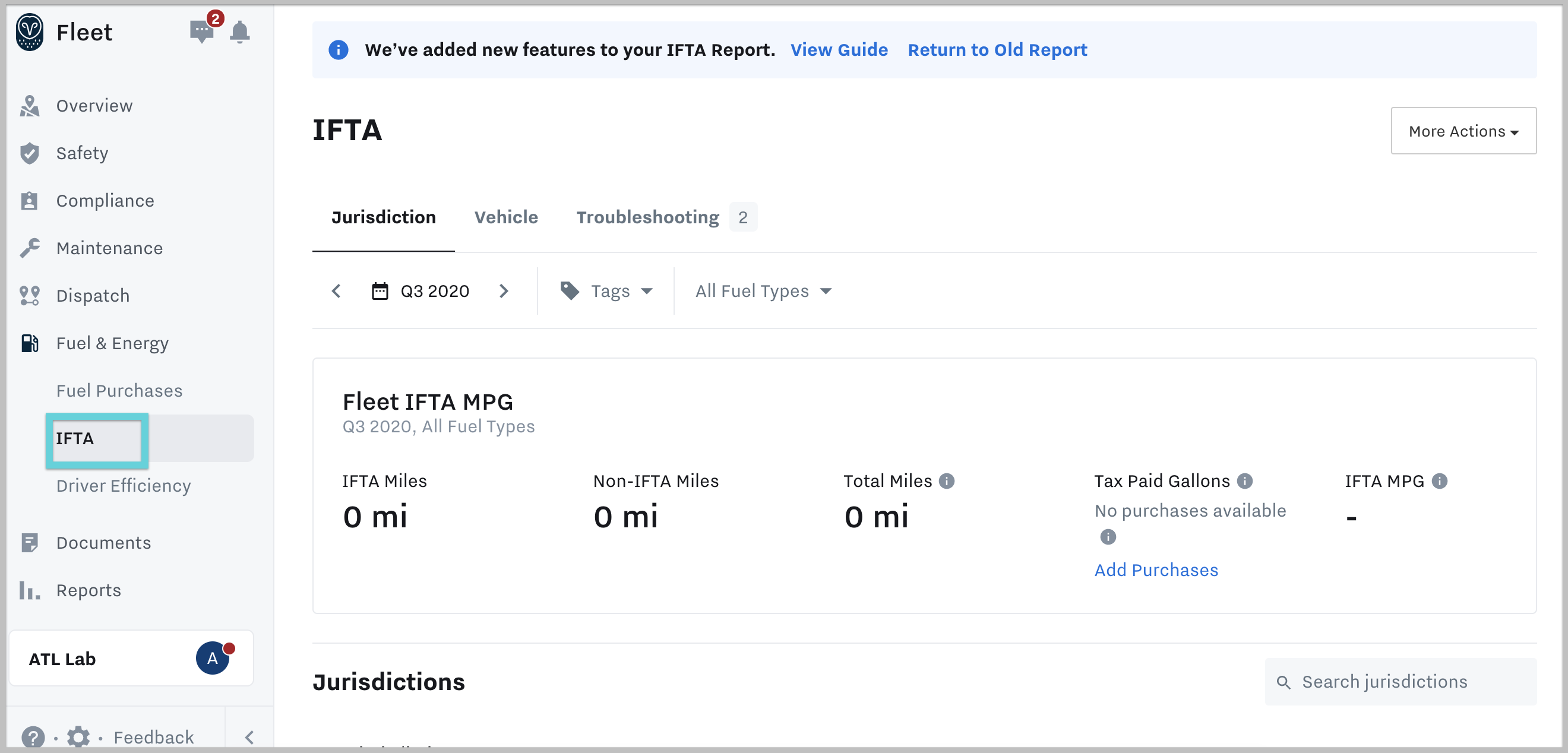 What's Different:
New Summary & Totals Card

Additional Mileage Breakdowns (IFTA, Non IFTA, Toll)

New Time Picker

Monthly & Quarterly options

Export to CSV modal

Fuel Purchase Integrations

Vehicle fuel type assignments & fuel type filtering

Jurisdictions

Jurisdictions include all Canadian provinces, US states, and Mexican states.
Vehicles
The vehicle tab allows you to see per vehicle per state mileage breakdowns.
Time Picker
The IFTA report only allows you to view your data on a monthly or quarterly basis. This brings this report inline with reporting requirements. At this time, you will not be able to view incomplete months - the most recent data in the report will be the last complete month.
For example, if it is March 15th, the latest data you will see in the report is the full month of February. Once March ends, the full month of March will populate in the report on the 3rd of the next month (ex. April 3). The same is true for quarters - in progress quarters are not available.
Downloading & Scheduling Reports
You are able to export the jurisdictions and vehicles tab to CSV, and filter & export by fuel type, jurisdiction, or tag. You are able to schedule Monthly or Quarterly IFTA reports by jurisdiction or vehicle, and will receive those reports on the first day of the following month or quarter. Daily, weekly, and by Driver IFTA scheduled reports from the previous version of the IFTA Mileage Report will be moved to the monthly equivalent automatically. By Driver scheduled reports will be moved to By Vehicle monthly or quarterly reports.
Filtering by Tag, Fuel Type, or Jurisdiction
You are able to filter the report by Tag, Fuel Type, and Jurisdiction (State or Province). You may select multiple tags or jurisdictions, or just one.
If you have assigned fuel types to vehicles (via Settings > Fuel & Energy > Vehicle Fuel Types), you will be able to filter the report by one or all fuel types. The fuel types included as options in this report are IFTA specific fuel types, in line with reporting requirements for many jurisdictions. If you do not assign fuel types, you are able to see all mileage information either through the selection of All or Unspecified fuel types. The report defaults to All.
Assigning Vehicle Fuel Types
You are able to assign fuel types to vehicles via Settings > Fuel & Energy > Vehicle Fuel types tab. You will see all of your vehicles and the Make and Model of those vehicles if we are able to identify that information from the VIN lookup tool. You may see vehicles without makes or models, which means the vehicle either does not have a VIN or we are unable to identify the make and model from the VIN.
You are able to sort by Make, Model, or both, and assign Fuel Types to vehicles one at a time or all at once. If you know that all Ford Transits in their fleet are diesel, for example, then you can filter the report by Ford (make) and Transit (model), select all, and change the fuel type for all vehicles at once.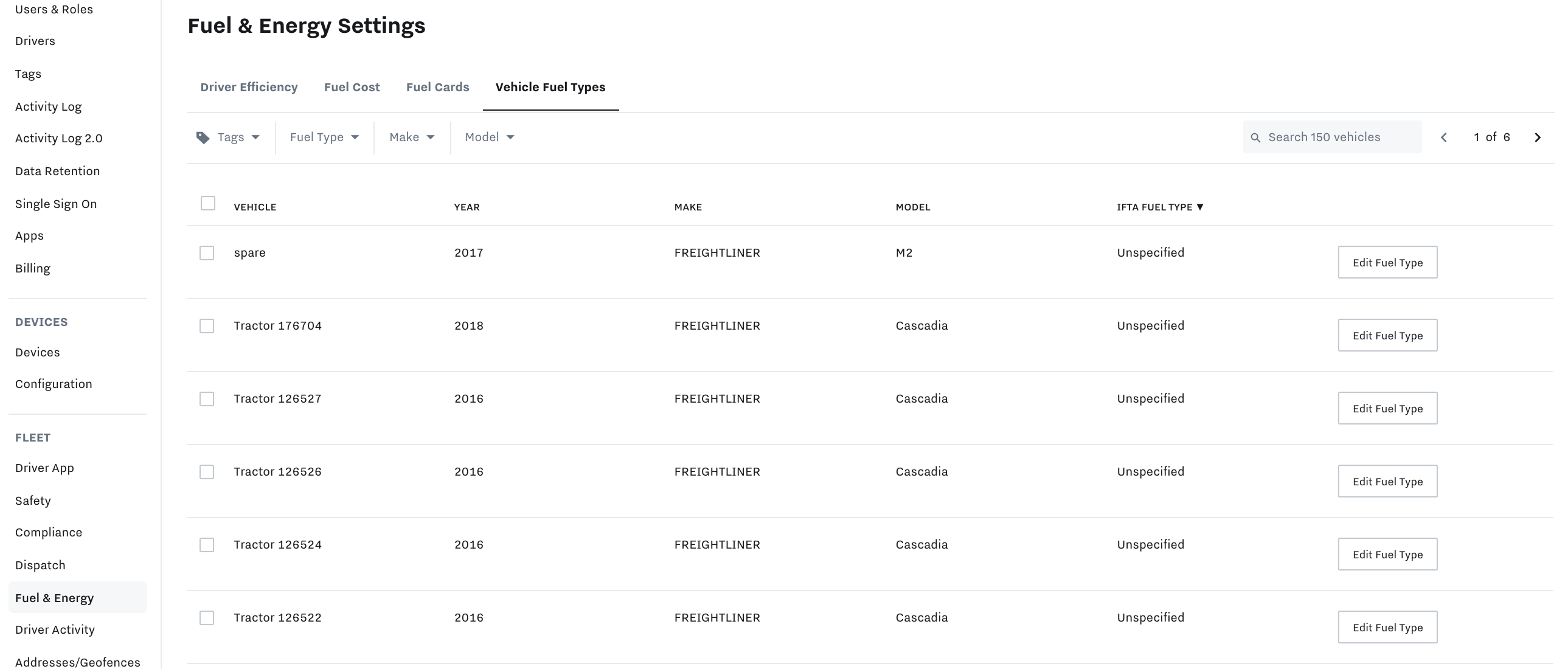 Editing Fuel Purchase Information
IFTA Fuel Types:
Fuel purchases must also be assigned a fuel type. We have mapped the fuel types for FLEETCOR issued cards and Wex issued cards to IFTA fuel types. If you have a direct integration or import a CSV file with the Fuel Type column from their fuel card vendor, Samsara will automatically assign the corresponding IFTA fuel type to the fuel purchase.
Note: If a fuel purchase is noted as "Other", then this purchase will not show up in the IFTA mileage report. If a fuel purchase is noted as "Unassigned", then this purchase will show up in the IFTA mileage report.
Verified/Unverified Status:
If you believe that the verification status of a purchase is inaccurate, you can update the status to be verified or unverified. This is useful for purchases where the geofence and the address/location of the fuel station may be slightly off.
Assigning a specific vehicle:
You are able to assign a specific vehicle to a fuel purchase by selecting a vehicle from the drop down. Assigning vehicles to purchases is required for complete IFTA reporting. If a purchase only has one vehicle nearby, that vehicle will be automatically assigned.