How do you prepare for an on-site audit?
As a Samsara partner, we want to make sure you're fully up to speed on how to get your dashboard audit-ready and to know what required audit documentation is already available to you with Samsara.
Pre-inspection Prep: Is your organization ready?
Confirm Carrier Settings
Ensure that your Carrier information is up to date in the Settings > Compliance panel.
From this page, you can confirm that your Carrier Name, Address, and DOT Number will all publish correctly when you transfer your logs to the DOT.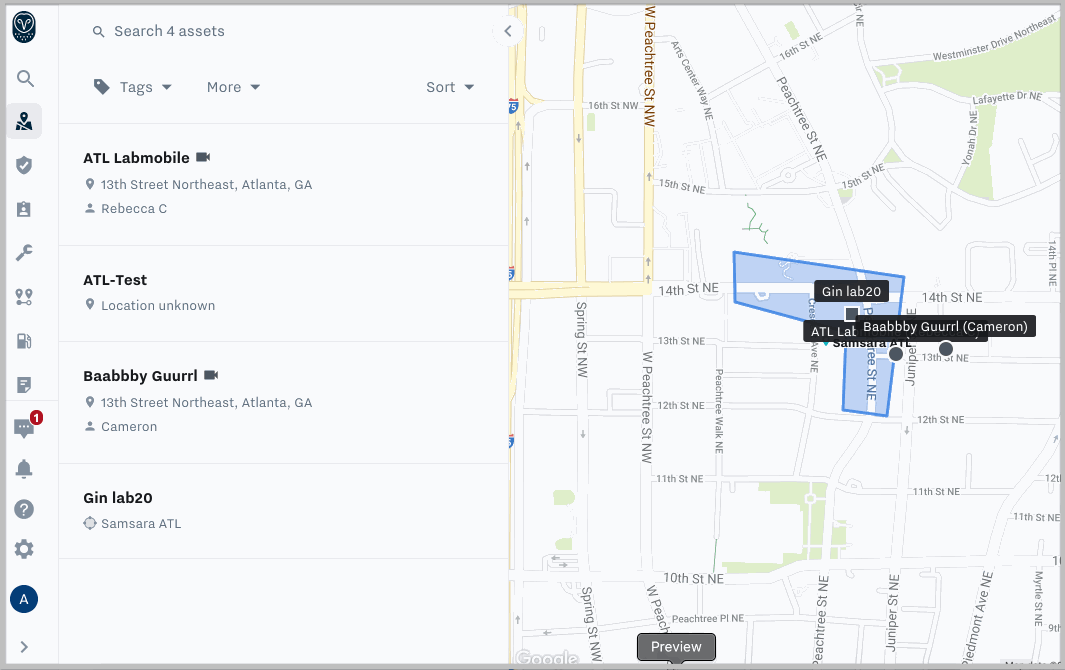 Confirm Driver Settings
You'll also want to make sure your drivers have all the required information.
All Driver Accounts must have the following information:
Driver Name

Driver's License Number

Driver's License State (ie: CA, TX, CT etc.)
Click here to find more information on adding a driver and confirming information.
Review your HOS and DVIR Reports
As a motor carrier, you are required to maintain at least 6 months of eRODS and 12 months of vehicle inspection reports, including DVIRs.
As you prepare for your audit, stay diligent about monitoring violations, including having drivers certify their logs and responding to vehicle defect reports.
Transferring the ELD Data File
Samsara makes it easy for you to share your driver's log data with inspection officials. The steps outlined here will allow you to transfer a data file directly to the FMCSA for any of the driver records they request.
Additional Forms & Documents
The data within Samsara is just a portion of what you may be asked to provide during an onsite audit. Inspectors could request a wide variety of documents, including those listed below.
For more information on audit requirements, refer to guidance published by the FMCSA on its website.
An example document list provided by the FMCSA in its New Entrant Safety Audit Guide includes:
Driver-Related Documents
Driver List

Driver's License

Driver's Records of Duty Status (eRODS) and Supporting Documentation (as far back as 6 months)

Driver's Motor Vehicle Record (MVR)

Medical Certificate
Vehicle-Related Documents
Vehicle List

Vehicle Inspection (as far back as 12 months)

Hazardous materials (HM) Shipping Papers
Carrier/Programmatic Related Documents
Proof of Insurance

Drug & Alcohol Program

Accident Register
In-House Audit Log Transfer
The best way to transfer driver HOS logs during an audit is the Audit Transfer function located in your Samsara Cloud Dashboard. Here are the steps to get you prepared:
Step 1: Navigate to Compliance > Driver HOS. Then, select the driver who you would like logs transferred for.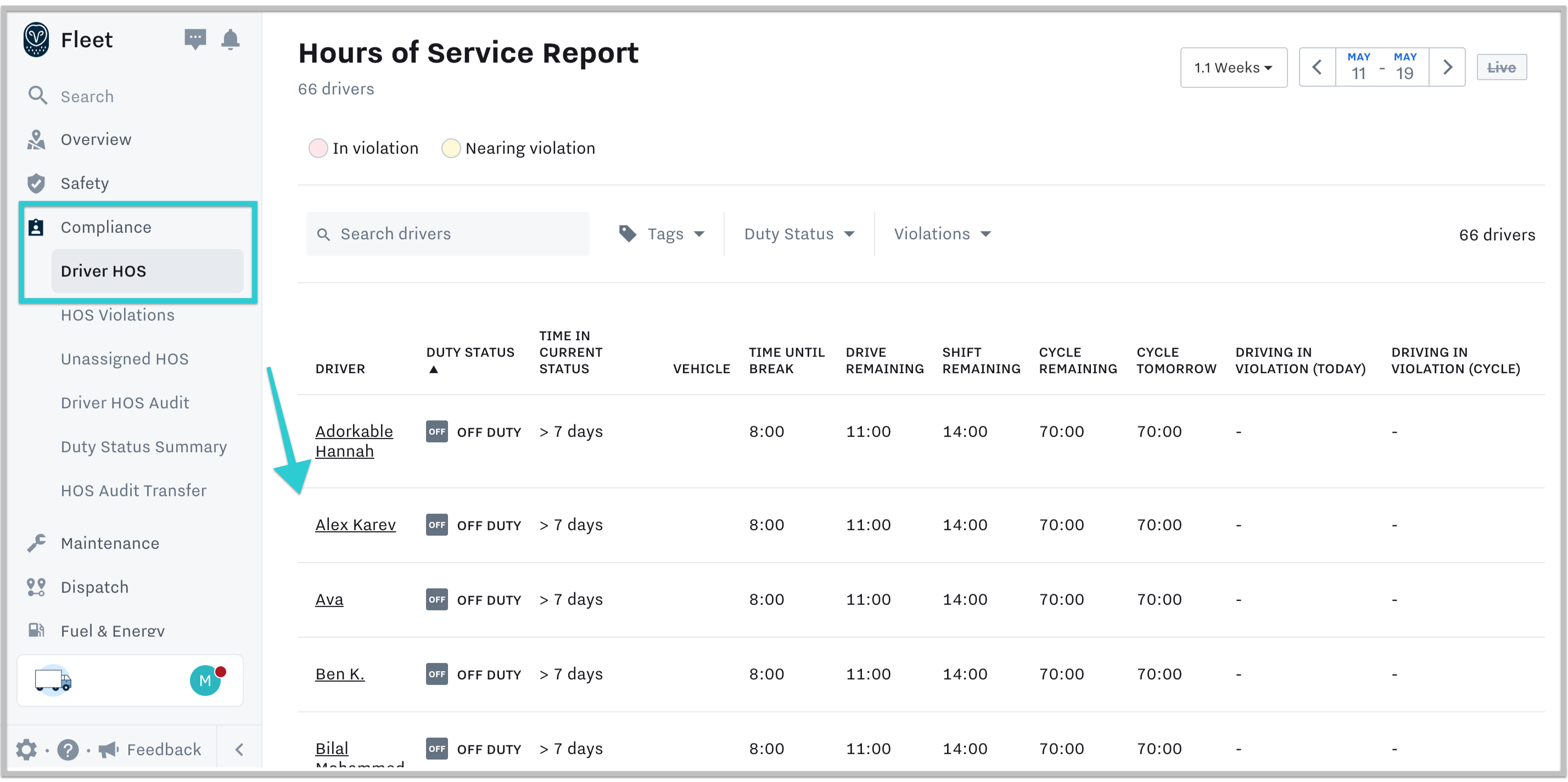 Step 2: Specify the date range of the transfer using the date selector in the upper right corner. To do so, click on the date in the top right corner of your Cloud Dashboard. This will display a calendar.
Next, navigate to the correct month and choose the start date, followed by the end date. Please note the time range must be less than 1 month. If an Audit requires a longer time range, multiple reports can be sent in 1-month increments.
In this example, the time range includes Jan. 1 to Jan. 31. Once the date range is selected, it will be reflected in the calendar window.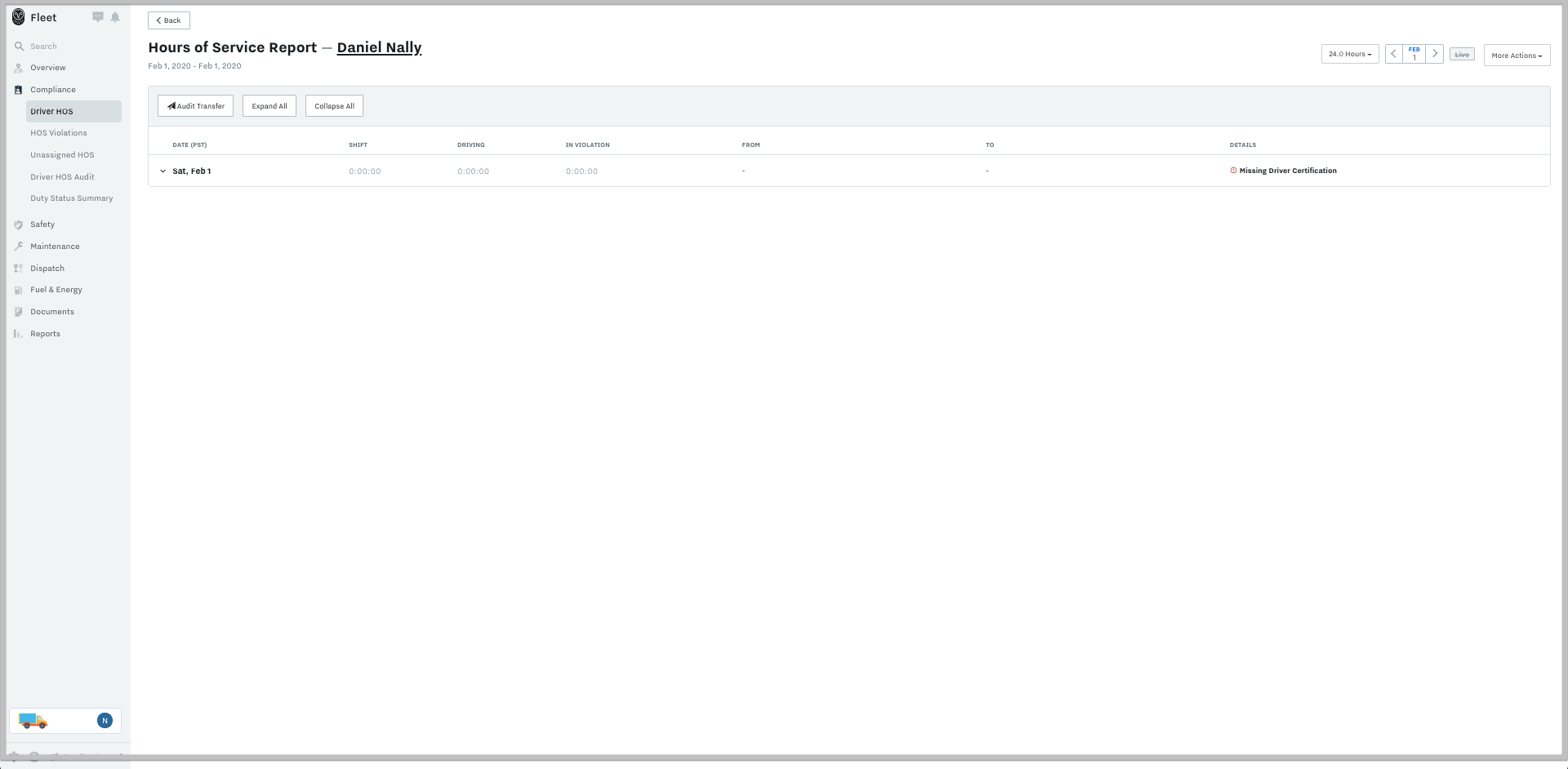 Step 3: Next, select the Transfer Logs button below the date range.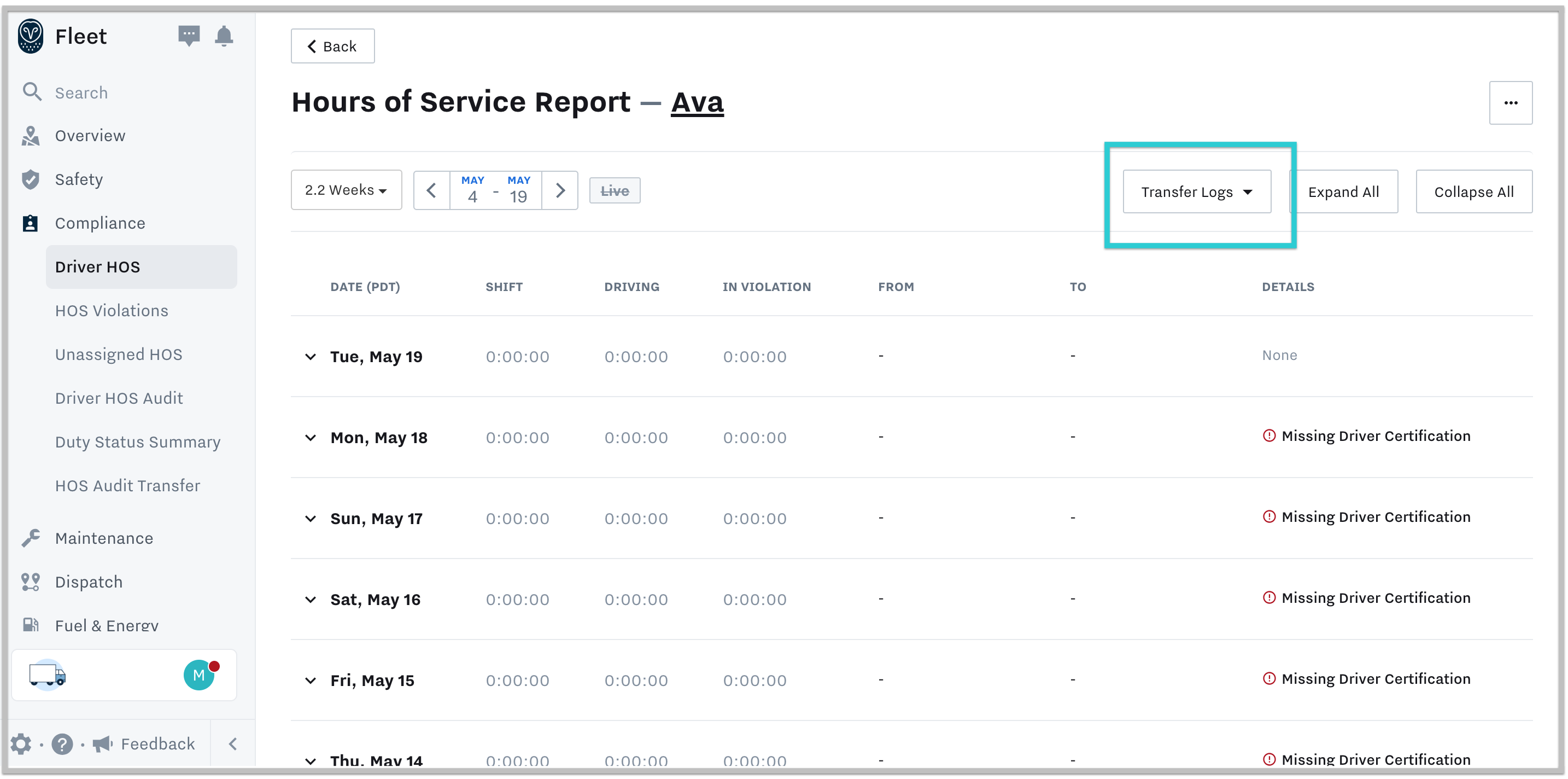 Step 4: After clicking the Transfer Logs button, a transfer dialog box will appear. Here, you can verify that the date range is correct.
Below the date range is an optional field for File Output Comment. An inspector may have a specific value to place in this field.
Once the details of the transfer request have been confirmed, click Submit to transfer the data file.
Note: Once submitted, the data file cannot be recalled. Ensure that the data requested for transfer is consistent with the inspector's request(s).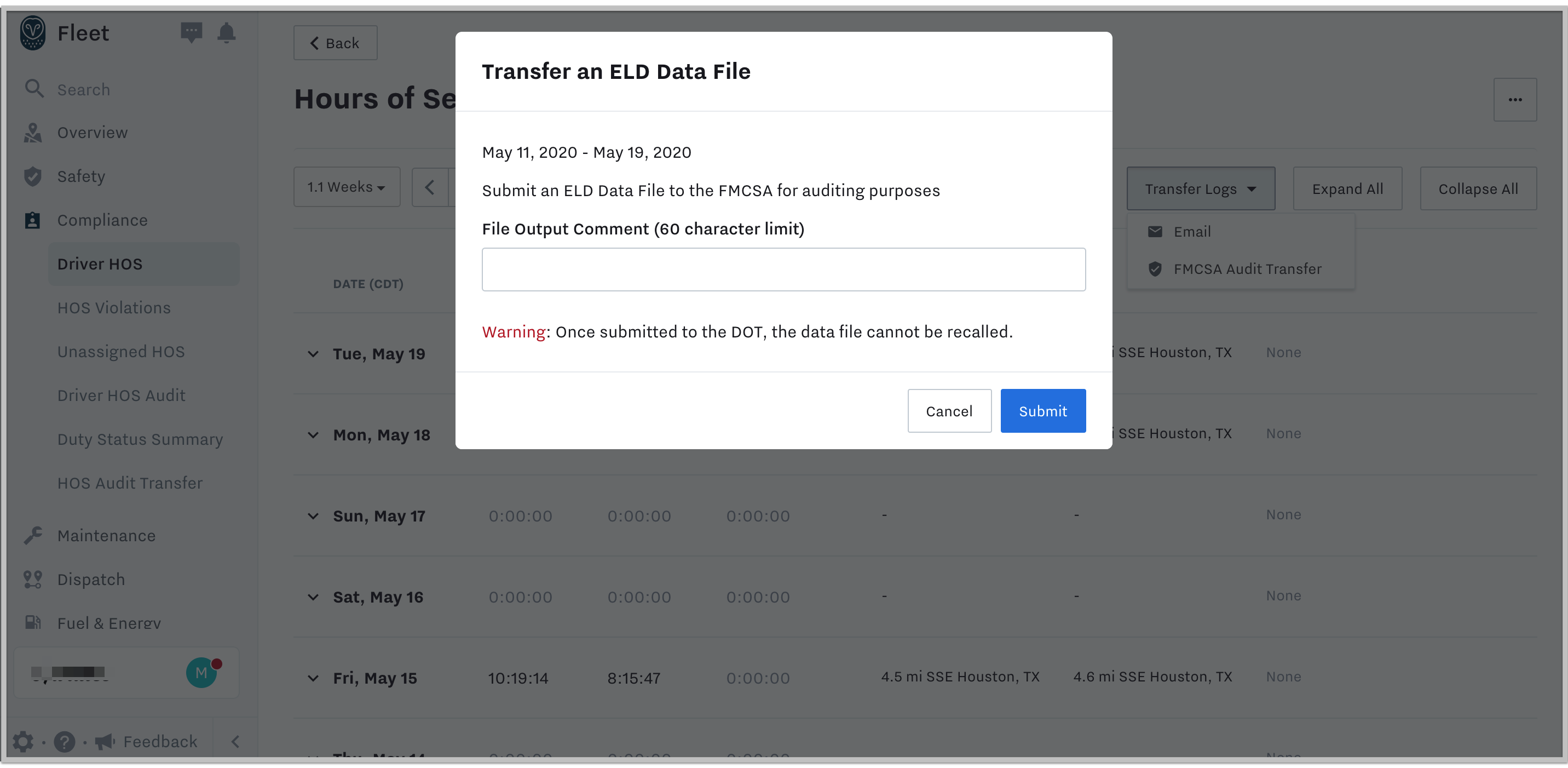 Step 5: Repeat steps 1-5 for each individual driver requested by the inspector. If you would like to know how to view the status of your Audit Transfer that can be found here.
Checking the status of your transfers
To access the report, navigate to Compliance > HoS Audit Transfer.
To learn more about this report, see this article.