Electric Vehicle (EV) Charging Report
Samsara provides a comprehensive EV Charging Report to help administrators monitor charging behaviors, maximize the utilization of vehicles, and minimize energy bills.
With this report, you can monitor the vehicles charging history throughout the day. This will help ensure charging is not occurring at peak hours, which can result in both the opportunity cost of vehicle utilization and a potential increase in electricity bills.
Given fleets aren't always charging EVs at the same base, being able to find individual charging events provides visibility even when charging is happening outside of your yard. This way, you can properly reimburse your employees. Given not all fleets have as many chargers as vehicles, optimizing charging schedules helps ensure that you are most efficiently monitoring your vehicles.
To view this report, click on Fuel & Energy > EV Charging.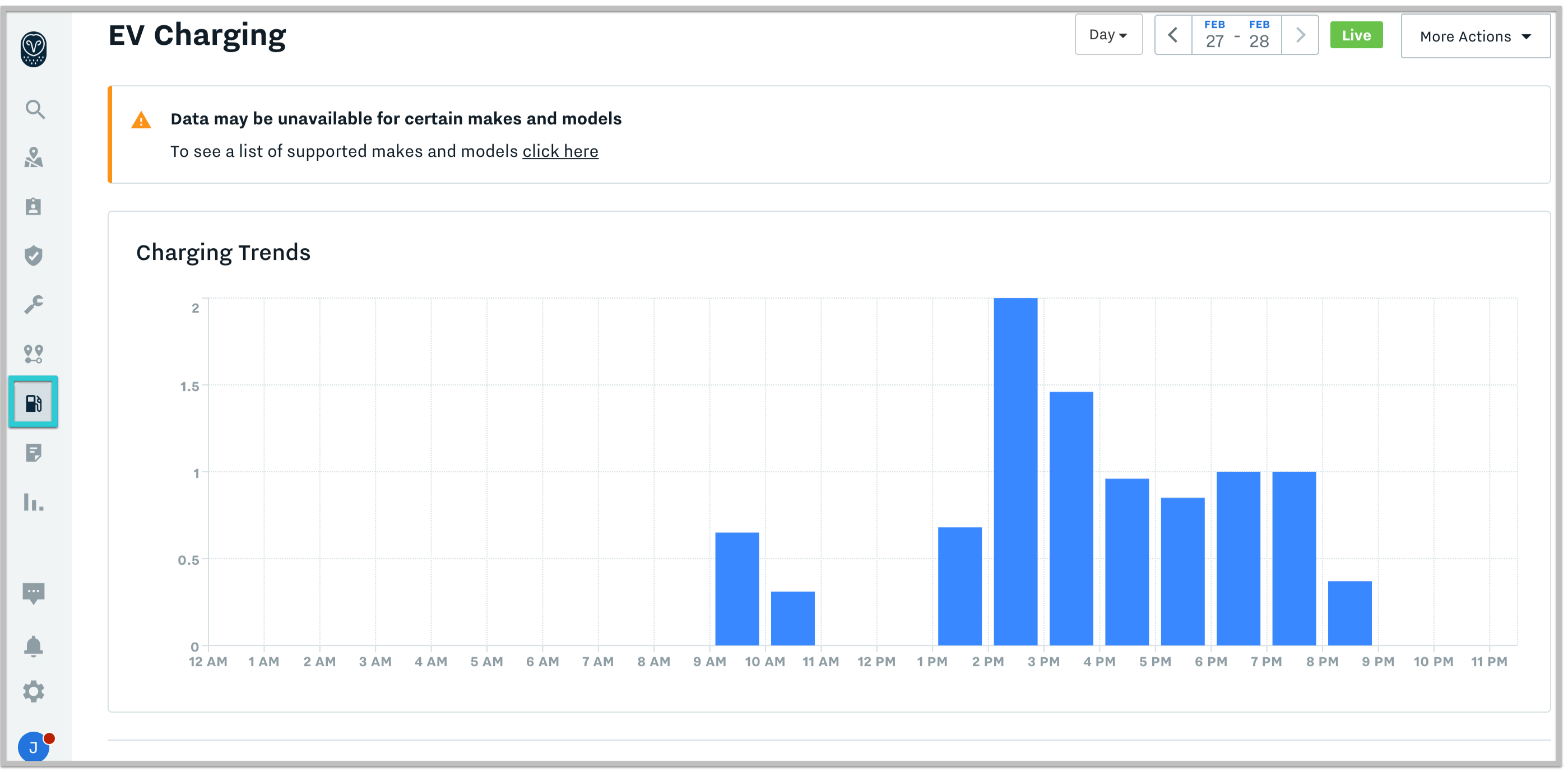 How it works
The report will show all charging events greater than 5 minutes for the given time period for a vehicle, including location and estimated last charge amount.

The total charge amount is calculated using the ingoing battery voltage and current reported by the car over the charging duration, as well as the GPS location of the charging event.

Troubleshooting
Why am I not seeing any charging information for my Nissan Leafs?
Fleet Electrification Report
The Fleet Electrification report highlights which light-duty vehicles in your fleet are most qualified for replacement with Electric Vehicles (EVs).
To access this report, navigate to Reports > Fleet Electrification.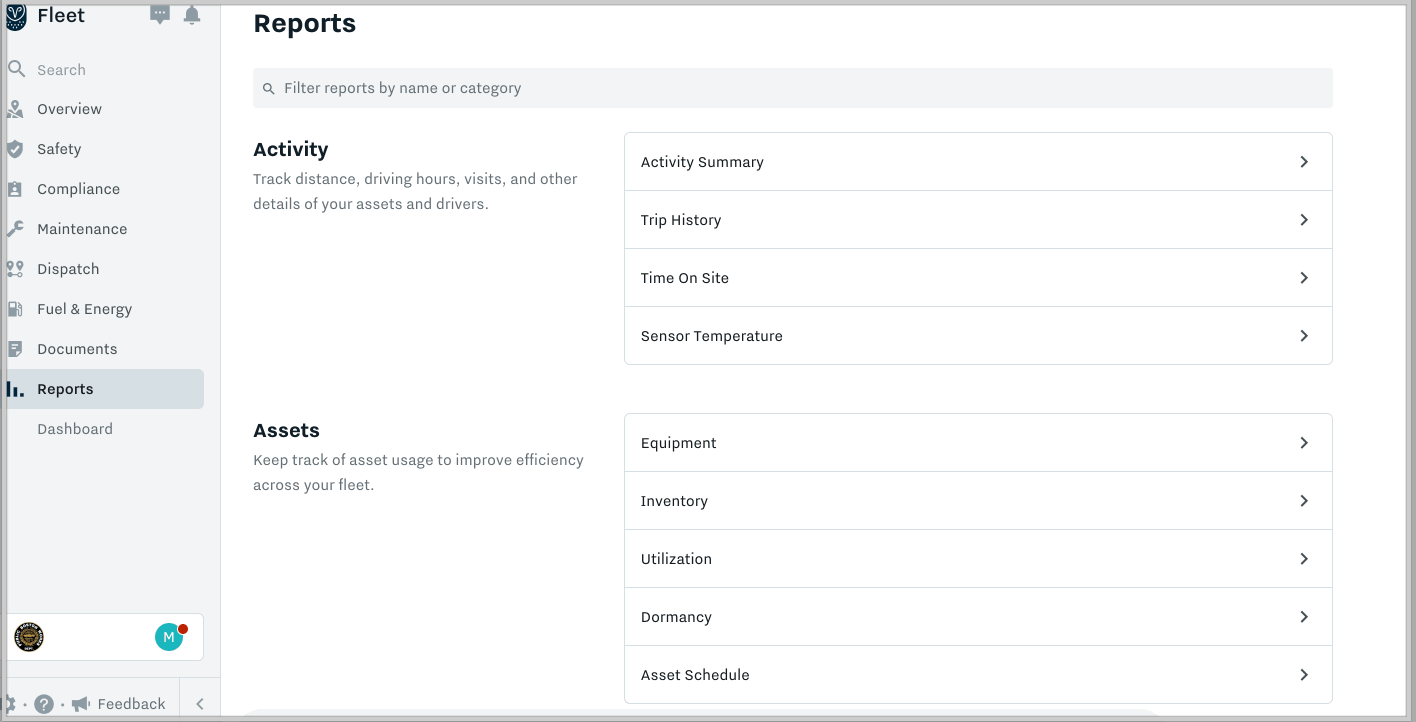 This report uses six major criteria to determine whether or not a vehicle is suitable for electrification:
Lifetime usage: You'll likely want to replace your vehicles with the most mileage, first.
Average daily range: EVs in the market today can drive up to 200 miles on a single charge. To combat range anxiety, this report showcases vehicles that currently fit that range value on an average basis.
Max range: In order to minimize times in which your drivers get range anxiety, there is a cap on the max range, to ensure that drivers are not-as-stressed about charging their EVs during the day.
Average fuel efficiency: If your fuel economy is low, you can save a lot of money by going electric.
Estimated annual fuel savings: Based on the national average fuel cost, or your organization's fuel cost number.
Estimated annual emissions saved: Based on the national average emissions per gallon of gas you would not use.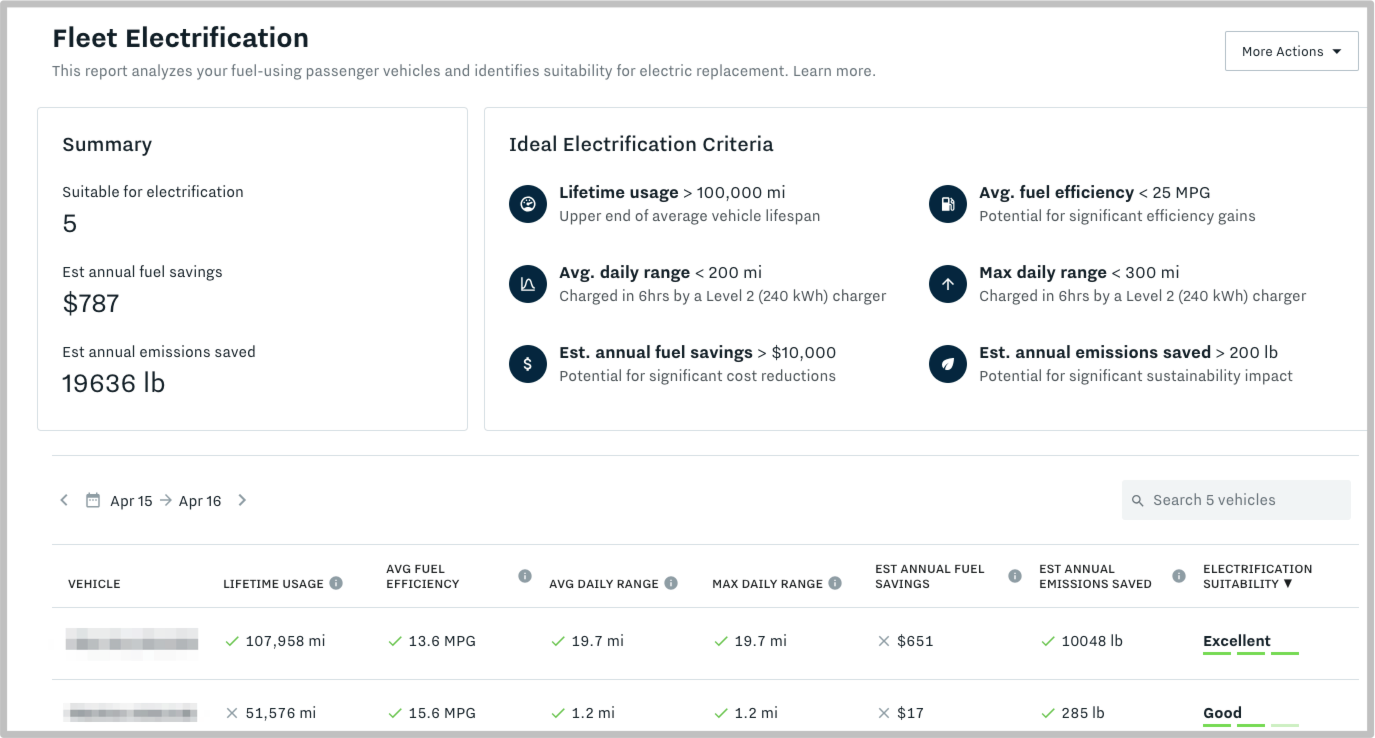 Technical Specifications
This electrification methodology has been set to apply to your light-duty vehicles (i.e. vehicles weighing less than 6,000 lbs):
Must have a minimum lifetime usage > 30,000 miles (since we don't want to replace newly-purchased vehicles)
Must have an average daily range < 200 miles, so that a vehicle can do a full day's work with one charge
Must meet 2 of the 6 criteria on lifetime usage, range, efficiency, or savings.
Samsara also currently removes pickup trucks from this evaluation.
Samsara categorizes vehicles to be ripe for electrification with the following distribution:
Excellent: 5-6 checkmarks
Good: 3-4 checkmarks
Okay: 2 checkmarks
Below are two examples of Fleet Electrification report statuses. The first vehicle is in Excellent status for Electrification and the second is in Good status.