For large fleets, managing your gateways in the dashboard can be cumbersome. Instead of editing gateway settings individually, you can make changes to multiple gateways in a single instance using our bulk gateway Upload feature in the dashboard.
You must be an organizational administrator to bulk upload gateways.
You can use the bulk uploader to edit the name, license plate, tags, VIN, auxiliary inputs, harsh event settings, and user notes for VGs and the name, license plate, tags, and user note for AGs. When doing so, you might find it useful to start by downloading your existing Gateways List containing these fields.
To download your Gateways list: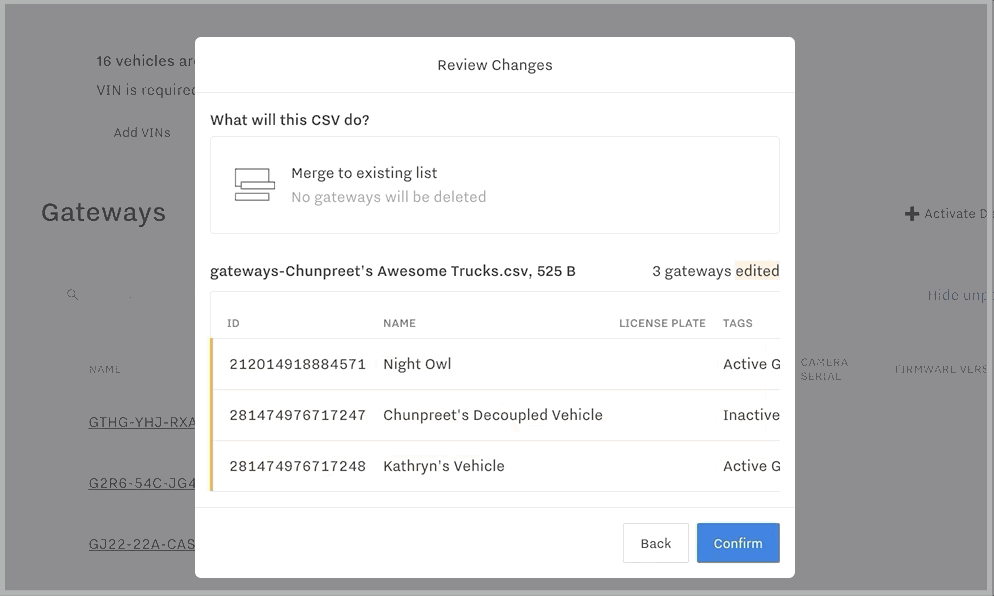 You can use the table below to understand what type of data can be edited with the bulk uploader.
Gateway List Download
The Gateways Page is used for many critical workflows, such as editing gateway settings and checking gateway connectivity. To help you complete these processes faster, you can download your Gateway List via CSV.
To view your gateways:
Navigate to
Select

More Actions > Download CSV

.

Select

Download CSV.
Note: This file format is not compatible with gateway upload. See Editing Gateways via CSV Upload for editing gateways in bulk.
You can use the table below to understand what type of data is given by each field. Note that when there is no data for a given field, the value will be "n/a". This can either mean that this data has never been entered by the user or is not being collected by Samsara.
| | | |
| --- | --- | --- |
| Field | Description | Example |
| Name | The name of the gateway | Example Vehicle |
| Product | The name of the product | VG34 |
| Gateway Serial | The gateway's serial number | AAJB-G7U-TWF |
| License Plate | The license plate of the vehicle (must be entered by to cloud, VG does not read/know this) | AZM8290 |
| VIN | The VIN as reported by the diagnostic connection from the VG (programmable by the user in the cloud for vehicles that don't report it automatically) | 55SJF3JA6IU270951 |
| Asset Serial | The asset's serial number | OKJB-E6K-GYA |
| Tags | The user-configurable "tags" associated with the device | Example Tag |
| Driver | The driver statically assigned to a vehicle | Example Driver |
| Odometer (mi) | The odometer read/reported from vehicle diagnostic connection or GPS-based odometer | 277321100 |
| Engine Hours | The engine hours read/reported from vehicle diagnostic connection | 6972 |
| Camera Serial | The camera's serial number, if VG has a camera attached | CM34-WDA-GEN |
| Last Connected | The last time the AG was seen by back-end | Jul 11, 2019, 5:46 AM |
| Last Location | A reverse-geo lookup of last GPS coordinate | Example Location |
| Wifi SSID | The Wifi SSID (network name) currently connected to, if in Wifi client mode | Example Network |
| Wifi Up | Whether the Wifi is currently connected, if in Wifi client mode | true/false |
| Wifi IP | The IP received from a Wifi connection, if in Wifi client mode | 192.0.2.1 |
| Wifi Access Point Data Usage (MB) | The data usage over cellular port by Wifi hotspot clients | 1 |
| Cell Operator | The cell network name | AT&T |
| Cell Up | Whether the device is connected to cellular | true/false |
| Ethernet IP | The IP received from the ethernet port | 192.0.2.1 |
| Ethernet UP | Whether the ethernet port is currently connected | true/false |