We use addresses to specify locations of interest and collect useful data about our operations at each one. Each address has a geofence which can be as small as a subsection of a parking lot, or as large as an entire state - what's best for you depends on what you want to use it for.
Adding a Single Address
To add a new address, navigate through follow these steps in your Samsara Dashboard:
Settings > Addresses/Geofences.
1. Select Add Address.
2. Enter the site's name and address.
3. Once an address has been found, the geofence can be created.
4. Click Add Address to save.
Additionally, if you use tags to organize your Samsara Dashboard, you may also want to use tags to organize your Addresses. For example, a towing company may have "Parking Lot" addresses and "Impound Lots" addresses. A shipping company may use separate "Unloading" and "Loading" addresses.
Addresses can be entered as a street address (e.g.123 Fake St, Springfield) or a latitude and longitude in decimal format (e.g. 37.818440,-122.478441). Latitude and Longitude coordinates should be separated by a comma only, without additional spaces between the values.
You can learn more about using tags here, and reference the recording below to view how to add a tag to an address.
Note that updating and altering addresses may affect your reports, such as the Time On Site Report.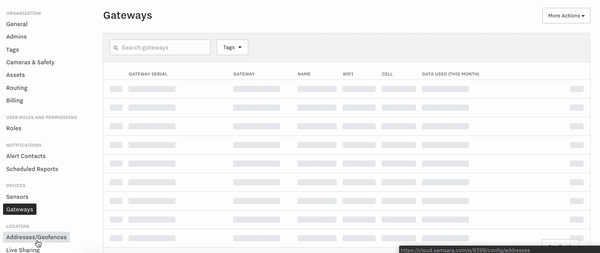 Edit or remove an address
To edit an existing address, go to Settings > Addresses & Geofences. Select Edit on the address you would like to edit, or Remove for the address you would like to delete.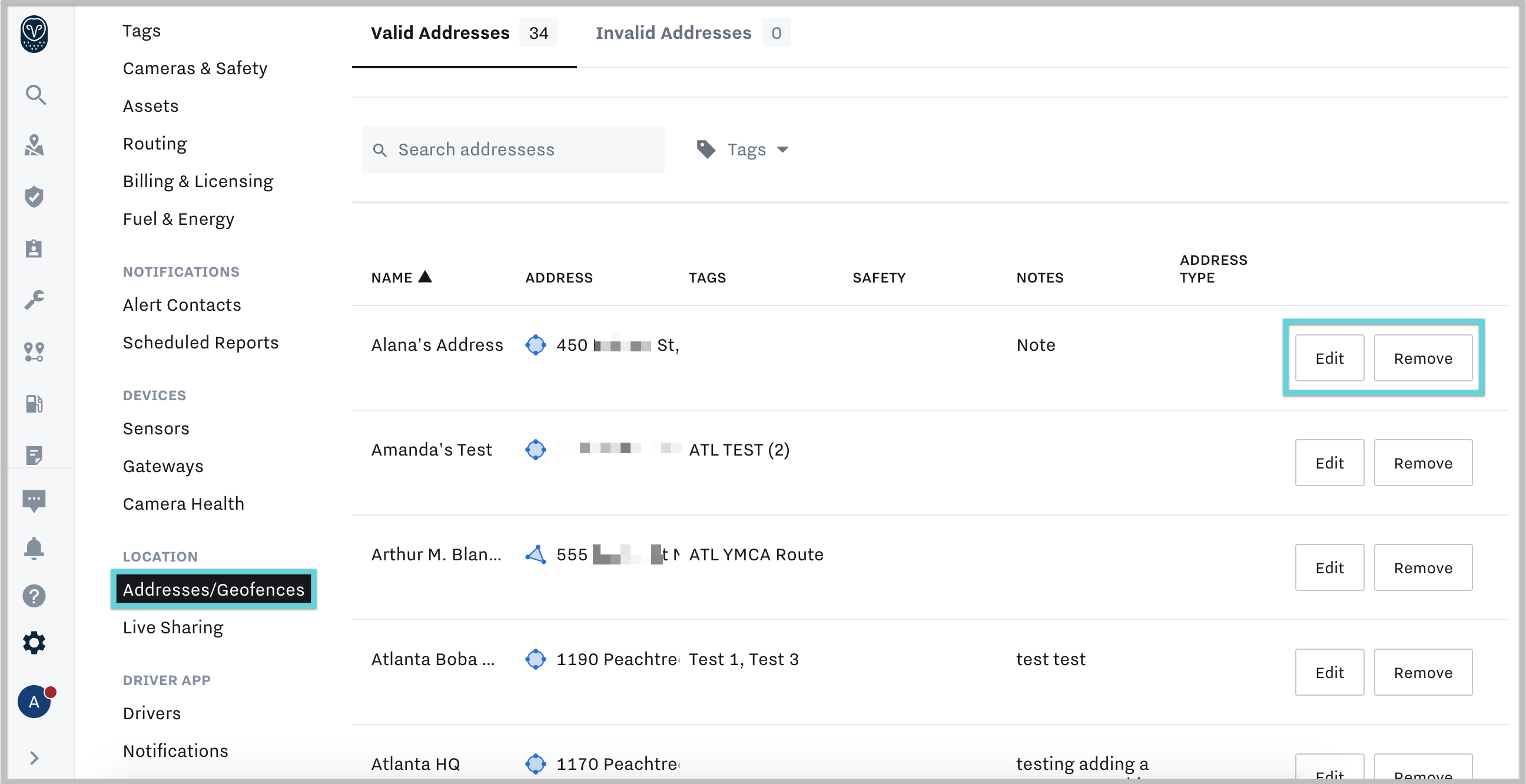 Uploading Addresses in Bulk
1. Upload from CSV: Select More Actions > Upload addresses.
2. Upload a .csv file with one column titled Description and one column titled Address. The address column can contain a street address or a comma-separated latitude-longitude pair.
Note that the "default radius" is used for all locations in the CSV. The geofence shape or radius can then be edited for individual locations simply by clicking on Edit for the location. Also, ensure that the file is formatted exactly as the sample template. You could reference Importing Places into Address Book in Bulk.
Once the locations have been uploaded, the descriptions for each address will show up on the map in the specified locations.
How to use Auto-Annotation for Yard Moves:
When a Geofence is designated as a Yard any unassigned driving within this Geofence will be automatically annotated as a Yard Move. This feature will save compliance managers time by not having to assign every small move a vehicle makes during yard moves.
Navigate to Settings > Addresses/Geofences > check the box beside "Address is a yard".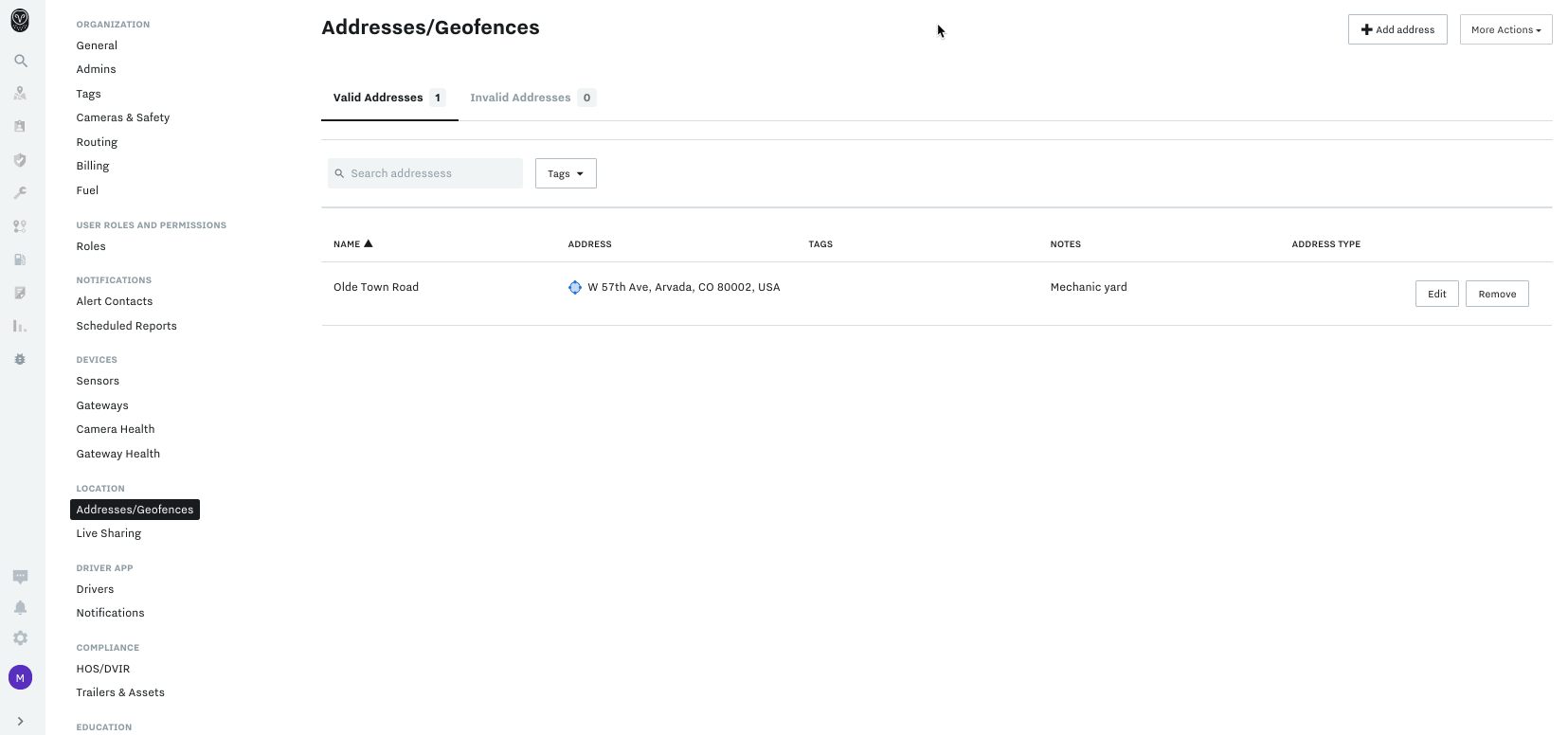 Now, you will see any unassigned driving time within this geofence populated into the annotated tab of Unassigned HOS as Yard Move.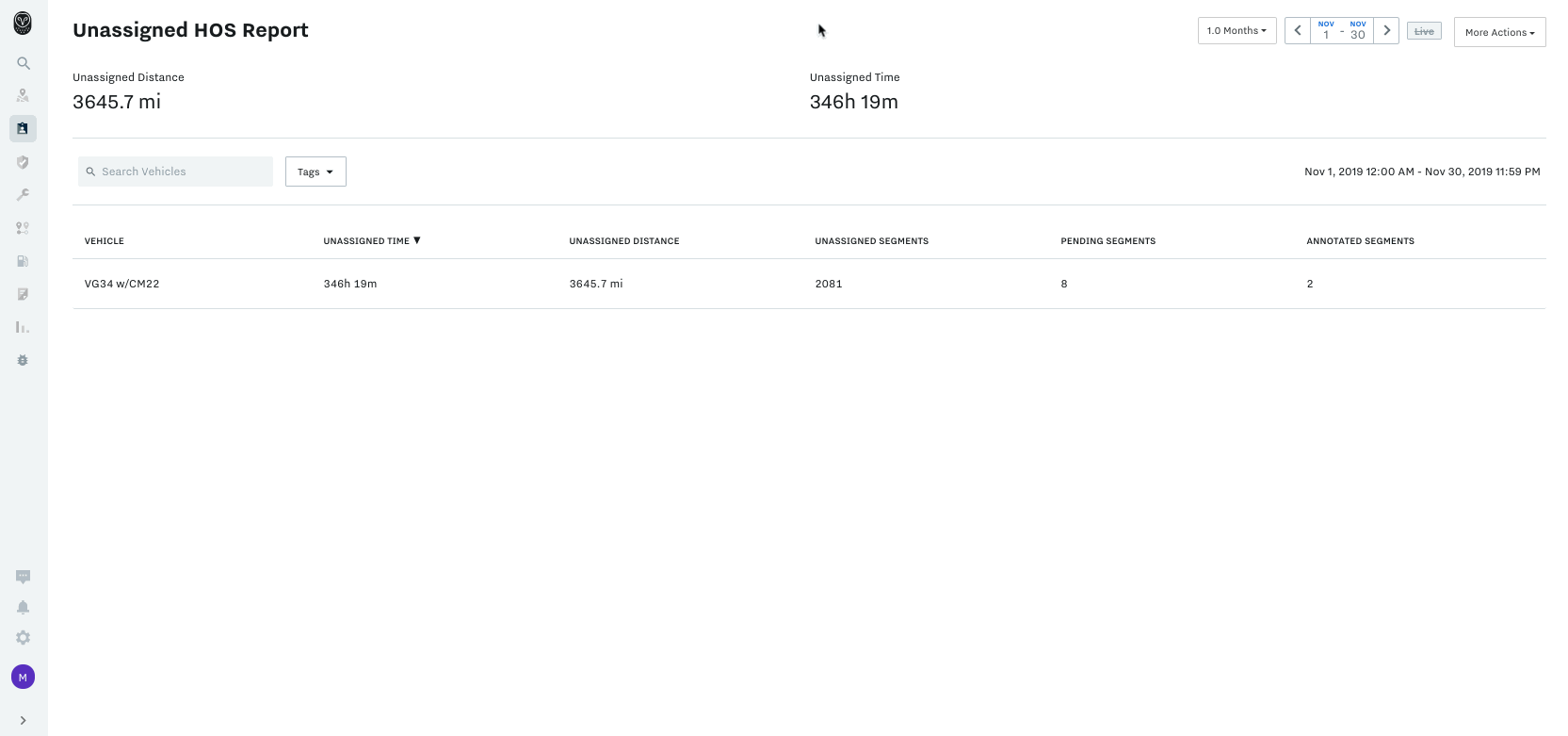 Things to Note:
In order for this feature to correctly function, make sure that the geofence is only marked as a yard for a location where carriers know non-drivers (mechanics, washers, fuelers, etc.) will be operating vehicles.
Also, this should only be used for segments performed by non-driver operators.
Normal unassigned segments should still be assigned to the appropriate individual drivers.
This feature will not automatically assign segments that were at one point associated with a driver.