The Wi-Fi Hotspot supplies internet connectivity for drivers so they can use the Samsara Driver App and manage daily tasks from their phones and tablets. As an administrator, you can also verify a driver is signed into and using the hotspot.
Setting Up the WiFi Hotspot
As an Administrator, you can set up the Wi-Fi Hotspot for your gateways by following these steps:
In your Samsara Dashboard, go to Settings (gear icon) > General.
Toggle Hotspot to

Enabled

(green).
Enter a Wi-Fi Hotspot Name. Samsara recommends using the name of your fleet, or something easy for your drivers to remember and select on their mobile devices.
Enter a Wi-Fi Hotspot Password that is difficult to guess, but also easy for your drivers to enter and remember.
Click Save.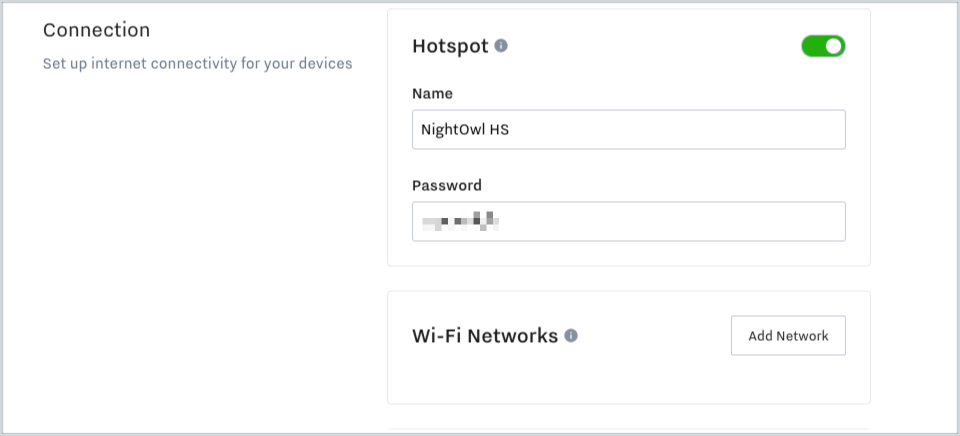 Now the Wi-Fi Hotspot is operational for all of your Vehicle Gateways. You can share the Wi-Fi HotSpot Name and Password with your drivers.
Note: the following websites will not be accessible via the Samsara Wifi Hotspot:
Google Video

Netflix

YouTube

Hulu

Spotify

Pandora

SoundCloud
Verify Wi-Fi Hotspot Usage
1. From your dashboard overview page, select a vehicle from the list shown on the left of the screen.
2. On the specific vehicle's page, you'll see Connected hotspot clients. If your driver is connected, "1" will show where there is "0" in the image below: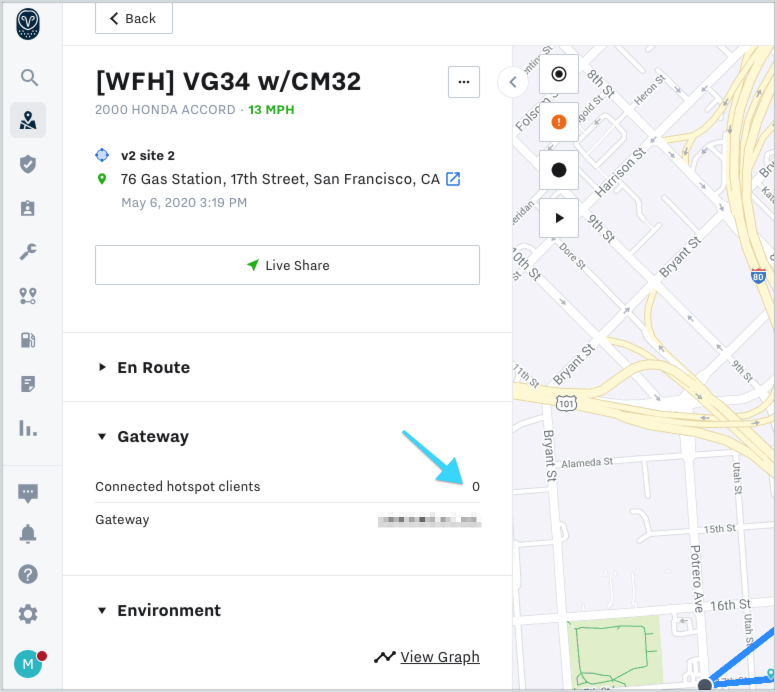 What Happens if my Drivers Exceed the Wi-Fi Hotspot Data Limit?
The Vehicle Gateway (VG) license includes up to 500MB/month of Wi-Fi data. Samsara has found that the 500MB of data usage is more than sufficient to support the routine use of productivity apps such as work order management, customer relationship management (CRM), emails, and Driver messaging.
After the data limit is reached, the Wi-Fi hotspot will no longer be available to applications except for the Samsara Driver App. The Driver App remains fully functional regardless of whether or not the data limit is exceeded.
After the data limit is exceeded, your device's Wi-Fi management menu may indicate that there is no internet connection. This is expected behavior and not an indication that the Driver App will have issues functioning.
Data will be reset on the first of the month. You can view the current amount of data remaining by going to your dashboard Settings (

) > Devices.

Purchase Additional Data

If you want to purchase additional data, Samsara has higher data plans available (up to 2GB/month). Please reach out to your Sales Representative for more information.
Note: Samsara reserves the right to limit access to personal entertainment streaming services.