For companies that transport temperature-sensitive goods, ensuring product quality by strictly controlling reefer temperature is critical. Our Thermo King and Carrier integrations enable you to monitor and remotely control the temperature of your reefer units. This enables you to meet strict FSMA compliance requirements and avoid costly potential load losses. Key features currently available in the dashboard are outlined below.
Accessing and Viewing Reefer Trailers
After installing your AG26, activating and adding them to your organization, you will be able to access your reefers' real time data and reporting in your dashboard. To view a list of all the reefers in your organization, navigate to Overview > Assets, select the Trailer Type dropdown, and click reefer.

Selecting a particular reefer in this list will take you to the asset page which will provide more in-depth real-time information regarding the individual reefer unit.
Note: Information pulled from the asset status may vary between makes, models, vehicles and types of assets.
Reefer Monitoring
As Fleet Managers, you have the ability to view the current state of your reefers as well as live and historic temperature data on the reefer's vehicle page.
Current states of the reefer include:
On/off: turn the reefer on or off
Set point: the temperature the reefer is set to
Run mode: start/stop or continuous
The following temperature data points are surfaced in the dashboard:
Set Point Temperature
Supply Air Temperature
Return Air Temperature
Ambient Air Temperature
Live temperature data is available when the reefer is on and populates in the sidebar of the vehicle page as highlighted below.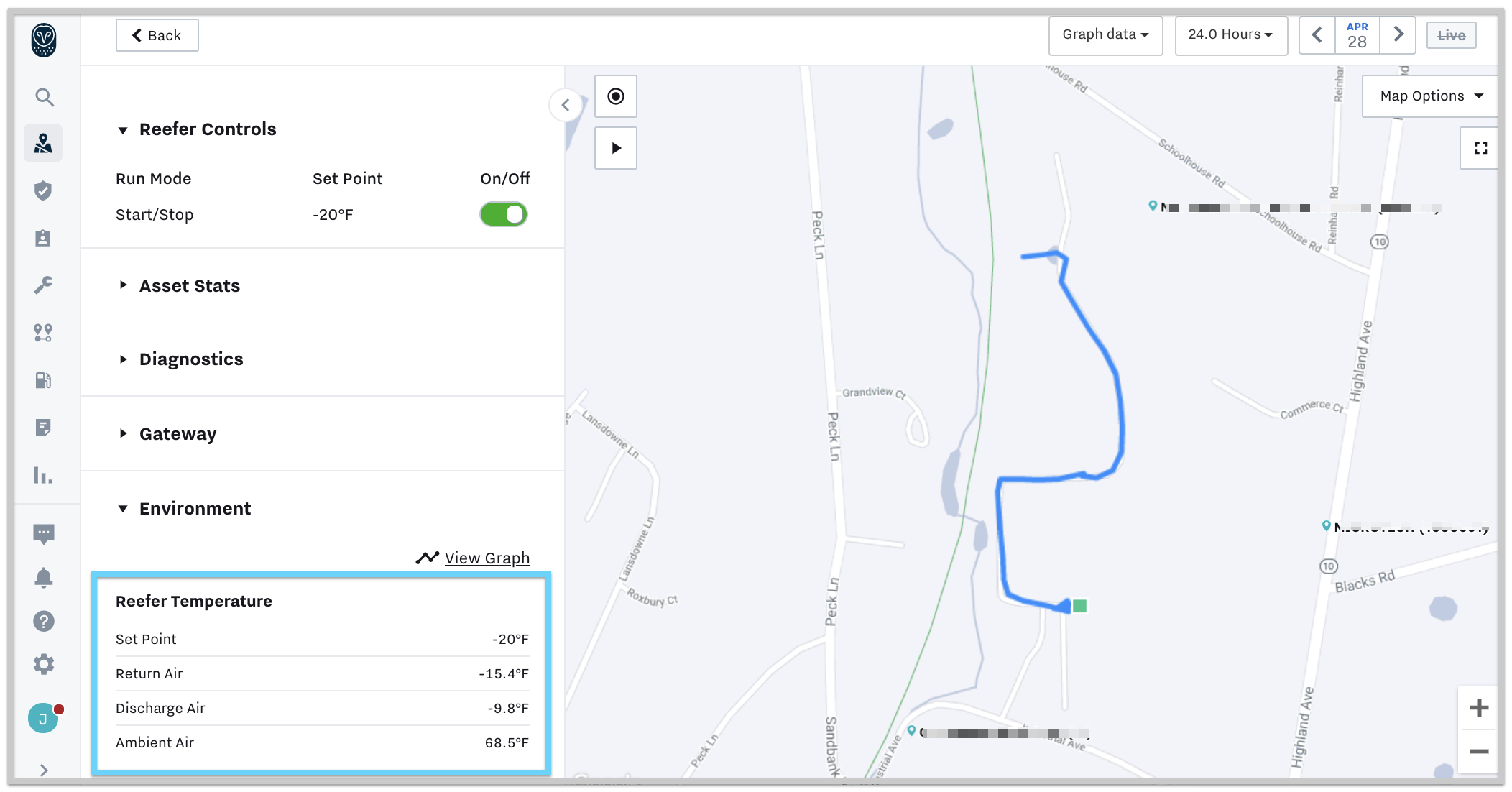 Please note that multi-temp specific features are not yet supported.
Reefer Diagnostics
The following reefer diagnostics are also available and will populate in the Diagnostics section of the vehicle page sidebar.
Reefer Fuel Level (available when the reefer has a fuel sensor in the unit)
Reefer Engine Hours
Environment Data Overlays
To add a sensor to your organization, navigate to Settings > Sensors and click +Activate Devices. Enter your sensor serial number to register the device to your organization. Your sensor should then link to the closest gateway with the strongest connection, unless manually linked or pinned to a specific gateway.
Historic temperature data can be viewed on the vehicle page via the temperature graph (includes the option to overlay sensor data if the trailer has sensors installed, EMs, door cargo). You can display this graph by either clicking on the View Graph from the sidebar or clicking the Graph Data dropdown at the top right corner of the vehicle page and selecting Environment. Data in the graph will populate only for the time periods when the reefer was on.
To overlay any additional sensors you have installed on your reefer, click on the sensor names to the left of the temperature graph.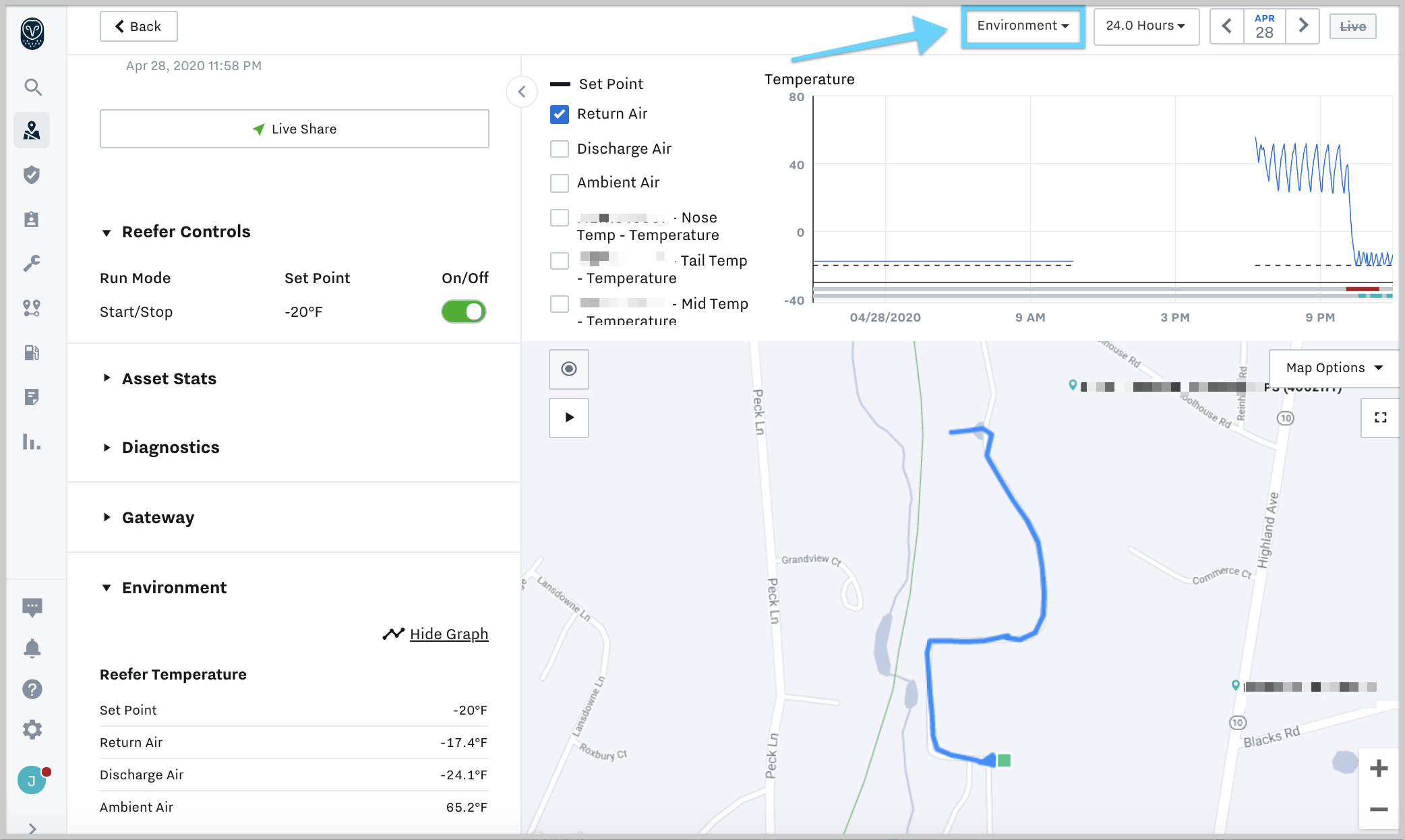 Reefer Control
You have the ability to issue the following commands remotely from your dashboard. This gives you greater flexibility in the management of your fleet operations. Supported commands include the following:
Turn the entire reefer unit on or off. (Thermo King Solution only)
Turn individual zone on or off. (Enabled only when reefer is on)
Set the reefer temperature set point. (Enabled only when reefer is on)
Set run mode. (Enabled only when reefer is on)

Continuous mode: reefer runs continuously in order to maintain a precise temperature. Used for loads sensitive to variation in temperature such as produce. This mode will consume more fuel and increase maintenance cost due to increased engine hours, but may be required under FSMA regulations for certain types of product transport.
Start-stop: reefer cycles on and off, for loads where there is greater flexibility. This helps to conserve reefer fuel and reduces engine hours.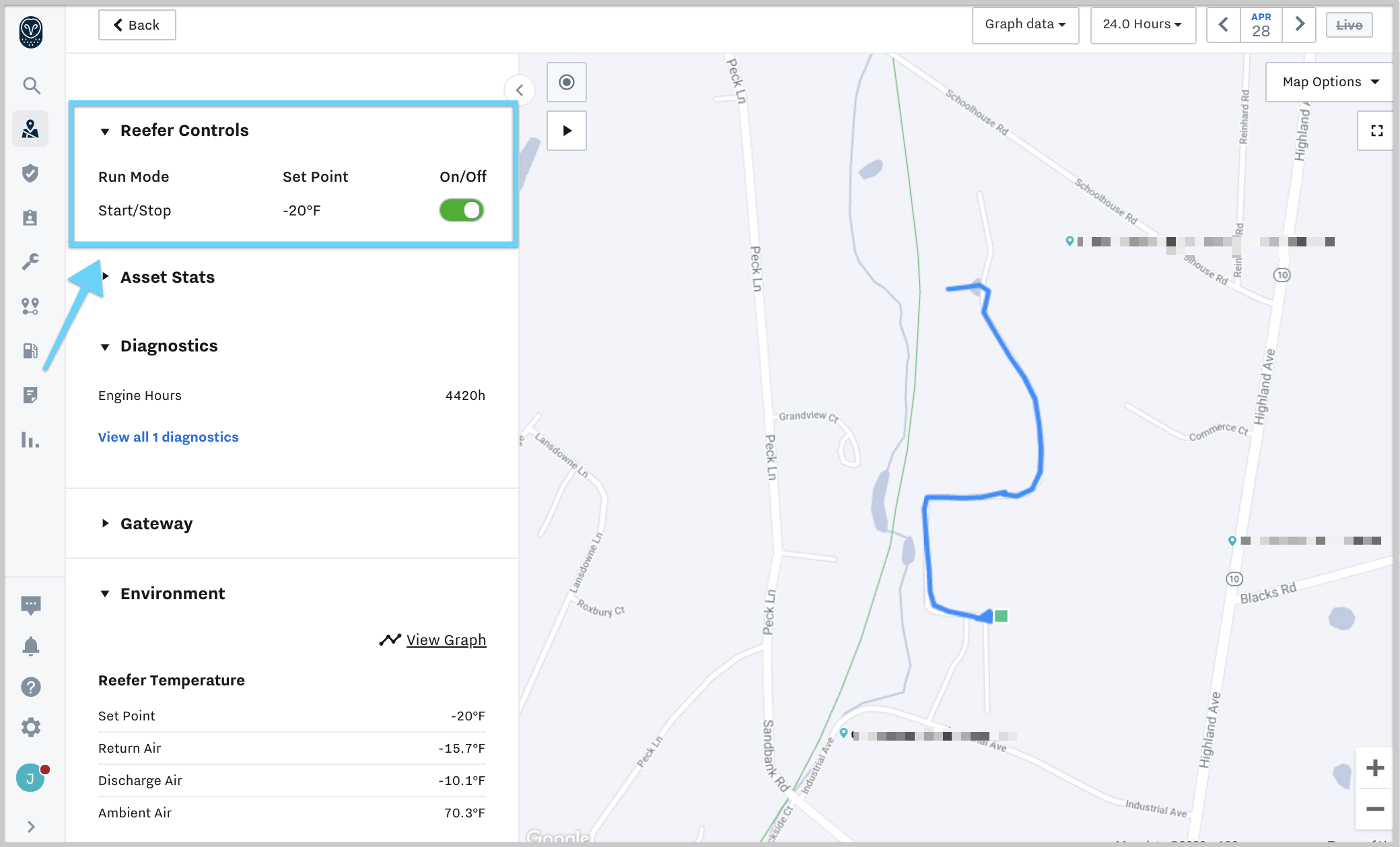 Please note it may take up to 2 minutes for the command to take effect.
Two-Way Reefer Control Permission via Standard Roles
When an organization has at least one AG device with a Reefer integration, all users will automatically have read access to the Reefer Data. By default, if an organization is using Standard Roles, admin users will automatically have Two-Way Control privileges.
The standard roles in Samsara are listed below and their permission for two-way reefer control. Note that with Standard Roles. To provide Reefer controls for an individual user, refer to documentation Modifying Existing Users to update the user to a role that has two-way reefer control permissions included, which via Standard roles is only for Admins:
Full Admin: has permission for two-way reefer control.
Standard Admin: has permission for two-way reefer control.
Standard Admin (No Dash Cam Access): has permission for two-way reefer control.
Read-only Admin: does not have permission for two-way reefer control.
Read-only Admin (No Dash Cam Access): does not have permission for two-way reefer control.
Dispatch: does not have permission for two-way reefer control.
Maintenance: does not have permission for two-way reefer control.
Billing: does not have permission for two-way reefer control.
Two-Way Reefer Control Permission via Custom Roles
If more granular role definitions are required, your organization can use Custom Roles.
To add or modify the privileges defined for a Custom Role, an admin user can access the following screens from the Users & Roles Page under Settings:
Add or Select the existing role you wish to modify: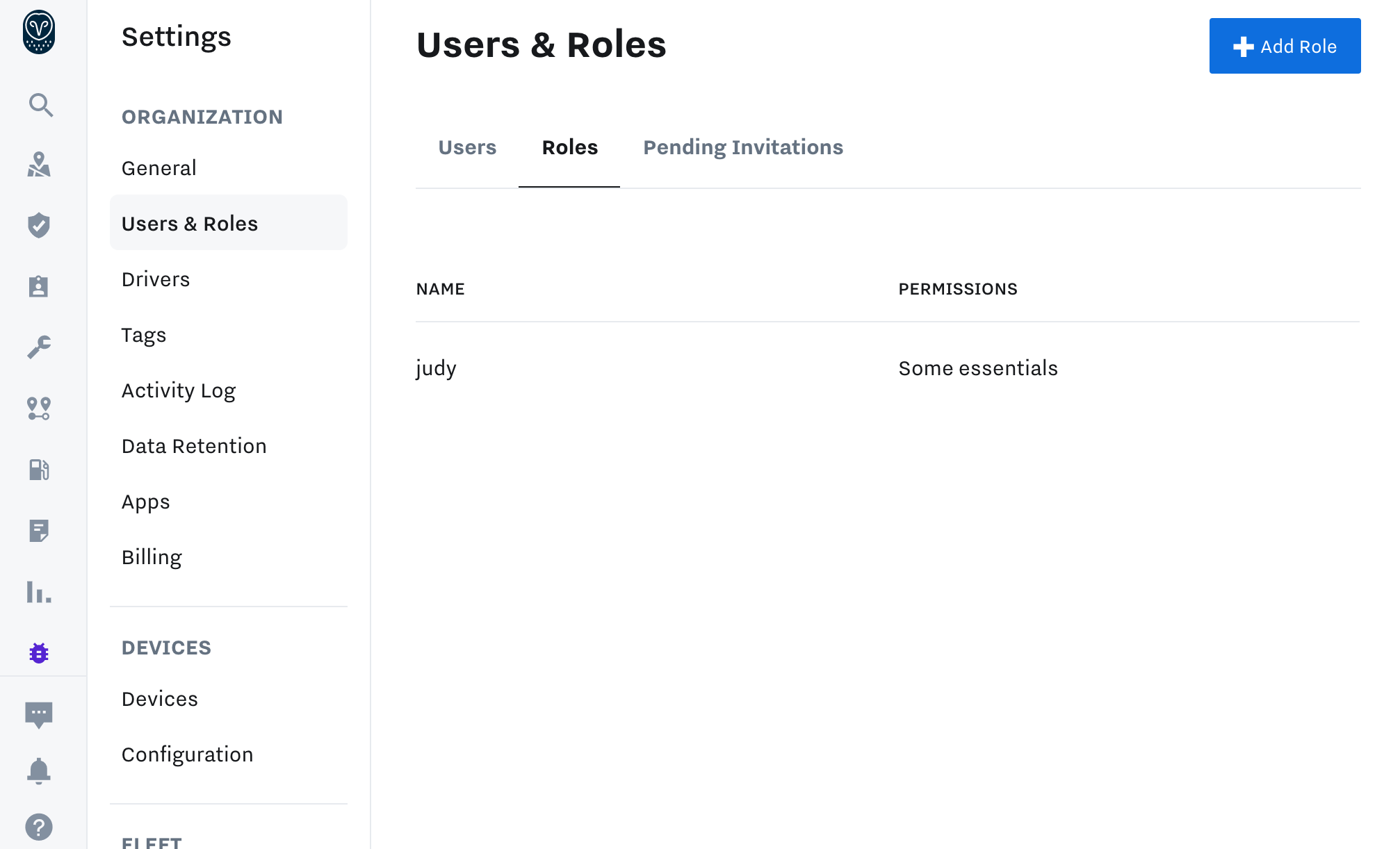 2. Expand the Essentials section
Clicking Edit checkbox in the Essentials section will select all write permissions checkboxes including reefer control permissions for the custom role.

Clicking View checkbox in the Essentials section will select all read permissions checkboxes leaving reefer control permissions unselected for the custom role.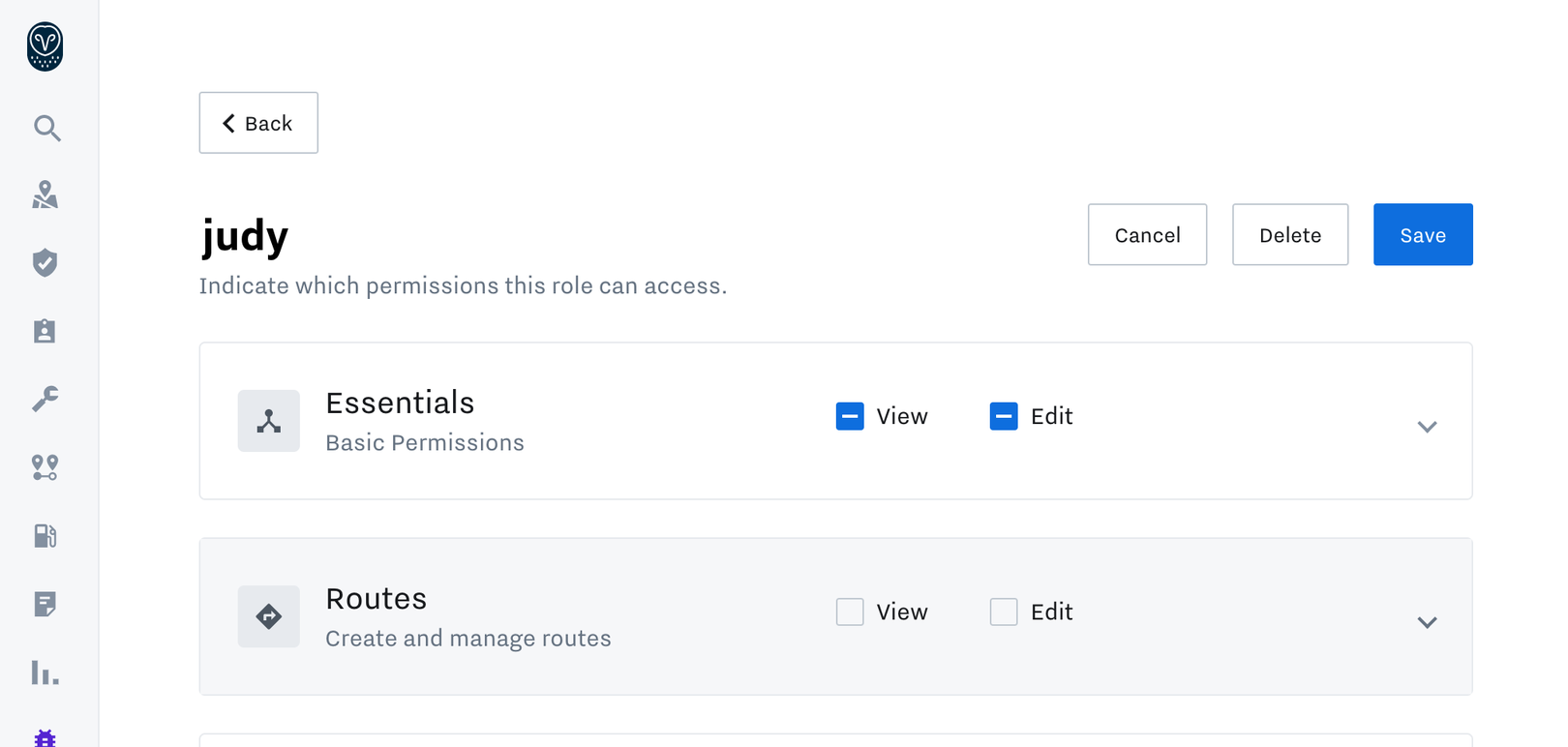 3. Modify the permission by checking/unchecking under reefer control
Reefer control permission under custom roles will show up as an available option for all organizations independent of having a reefer asset with compatible cables.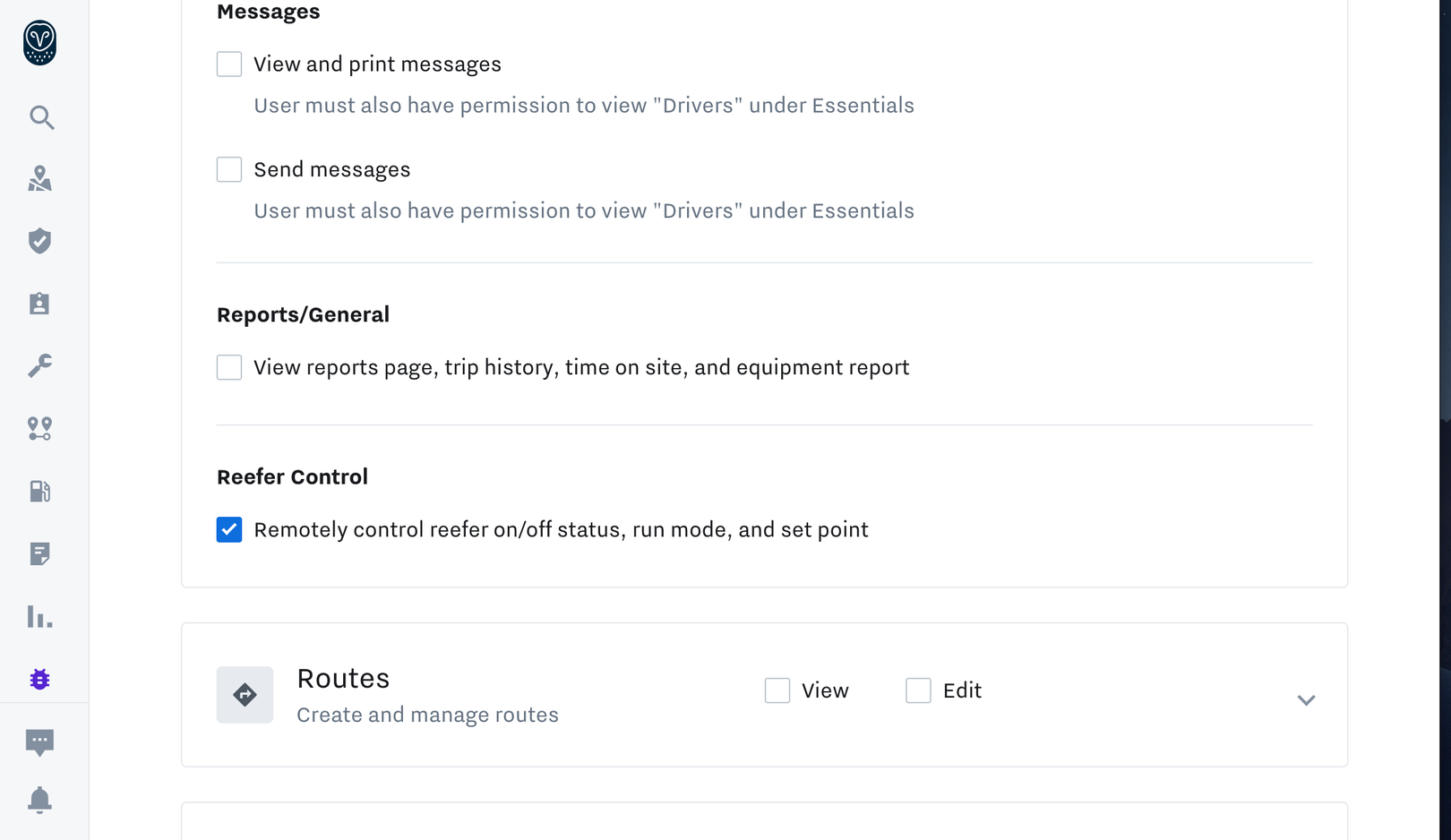 4. Click Save.
Any user assigned to a Role that has the Reefer Control Permission with have access to the control features.
Alerts
In the event that an alarm is triggered on your reefer, this information will populate in your dashboard. You also have the ability to read and clear alarms on your reefer unit from your dashboard. Reefer alarms fall into one of 3 categories:
Green = OK to Run
Yellow = Check as Specified
Red = Take Immediate Action
We surface all alarms in the Yellow and Red categories and they can be found in the sidebar of the vehicle page as well as the Alerts section of your dashboard.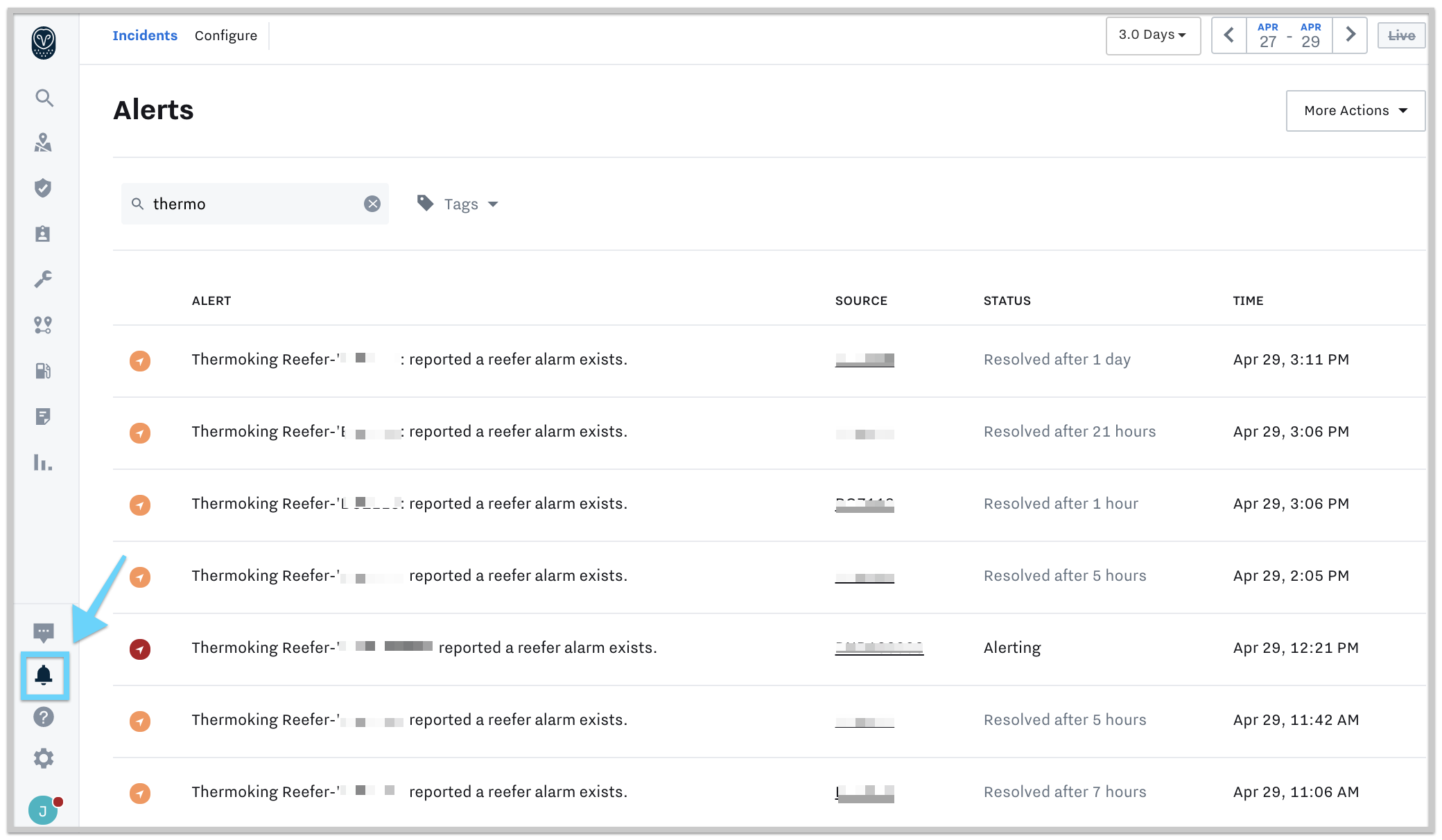 Clicking into the specific alert provides further detail about the alarm including a description, recommended action, and the users that were notified.

When there is a reefer alarm, it will also show in the Asset detail page. Under the Asset Stats, you are able to clear the alarm. Once you click on the link next to the alarm, a popup will appear asking to confirm if you want to Clear all reefer alarms. Select Clear alarms to confirm.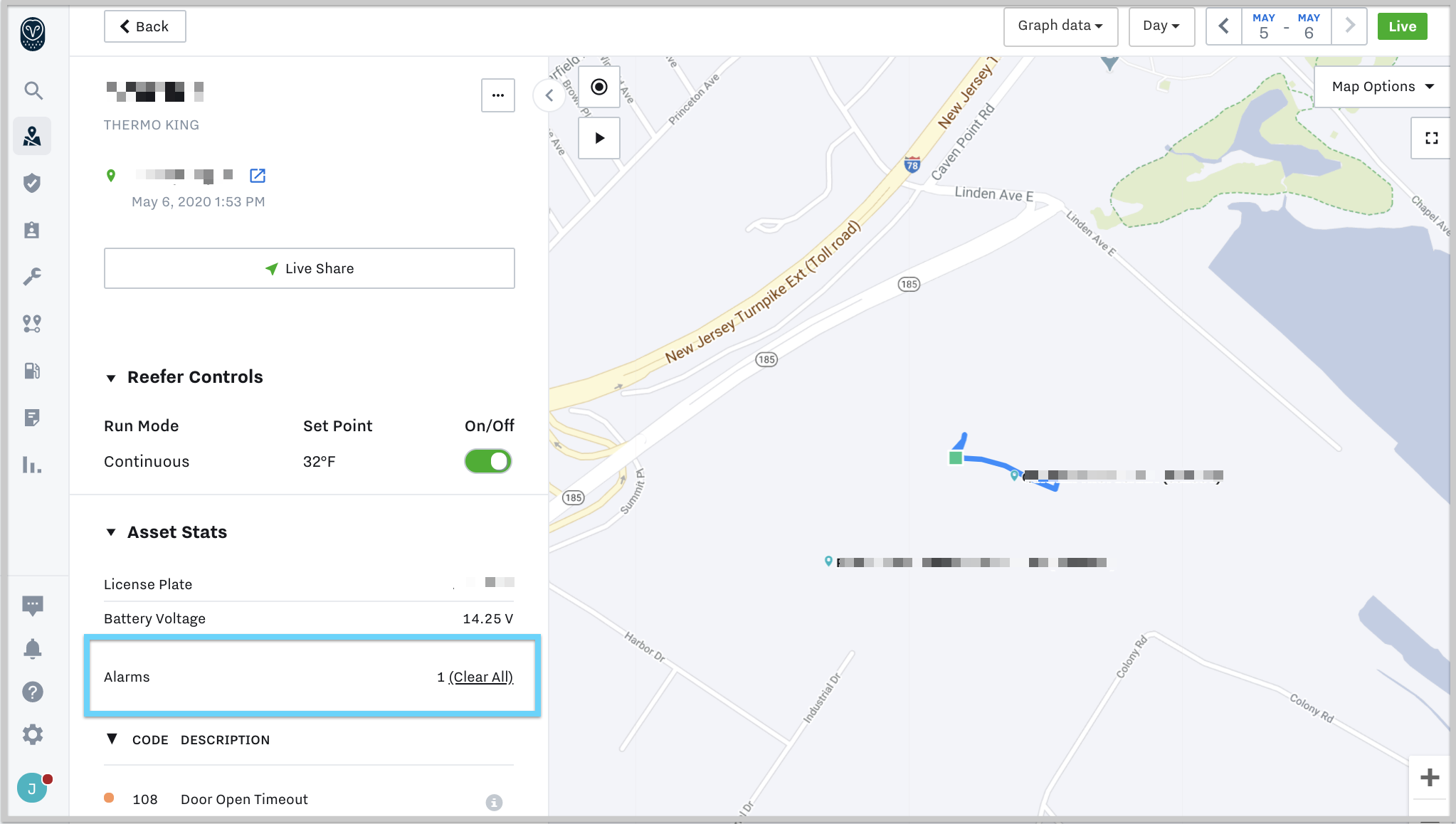 Reefer Reporting
The Reefer Temperature Report provides you with a list of the reefers in your fleet including key reefer data points for each reefer. Clicking into an individual reefer provides you with more granular data about the performance and history of the reefer. This historic data is displayed as both a graph and in tabular format. You can download the historic temperature data of the reefer by selecting Download CSV in the More Actions dropdown menu.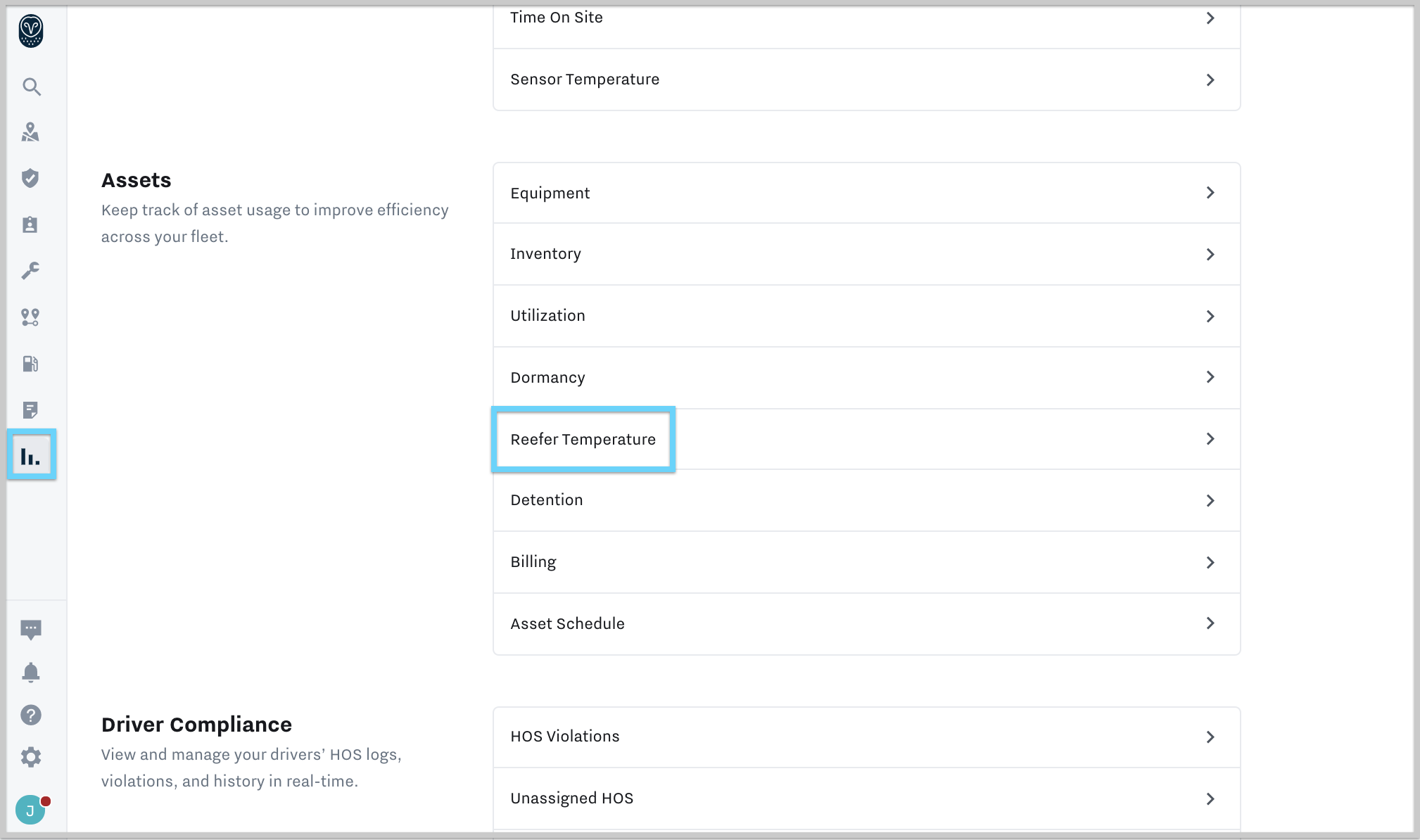 The 1st column in the Reefer Report indicates the run mode of the reefer (e.g. continuous/start-stop). Hovering over the icon, will bring up a tooltip naming the mode/if there are any alarms.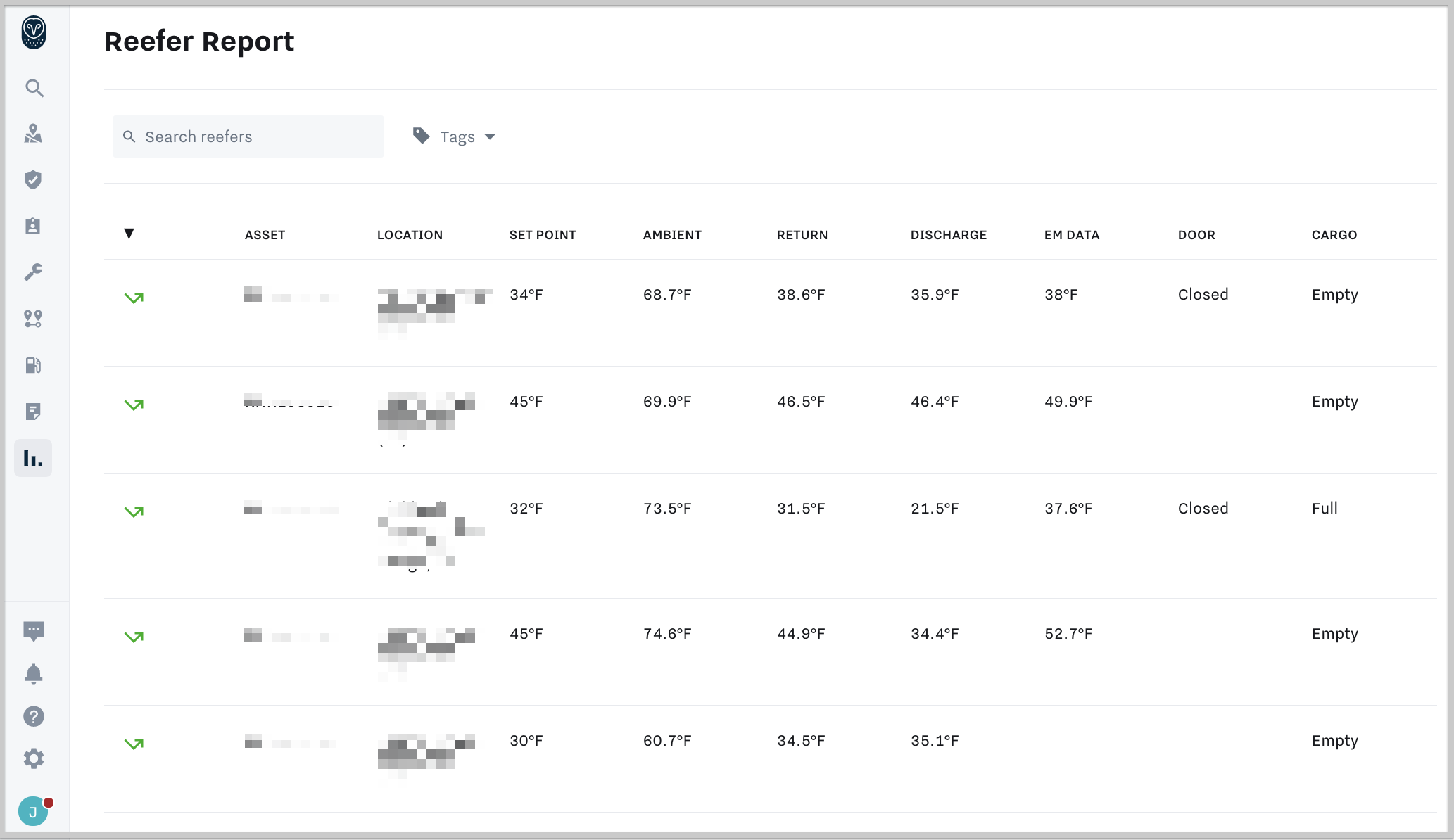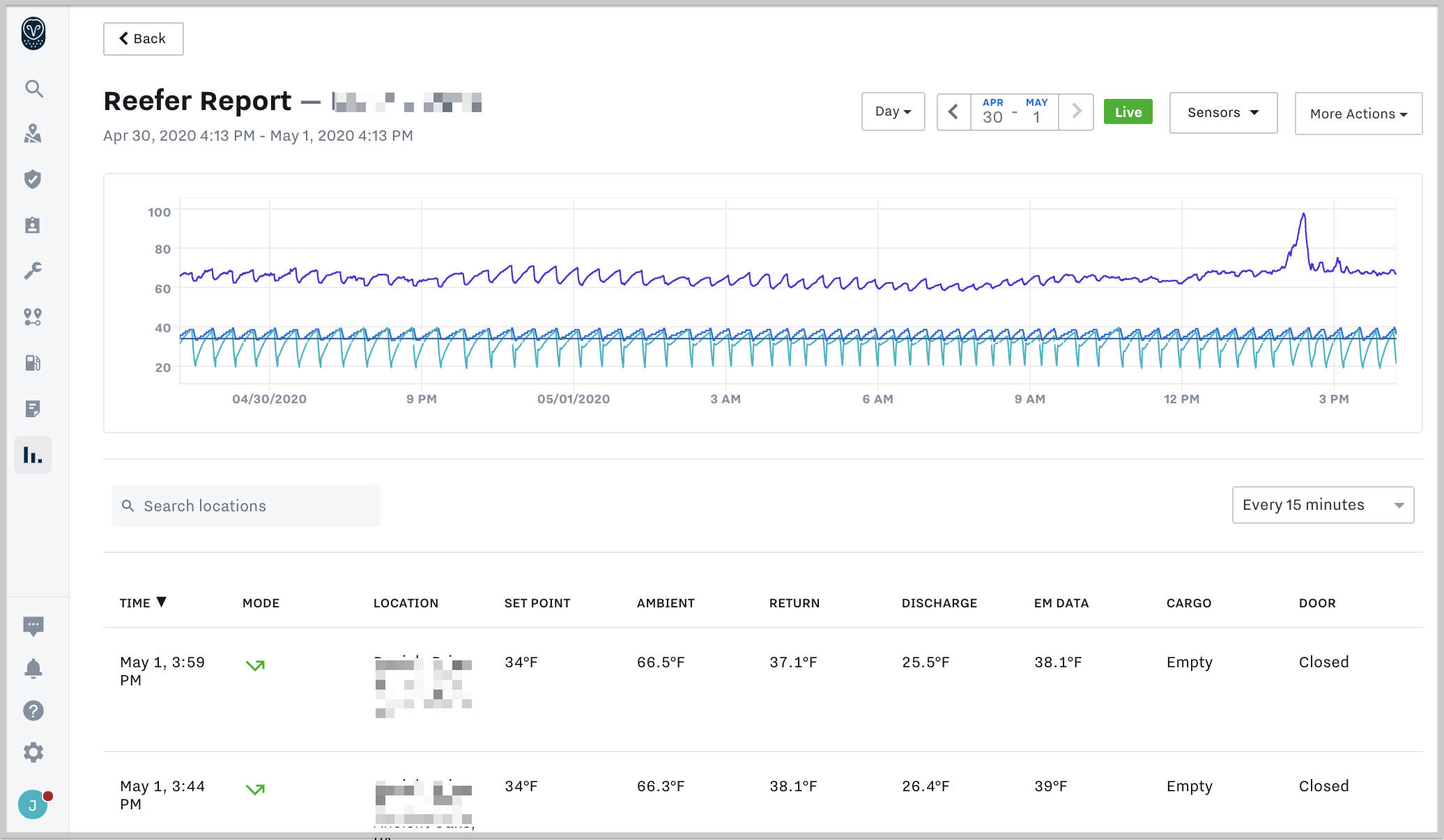 Reefer API
Samsara provides API endpoints so that you can build powerful applications and custom solutions with your reefer data. For more information regarding our reefer related endpoints, visit our Assets API page here.
Visit developers.samsara.com to find getting started guides and an API overview.