The Utilization Report for assets helps you better understand how much of your fleet is being used. To get a clear picture of exactly how your assets are being utilized, the report provides a percentage calculation of asset usage during a specified time range and allows you to segment your assets by type or location.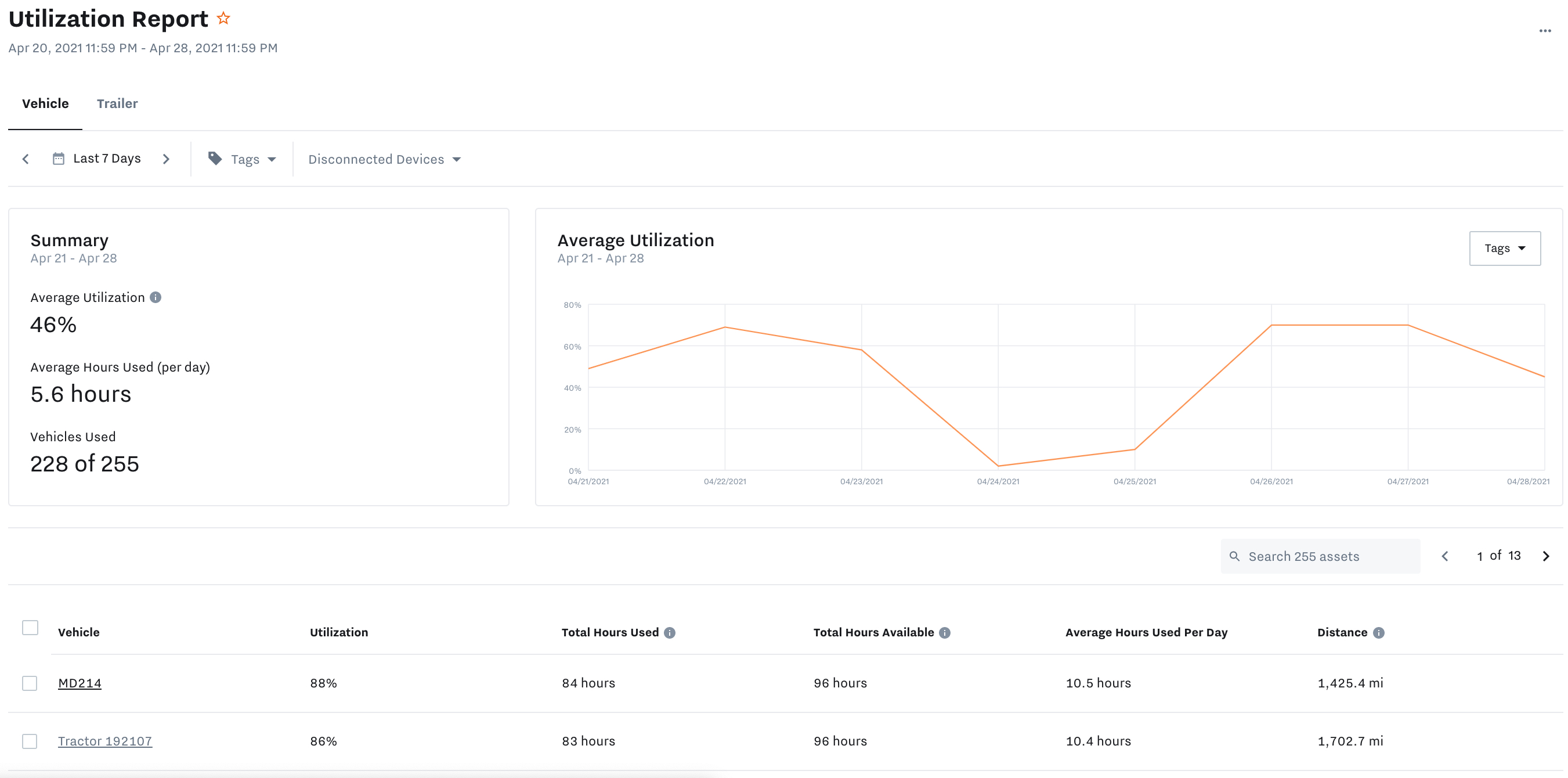 To access your Utilization Report:
Navigate to

Reports ( ) in your Fleet Dashboard.
Under

Assets, select

Utilization.
You can toggle between Vehicles, Trailers, and Equipment and can view:
On/Off time for the 12-hour period for each asset at the fleet level.
Customizable hours based on available hours per week.
Option to export raw data to get trailer level data.
Different tags to compare segments of your fleet (example: by geography) and reallocate assets based on real utilization.
Date ranges specified using the calendar feature.
Vehicle and Trailer utilization is based on trips. Vehicle utilization calculation is rounded to the nearest hour. Trailer utilization is not rounded and calculated to the minute.
Equipment utilization is based on engine run time.
Average Utilization
Average Utilization displays the average utilization of your fleet based on a 12 hour day. Filter by tags to view the utilization of a specific subset.
The following table describes how the measurements are calculated:
| | | |
| --- | --- | --- |
| Asset | Measurement | Ruleset |
| Vehicles and Trailers | Distance | Calculated based on trips during the selected period based on GPS movement |
| All assets | Trips | Initiated when asset moves faster than 5 mph. Ends when an asset moves slower than 5 mph |
| All assets | Utilization | Calculated based on trips detected during a one hour period and based on engine hours. If the asset was on a trip during that hour, it is counted as utilized. |
| Vehicles | Engine Hours | Measured directly from the asset's ECU. Otherwise, engine hours are calculated by incrementing the time when the gateway has received power from the asset (ie when the engine is on). |
By default, Samsara calculates utilization by looking at the number of hours that an asset was used during a 12-hour work day. You can customize the hours available using the steps below.
Customize Available Hours
To customize available hours for individual vehicles, trailers, or equipment, perform the following workflow:
Select the checkbox for one or more assets. You can also select all assets by selecting the checkbox near the Asset column header.



Select Edit hours available and enter the number of available hours per week. Total available hours in the report will adjust based on time range selected.

Save your changes.