If you receive a new gateway as a replacement for the same model, please follow the below steps before driving the vehicle with the new gateway installed. If you receive a newer gateway model, please refer to Replace a VG34 with a VG54 or VG54-NA with VG54-NAH.
Gateway vs. Vehicle
Gateway: the Samsara device which collects GPS, sensor, diagnostic, and dash camera data. The gateway sends data to the Samsara Dashboard.
Vehicle: the object in the Samsara Dashboard which contains the historic and current GPS, HoS, sensor, diagnostic, and dash camera data.
1. Remove the faulty Samsara gateway from your vehicle, and install the replacement gateway in your vehicle. Do not drive the vehicle until you have completed all of the tasks below.
2. Activate the replacement gateway into your organization. You can do this through cloud.samsara.com/activate or by going to Settings > Devices > Activate Devices.
3. In the Samsara Dashboard, go to Settings > Devices and find the replacement gateway that you just activated. On the right side of the table, select the three dots, and then select Pair Gateway.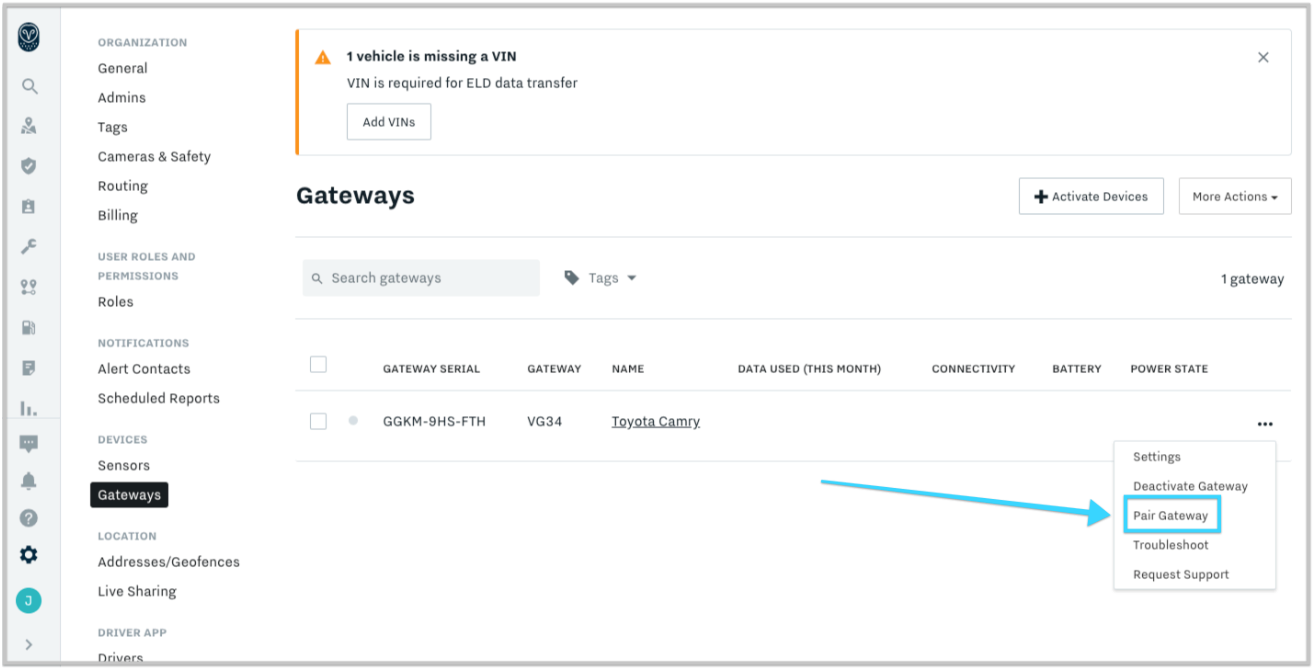 4. Link the name of the Vehicle that you have installed the replacement gateway in > Save. This will remove the faulty gateway, but retain all data on the vehicle.
5. You may now drive the vehicle. All driving, GPS, diagnostics, and maintenance data from this point forward will be saved to that vehicle.
6. In the gateway list, there will now be a Vehicle name without a Gateway associated with it. As long as you completed this process before driving the vehicle with the new gateway, you may delete this vehicle by selecting the more actions menu (...) > Settings > Delete Vehicle as there is no data associated with it.