Samsara offers a Trailer Management portal in the Dashboard to allow creation and administration of trailers available for driver selection.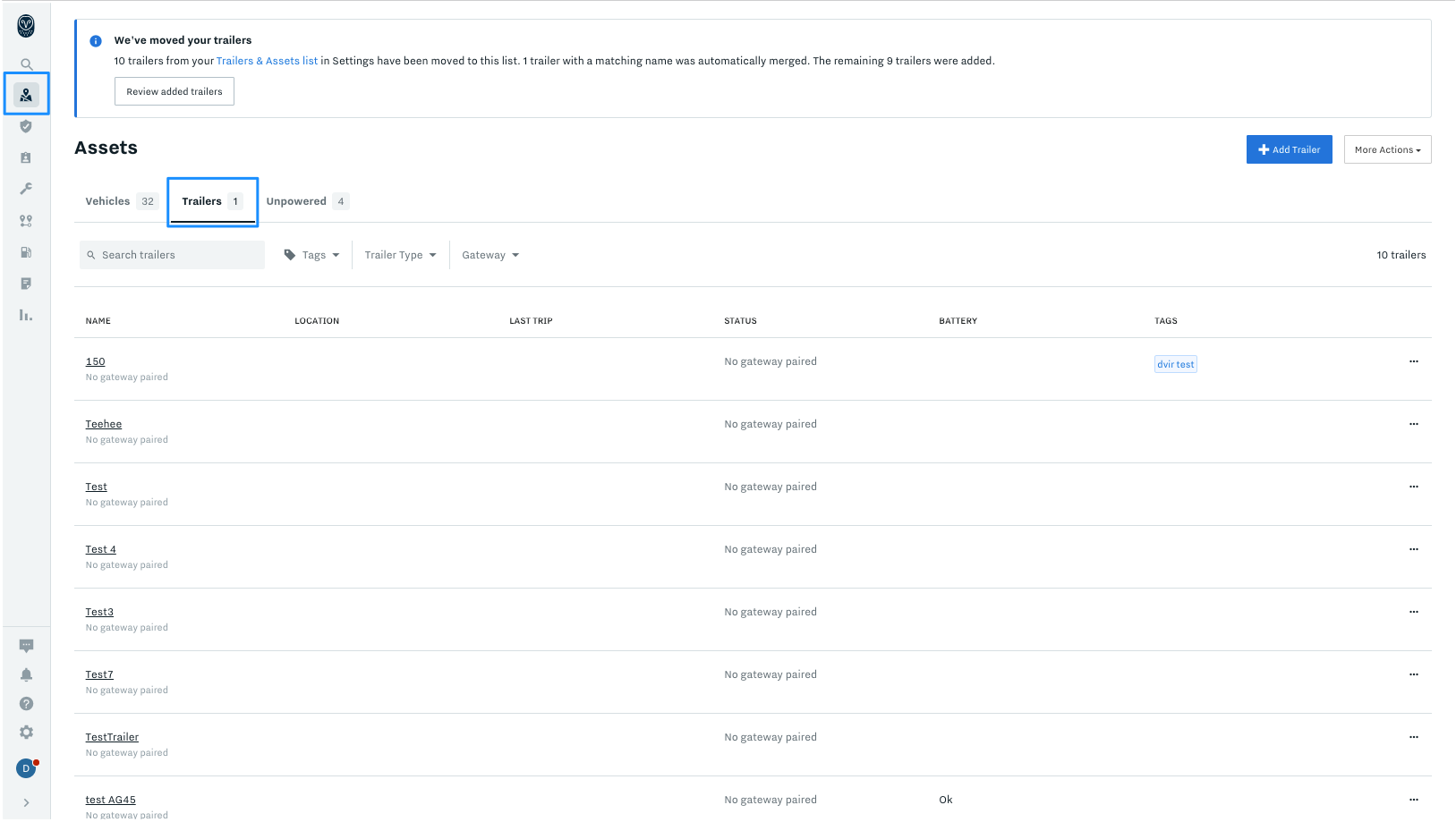 The Trailer Management portal shows the following information about each trailer:
Trailer Name: this is a unique identifier for each name. It appears on this page how it will appear to your drivers in the driver app.
Location
Last Trip
Status: Tethered or Untethered
Battery
Tags
The Trailer Management portal allows the following actions for each trailer:
Create: individual trailer and bulk upload via CSV
Edit: this allows updates or edits to the Trailer Name and associated Asset Gateway
Disable / Enable: this allows the trailer to be hidden from selection in the Driver App, or removed to the selection list. Trailers that are disabled from selection will still retain all completed DVIRs and other associated logs. Use this option for trailers created by mistake or trailers no longer in your fleet.
Set asset type: view unpowered assets with AG41 or AG45s as trailers
Pair/ Unpair gateway: link or unlink an AG24 to or from a virtual trailer
Creating an Individual Trailer in Samsara:
To create an individual trailer, go to Overview > Assets > Trailers tab > Select the Add Trailer button at the top right, and input a name for the new trailer. You may optionally associate the trailer with a Samsara AG by selecting from the dropdown Linked AG.
To make the trailer available for your drivers to select in the mobile app, set the Driver App Trailer Selection to Enabled.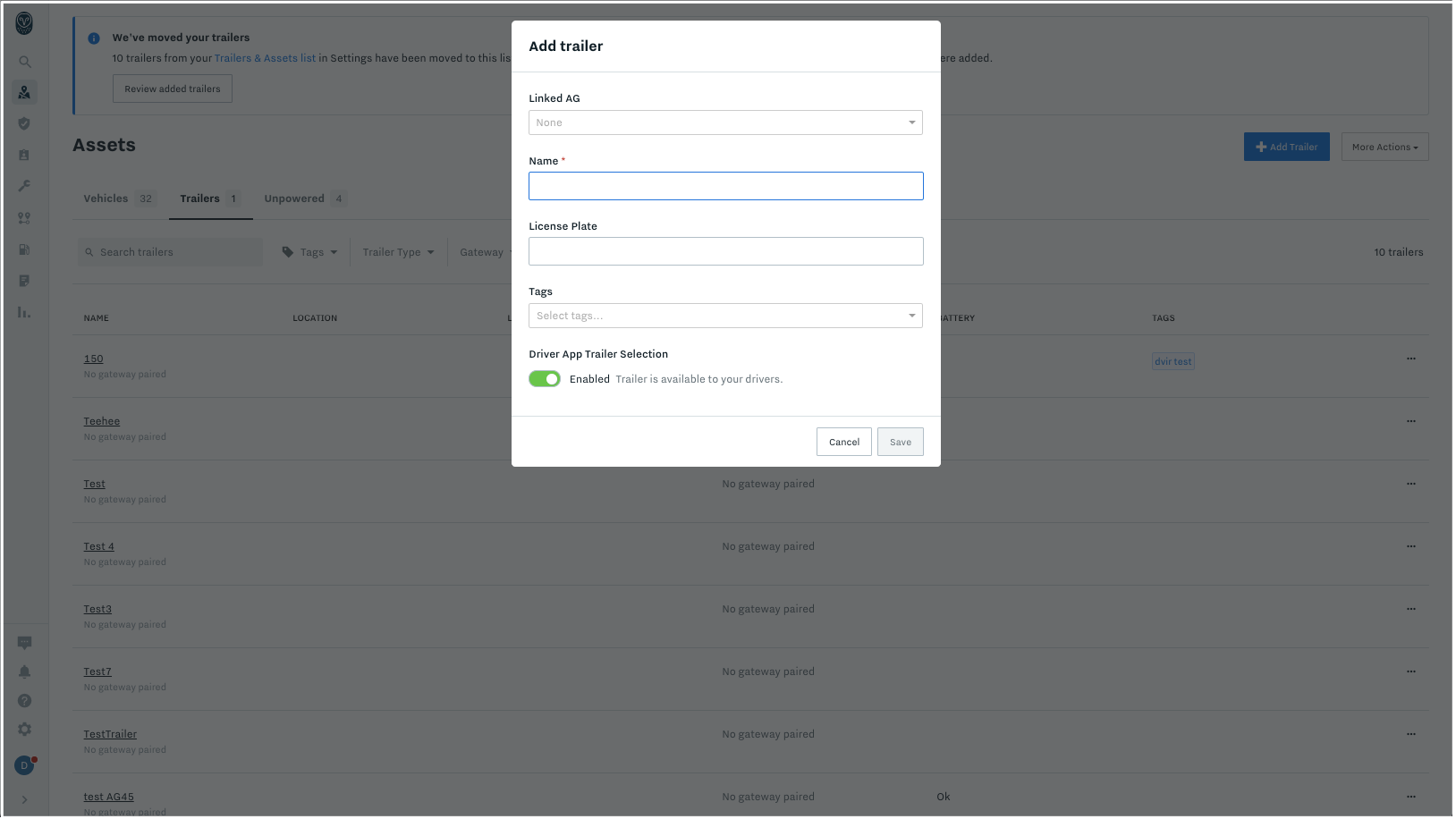 Creating Trailers Using CSV Upload:
To create trailers in bulk, enter information into the following trailer related columns of your CSV.
Optional Fields:
License Plate

User Note
Tags
Manual Engine Hours (Only allowed for trailers with paired gateways)
Manual Odometer (km) (Only allowed for trailers with paired gateways)
Manual Odometer (mi) (Only allowed for trailers with paired gateways)
Aux Input #1, 2, 3, 4, 5, and etc Type (Only allowed for trailers with paired gateways)
Enabled for Mobile
You can either download your existing Trailer List or Start from a Sample Template.
The

ID column

should remain blank

to create a new trailer; only include ID if a trailer already exists in the portal.
The

Namecolumn

should contain the unique name for the trailer.
The

Enabledfor mobile column

should say

"True" or "False"

for each trailer, indicting if it's available for selection in the Driver app.
Note: When editing existing trailers, if there are existing values in the fields below, they must be included in the upload, otherwise the vales will be reset to empty.

License Plate
User Note
Tags
Required: A value must be provided for these fields. If a value is not provided for a required field, CSV validation will not fail, but the value will be set to an empty string.
Optional: If a value is not provided for an option field, the current field of the field will not be changed.
Aux Input type: Allowed Aux Input Types are: None, Emergency Lights, Emergency Alarm, Stop Paddle, Power Take-Off, Plower, Sweeper, Salter, Reefer, Door, Boom, Auxiliary Engine, Generator, Eight-Way Lights, Panic Button, Privacy Button, Front Axle Drive, Weight Sensor, and Other.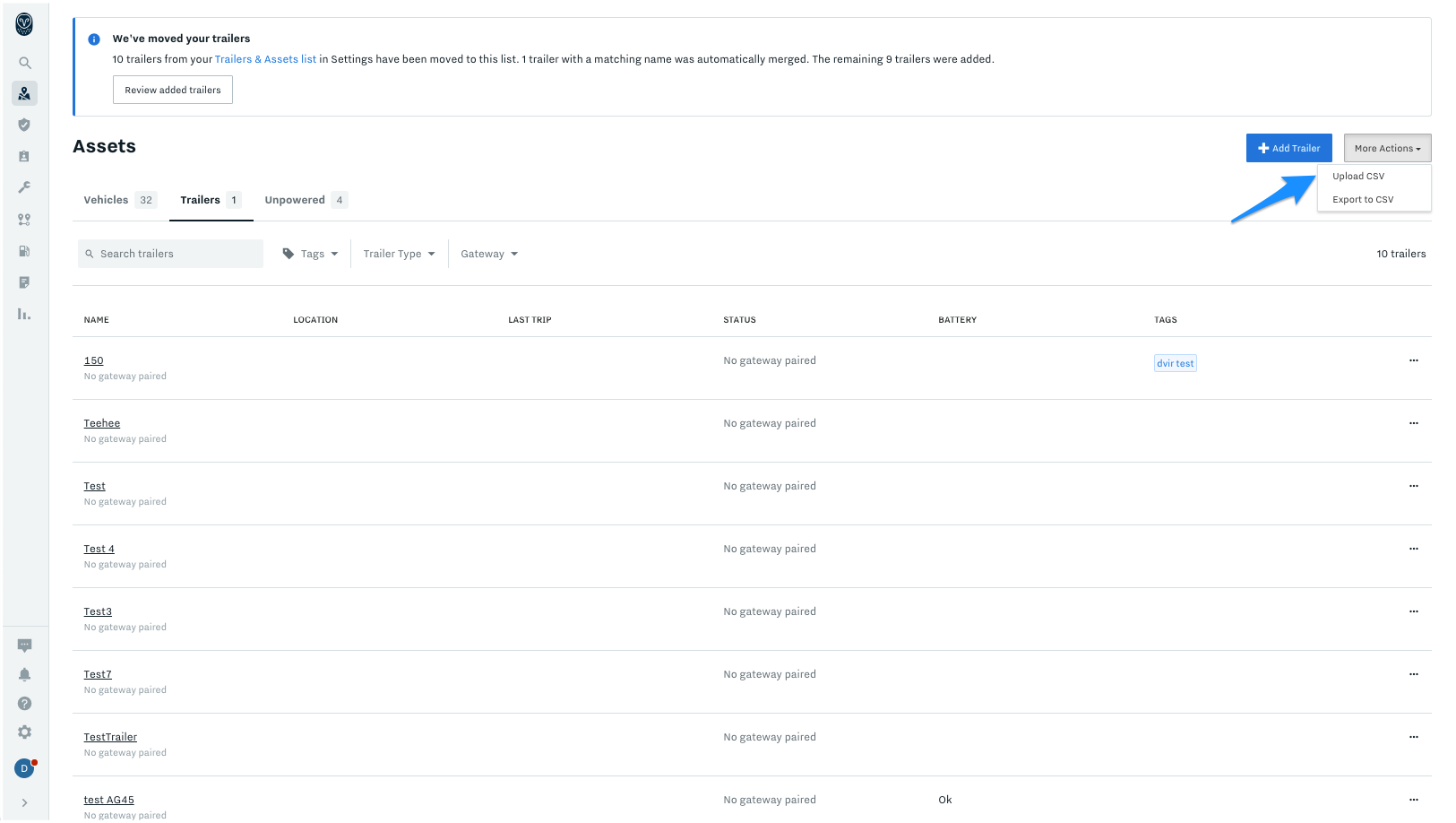 Set Asset Type:
To view unpowered assets with AG41s or AG45s as trailers, navigate to Assets > Unpowered
Select Convert to trailer
The asset will then be moved from the

Unpowered

asset list to the

Trailers

list

Deactivating a gateway:
To deactivate a trailer gateway, select Deactivate Gateway in the trailer additional options
It removes the gateway from the organization and can be reactivated again in the gateways settings
Trailer remains in the Assets Trailer list (to delete the trailer, enter Settings

and select Delete Trailer
Pairing a Gateway:
To pair an unlinked trailer to an existing activated gateway, select Pair Asset

and select the gateway name from the Link to dropdown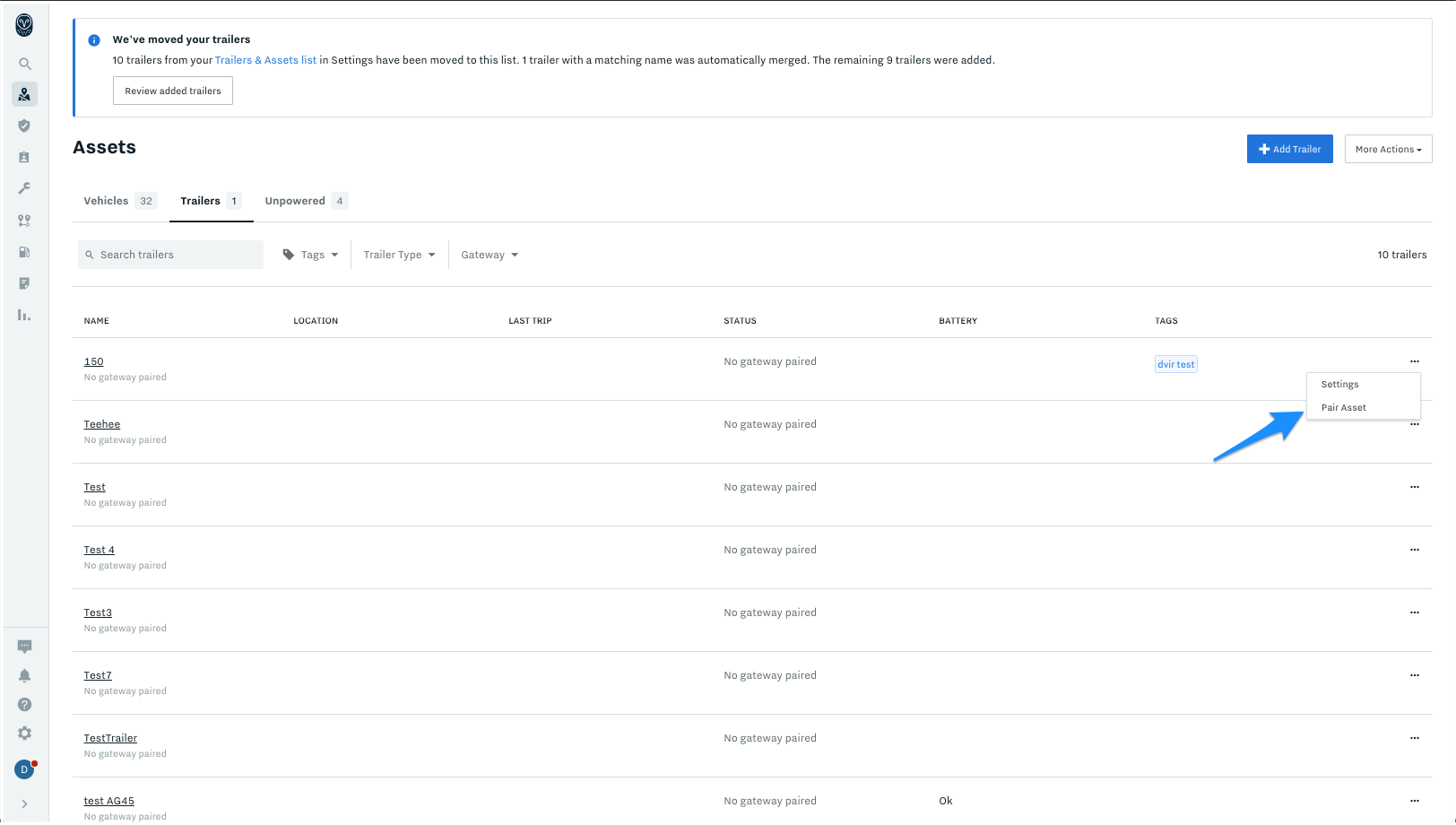 Please note Samsara is migrating to the new Trailer Management configuration that can be found here.