Power Take-Off (PTO) is additional functionality that we offer customers with special vehicles that not only use the engine to move the vehicle but also to power other parts of a vehicle. Knowing whether the vehicle's PTO is being actively used and the duration of each use provides additional transparency into operations.
How it works
If you have PTO set up on at least one of your vehicles, PTO status will show up on various places in your dashboard.
1. Activity Report
From your dashboard navigate to Reports > Activity Summary. Select an individual vehicle from your Activity Report. You will see additional PTO related log entries that report on when and where PTO has been turned on and turned off. Entries will say Power Take-Off on, and Power Take-Off off in the status column respectively.

2. Assets Report
When clicking on Assets Report - the status column will show a purple PTO label, that is added for any vehicle that currently has PTO turned on to provide you with real-time visibility.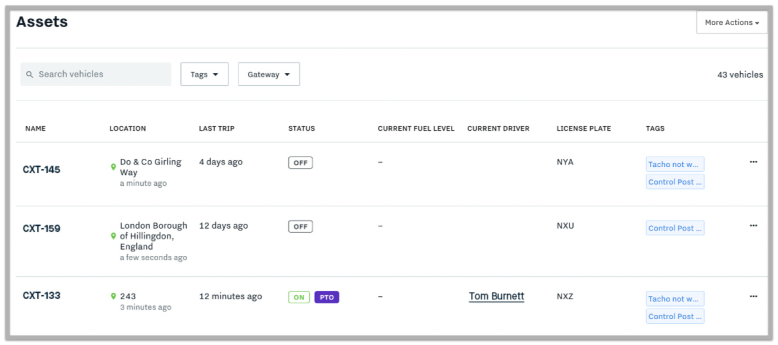 3. Overview Page
On the Overview page, you can now see in real-time whether a vehicle has PTO turned on or not. Vehicles with PTO turned on are highlighted in Purple.

The Vehicle tool tip in the map will show an additional PTO label in the upper right corner for vehicles with PTO turned on.

In the vehicle fleet list, each vehicle will show an additional purple PTO label in the upper right corner.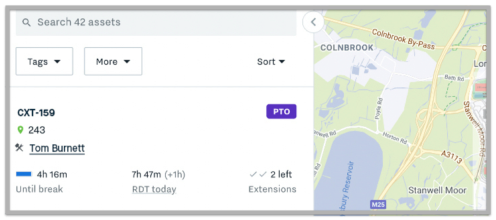 You can filter to view

only vehicles with PTO turned on by selecting

More

>

Asset Status.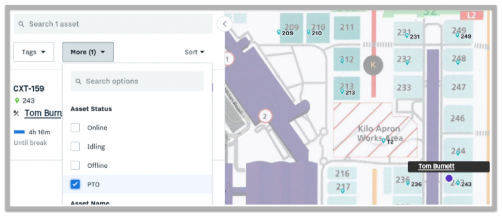 Note: For the features to appear the 'Auxiliary Input Type' in the vehicle settings must be selected as Power-Take Off and not one of the other options such as emergency lights, sweeper, etc..