The Missing DVIR Report is a scheduled report that allows fleet managers to keep track of missed DVIR events and coach their drivers to be more diligent about completing DVIRs.


How it works
To access The Missing DVIR Report on the cloud.samsara.com dashboard, navigate to:
Settings > Scheduled Reports > Add A Scheduled Report and select Missing DVIR Report under Report Name.
Configure the report to meet your needs.
Each row in the report will be associated with a missed DVIR event that occurs when a driver doesn't submit a pre-trip DVIR 4 hours before or 1 hour after the start of their trip or the driver doesn't submit a post-trip DVIR 4 hours after the end of their trip.
In the Missing DVIR Report, you are able to view:
Vehicle/Gateway name

Driver(s) selecting the vehicle on that trip

Date of trip associated with missed inspection - DD:MM:YYYY, HH:MM

Trip start time

Trip end time

Type (either PRE-TRIP or POST-TRIP)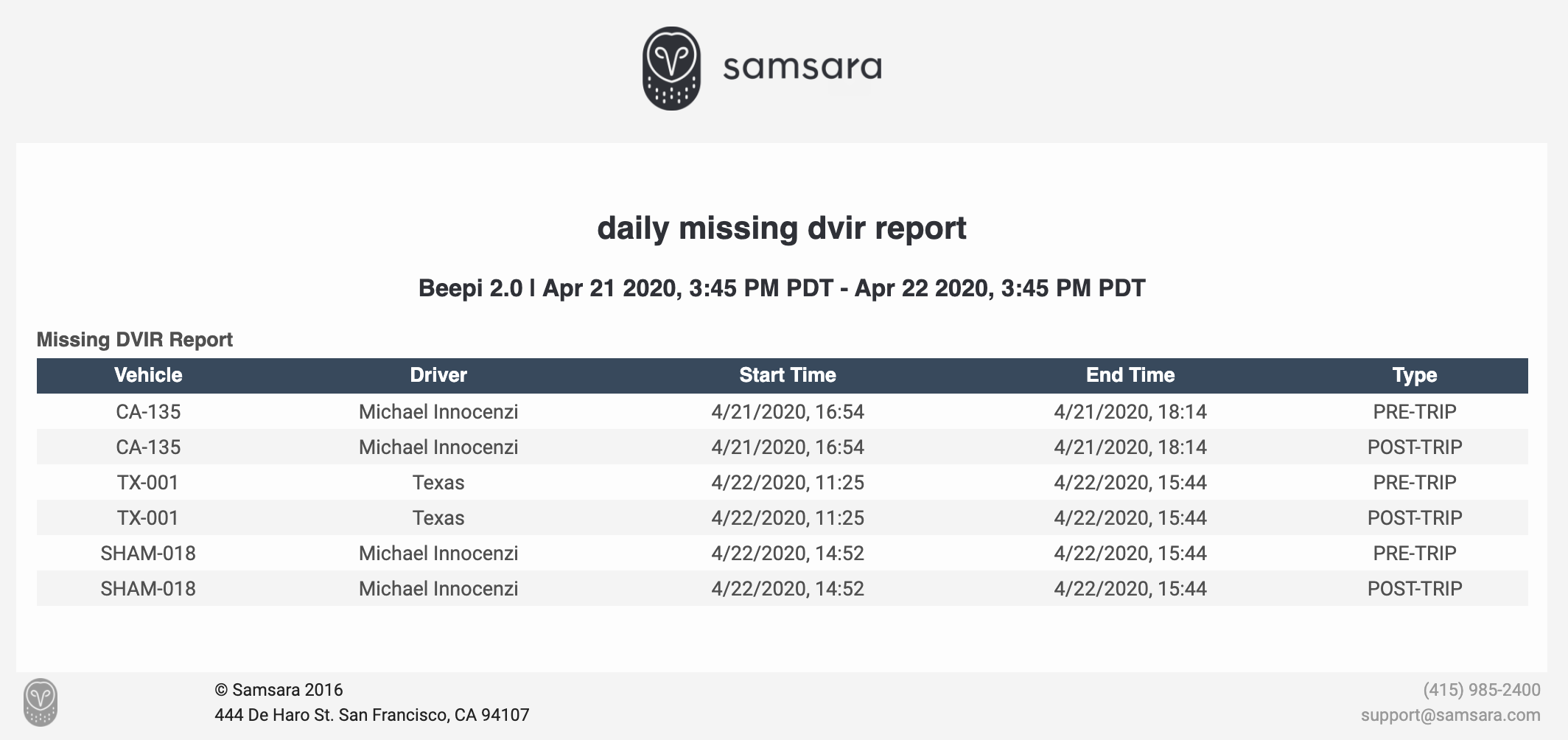 Please note the current limitations of this report:
DVIRs that fail to upload in the Driver App will be counted as missed DVIRs.

Team drives are not supported in this report, which means that Samsara does not account for the passenger driver. The report is calculated using the first assigned driver on a trip.
The Missing DVIR Report will over-report on missed DVIR events. Samsara recommends confirming a DVIR was missed by navigating in the dashboard to Maintenance > DVIR.
Additional information on creating scheduled reports can be found here.
Please note that DVIR is the US name for Walkaround in the UK, see more here