Note: If you are interested in using this feature, please reach out to your sales representative to trial this product.
Samsara enables you to connect your John Deere powered equipment to the Samsara dashboard, with just a click of a button. By connecting your JDLink account, Samsara can pull location, engine hours, fuel information, and fault codes from your John Deere equipment.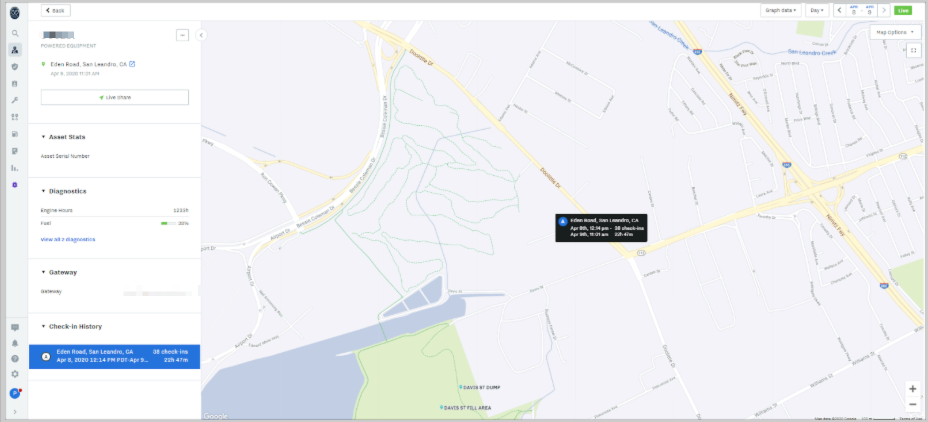 Features & Functionality
View current and historical location, engine hours, fuel level, and fault code information about your powered equipment
Set alerts to be alerted about geofence crossing or critical fault code firing
Schedule usage-based or time-based preventative maintenance schedules on your powered equipment
Track all of your assets in one platform in order to measure asset usage and improve efficiency (full list of all reports here)
How to turn on this integration
Note: The Samsara partnership with John Deere allows for Samsara to pull data from John Deere's JDLink platform. This feature is only available on John Deere equipment with JDLink hardware pre-installed and an active JDLink account. If you are unsure if your equipment can access this feature, please contact your John Deere dealer to see if JDLink is included in your current package.
To check connection permission, navigate to the following page https://teammanager.deere.com and check your own user within each org you can access, additionally, you should "Share Organization Date With Connected Software Companies" permission box checked. This is found in the "Organization Management" section of the "Access" permissions section.
In Samsara,

navigate to

Settings > Apps.

Click on the

John Deere JDLink app (not

John Deere Connections)

and enter your MyJohnDeere credentials.

This will navigate you to the John Deere portal, where you must authorize John Deere to share data to Samsara (as shown below):


In Samsara, Select all pieces of equipment that you would like to sync between Samsara and JDLink. Click on Activate Devices.

Voila! Samsara will be pulling John Deere information every 1-2 hours or whenever available.