For fleets with many destinations, it can be useful to import many places at once. The Samsara Dashboard supports bulk addresses by uploading a .CSV file.
Importing Addresses
To access this tool, select Settings > Addresses/Geofences > More Actions > Upload Addresses > Upload a File.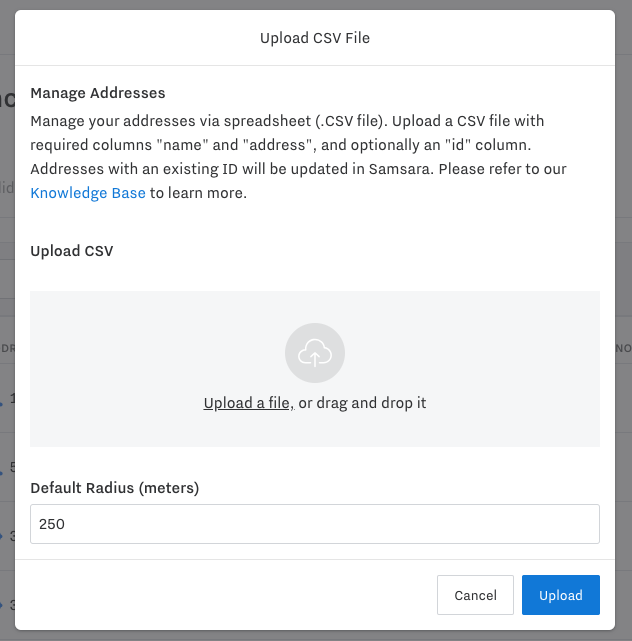 There are two columns needed to upload a CSV file: one column titled description and one titled address. Both of these columns require inputs to upload the CSV file.
The

description

field is used for the name of the location.

The address field is the physical address of the location. Note that the address can be one of two formats:

A street address (eg 123 Fake St, Springfield IL). Street address, city, and state will need to be listed in the Address line in order to upload properly.
A latitude and longitude in decimal format (eg 37.818440,-122.478441). Latitude and Longitude coordinates should be separated by a comma only, no additional spaces in between the values.
The radius field specifies the area around the location that is considered at the site location. The default radius is 250 meters, if no value is specified.
If some addresses are affiliated with certain tags, create a column named tags. If certain addresses are affiliated with multiple tags, separate them by using a semi-colon (;). Please see preview image down below.
For certain Microsoft Excel versions, there may be multiple options to save your file. Please be sure to save the file as a "Comma Separated Values" .CSV file for proper upload.
For an example, CSV in the proper format, see the attached file below.

Removing Addresses
If a mistake is made during a bulk upload, for example, maybe a state was not included in the address line, it's also easy to remove all addresses in bulk.
To remove, navigate to Settings > Addresses > More Actions > Remove All Addresses.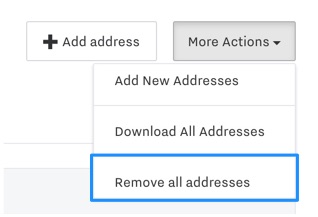 Editing Addresses
1. To edit your existing address book items, download your current list under More Actions > Download all Addresses. A CSV file will download.
2. Delete all columns in the downloaded file other than id, name, address, and radius (optional).
3. Make any edits to the downloaded names, addresses, or radiuses.
4. Leave the values in the id column. These values will allow your edited addresses to associate with the addresses currently in your dashboard. If the Address ID matches the ID of a current address book entry, the upload will update that address instead of creating a new one.
5. You can also add additional addresses into this CSV, leaving the id field blank next to each new entry.
6. Save your file as a CSV and under More Actions > Add New Addresses upload the file.